Commentary: A Class Damage Control At Daimler Benz
David Woodruff
Common wisdom these days says mighty Daimler Benz collided with an "elk test" and lost. I beg to differ. CEO Jurgen Schrempp and his lieutenants limited the damage after the kind of mistake that can hit any company. When a Swedish journalist rolled over the new baby Benz, the A-class, on Oct. 21 during a test simulating a swerve around a wayward elk, they quickly admitted a problem, came up with a fix, and committed big bucks to implementing it.
It'll be money well spent, salvaging the company's long-term goal of extending the Mercedes brand into the mainstream market. That shift is crucial if Daimler hopes to flourish into the next century.
In addition, the company's careful handling of the rollover incident was right on target. In a year or two, the A-class will probably be seen as a pioneering auto, with exemplary crash protection for its size. The elk test? A whimsical memory.
In similar tight spots, other carmakers have often blown it. In 1986, Volkswagen's Audi unit was hit by charges in the U.S., later proved false, that faulty automatic transmissions made its cars race out of control. Executives denied any problem, but their inaction caused U.S. sales to wither from 74,241 to 12,283 in 1991. And in 1988, when a U.S. consumer magazine reported that the Suzuki Samurai was likely to roll over if a driver swerved violently in an emergency, Suzuki executives also denied there was a problem. Sales tanked.
Schrempp and Mercedes' top managers did the right thing. In a conference call with financial analysts on Nov. 11, they apologized. They retested the car, then made costly changes, stiffening the suspension and adding an electronic stability system as standard equipment. They explained that although the car had rolled over three times during their own testing, it had been under extreme conditions. And they continued to answer questions despite rough treatment by the press. "I would have told them to do it exactly that way," says Gerald C. Meyers, a crisis management consultant and former American Motors chairman.
Since the test flip, some 2,000 orders have been canceled, just 2% of the 100,000 Mercedes had in hand, and 2,000 new ones have been placed. "I trust the brand," says Jorg Plempe, a salesman admiring a silver A-Class on outside display in Frankfurt. "The media have exaggerated this whole thing."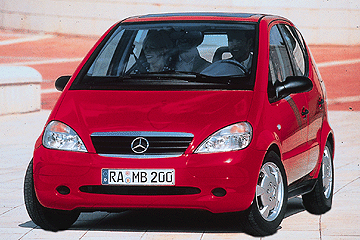 NO PROFITS? As for the cost, the new components will run the company $59 million pretax this year and $118 million each year after. That will probably wipe out any profit on the car, say analysts. But other models, such as the M-class sport utility, are such smash hits that Daimler's net earnings this year should remain at an estimated $2.6 billion, says Salomon Brothers Inc. analyst John Lawson.
Disaster still looms if the revamped cars presented to journalists in December aren't totally elk-proof. But for a big corporation, Daimler has displayed some enviable footwork when it really counted.
Before it's here, it's on the Bloomberg Terminal.
LEARN MORE