After The Deluge, A Town Divided
James Drake
At first glance, Troubky nad Beckou looks like a site of ethnic cleansing. Here and there, a few sturdy, pastel-painted cottages appear snug within whitewashed picket fences and manicured gardens. But many more have been razed to rubble or resemble outsize dolls' houses, their facades ripped away to bare the domestic disorder left by inhabitants forced to flee in a hurry. A shirt is rolled halfway through an antique washing mangle. An embroidered blanket is kicked back on an heirloom four-poster bed. Dirty plates molder by a sink.
A ubiquitous six-foot tidemark of grime and crumbling plaster tells the real story. Troubky lies in the heart of Moravia, the eastern province of the Czech Republic. On the evening of June 10, the rain-swollen river Becka, normally an innocuous stream that makes a U-turn around Troubky, burst its banks and took a short cut through the center of town. It was the worst flood to hit Central Europe in 200 years, and Troubky remained underwater for 10 days. "It does look like Sarajevo, doesn't it?" asks Deputy Mayor Pavel Raska.
BICKERING. "At 9 o'clock, the lights went off," recalls 76-year-old widow Bozena Spalkova, gazing up at a sepia-tinted wedding photo hanging askew at the head of a collapsed staircase. "Half an hour later, I was standing on the table with my cat and my budgie waiting for help." Of Troubky's 700 buildings, 150 were destroyed and as many badly damaged, the worst per-capita damage of any town in Moravia. Now, as they rebuild, residents are struggling to develop the initiative and cooperation that were discouraged under communism.
Although some $1.5 million in private-relief funds has flowed into Troubky, allocating it has separated this town of 2,000 into bickering camps. In September, Raska and his fellow counselors voted to spend half of the funds on low-rent apartments for old people, with the rest going to house those whose dwellings were completely demolished. But many residents demand that the cash be disbursed equally or call for a means test for claimants.
Rebuilding is widening the schism. Jaroslav Benes, a teacher whose father died in the flood, says he used inherited money to reconstruct his cottage, but many don't believe him. "Young lads I once taught, whose weddings I attended, won't talk to me anymore, because they think I've wangled relief money I'm not entitled to," he says.
Troubky's woes are rooted in 45 years of communist cradle-to-grave care, a time when party leaders made spending decisions. Some Moravians aren't yet able to take the initiative. For example, in the Uherske Hradiste garrison in Central Moravia, 25 miles from Troubky, the commander let armored personnel carriers and equipment vanish under floodwaters because he hadn't been given a command to move them.
Of course, Troubky would be in better shape if residents had taken out flood insurance. But in 1951, when the town was last flooded, the government funded the rebuilding. So less than 10% of Troubky's residents had adequate coverage. "They're angry that they weren't required to take out insurance," says Pavel Haisman, a mechanic. "We should have been forced to protect ourselves."
"Under communism, these people just weren't used to taking responsibility for their own lives," explains sociologist Jan Spinek. "It took something like this to bring them into the real world."
Now, the real world is adding insult to injury. Prague has promised Moravia $156 million in emergency aid, culled from privatization of communist-era state-owned enterprises. It has issued bonds for another $156 million. But that's a fraction of the $760 million that the Czech Industry & Trade Ministry estimates Moravia needs; others put the figure at $3 billion.
One reason the figure is so high is that water and woodland mismanagement, a result of policies during the cold war, rendered the soil incapable of absorbing large volumes of water. Between 1960 and 1990, 2,500 miles of riverside vegetation in Moravia were destroyed, while 592,800 acres of field hedges, which could have acted as a natural flood barrier, were plowed under to increase crop harvesting efficiency. But locals have failed to learn their lesson and now ignore the advice of experts to sow riverbanks with moisture-absorbent shrubs. Some families even plan to rebuild their riverfront properties. "We can't stop them. They could be washed away again next year," says the Czech Environment Ministry's Vaclav Pericek.
CUTBACKS. Government officials in Prague may be using the floods as an excuse to cut subsidies to money-losing Moravian manufacturing. The state is offering companies low-interest loans to repair and rebuild flood-damaged facilities. But to qualify, recipients must be in the black. Few are, and even sound companies are threatened, because the flood wiped out infrastructure. "We count each month we remain idle as another nail in our coffin," says Zdenek Pinker, director of Tomatex, an engineering company in nearby Otrokovice that once was a steady source of employment for Troubky's young men.
Now, as conscript soldiers haul away debris, locals face the prospect of a winter living with relatives or in prefab huts. Most refuse offers of rent-free accommodations elsewhere. "Attachments toward certain places deepen in troubled times," says Spinek. "Friendly relations aren't carried about in a bag."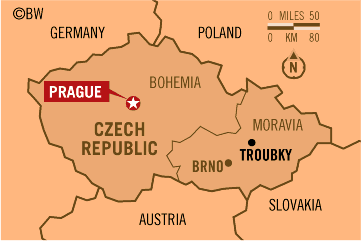 Some citizens may never recover. Once the strapping captain of Troubky's soccer team, Honza Zverina, 34, sits in the corner of a mental hospital, rocking to and fro, his blond head in his hands. "He had just finished building a family house after 15 years," explains psychiatrist Ivan Drabek. "The day after he finished, it was all swept away."
"At times like this, it's very easy to blame the government," says political analyst Jonathan Stein. "What else can you do--throw God out of office?" In Troubky, it's neither God nor the government but the residents themselves who must take charge.
Before it's here, it's on the Bloomberg Terminal.
LEARN MORE