A White Hot Glow From Tiny Lamps
by
When Chicago Miniature Lamp (CHML) decided in early August to buy a company four times its size, some investors weren't thrilled. They saw snags in integrating Switzerland's Sylvania Lighting International. Chicago Miniature's stock dipped in mid-August. It has since moved up, following a closer look at Sylvania's potentials. It closed at 30 on Nov. 11.
"In fact, it's a very attractive acquisition," says Robin Kerr of Axe-Houghton Associates in Rye Brook, N.Y. The addition of Sylvania, with $600 million in sales--75% of it in Europe--makes Chicago Miniature the fifth-largest lighting company in the world. And the growth potential for Chicago Miniature is huge: Sylvania's meager 2% profit margins could be improved, says Kerr. Chicago Miniature makes small light bulbs, ranging from power-on indicators for outfits such as Black & Decker to sophisticated lighting assemblies for such blue-chips as United Technologies, AT&T, and Ford.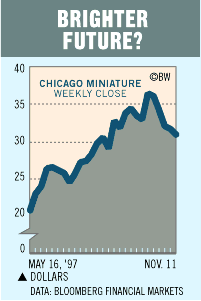 Analyst Keith Mullins of Smith Barney says the combination provides big opportunities for product cross-selling and profit margin enhancement.
Analyst John Mahoney of Raymond James & Associates in Tampa estimates that every 1% rise in margins at Sylvania will mean an extra 24 cents a share in yearly earnings. Given the size of Sylvania and its operating profitability, he notes, Chicago Miniature should have earnings power "above our current estimates of $1.55 for the year ending Nov. 30, 1998, and $2.15 in fiscal 1999." He figures the stock, now at 30, is worth 46 based on his estimates.
Before it's here, it's on the Bloomberg Terminal.
LEARN MORE