A Tidal Wave Of Temps
Companies are using more and more to keep labor costs competitive
Gail Edmondson
You'd think Rudolf Lender would command a top salary, given the demand for software programmers around Munich. But if it weren't for temporary agency Manpower, he wouldn't even have a job. The 60-year-old was laid off at age 48, when the American company he worked for went bankrupt. He is considered a liability by German employers, which by law can't fire him without losing younger workers first. Instead, through Manpower, Lender has spent the past three years working on assorted assignments for Siemens, Deutsche Telekom, and other high-tech companies.
If Lerner had stayed unemployed, he would still be collecting some $17,000 a year in jobless benefits. No wonder Europe's cash-strapped governments are loosening up on temporary hiring. From semiconductor clean rooms in France to mobile-phone factories in Finland and jet engine research labs in Germany, companies are filling thousands of empty posts with temporary workers.
The rise of the flexible workforce may be a global phenomenon, but nowhere is it more important than in Europe's unbending labor markets. Temporary workers have existed in Europe for years, but mainly as emergency relief. Now, with global competition forcing companies to react quickly to market conditions, temps play a vital role by allowing just-in-time staffing during demand surges. Workers with limited-time contracts represent a huge long-term cost savings over permanent workers, who by law are hard to dismiss.
DUTCH SUCCESS. The use of temporary workers, often hired through agencies, is growing faster in Europe than in America. And as in the U.S., Europe's temps aren't just doing reception work. Their growing ranks include airline pilots, chemists, nuclear-plant workers, logistics experts, teachers, and engineers. "Europe's rigid labor laws will be bypassed by the emergence of the temporary market," predicts Stephane Garelli, a professor at IMD, the Lausanne-based international school of management.
All European nations except Greece have passed laws permitting temporary work. Italy became the latest convert when it lifted a legal ban in July, allowing 60 eager agencies to apply for licenses on Nov. 4. Regulations governing temporary work contracts vary from country to country, but most require agencies or employers to provide minimal benefits plus paid vacation days based on the amount of time worked. Wages also vary depending on demand and industry. Software specialists farmed out through temporary agencies currently command from $2,000 to $4,500 a week in Europe.
Growing at 18% this year, Europe's $47 billion temporary work industry has become a hidden source of job growth and a boon to European competitiveness--especially in technology. Across Europe this year, Milwaukee-based Manpower is opening offices dedicated solely to supplying information-technology workers. Swiss rival Adecco bought Skillbase, an IBM unit that's providing info-tech consultants in the Spanish market--the best of whom can earn up to $70,000 for a six-month stint. And Amsterdam-based Ranstad has set up a unit called Ranstad Millennium services whose programmers help clients adapt their systems to the post-2000 shift.
American multinationals, sensitive to high labor costs in Europe, are leading the drive to outsource parts of their business to temporary workers, from human-resources management to production. But European companies aren't far behind. Philips Electronics employs 17,100 temporary workers, nearly 7% of its workforce. One is Margaret de Mol, 29, who began working for the Dutch company five years ago and is still typing away. "I have the same boss in the same office," she says. "It's like having a full-time job."
BMW Rolls-Royce, the German-British maker of jet engines, has hired engineers and designers on a temporary basis for a project to develop two new engines. The temps may stay for up to three years. Such contracts let BMW Rolls-Royce replace workers whose skills aren't sufficient. That's difficult and costly once an employee has been on the job for three months.
Many European labor unions vehemently opposed temporary work during the 1980s, arguing that limited-duration contracts exploit workers. Now, as countries experimenting with temp work show big economic benefits, labor leaders are reluctantly acknowledging a role for those contracts. "When temping began to explode in the 1980s, we had big problems with this trend," says Cor Inja of the FNV, the biggest Dutch trade union. "But many of our members wanted to work and found jobs only as temps." Now, the Netherlands has become a glowing example of the benefits of temporary work. Economists link the dramatic growth of temporary and part-time workers--to 10.5% of the total workforce--with the country's sharp decline in unemployment.
Besides fueling job growth, temporary agencies across Europe have proved effective at putting unemployed workers back into the labor force, funneling some 30% of their workers annually into full-time jobs. In Germany, 309,000 previously unemployed temporary workers got full-time jobs from 1994 to 1996. The agencies themselves are taking over many traditional personnel functions. At KLM Royal Dutch Air Lines, Ranstad screens for new flight attendants. "When we put an ad in the paper, we received more than 7,000 responses in one hour," says KLM personnel manager Hugo Bass. "Ranstad is set up to deal with such a situation. We are not."
CRACKING DOWN. Still, some European countries, including Germany, Austria, Italy, and Spain, maintain complex regulations governing the employment of temporary workers. In Germany, the maximum temp assignment was recently raised to 12 months, from a previous limit of nine. By contrast, the U.S. and Britain have no limits on temporary work contracts, and France has a two-year limit. As a result, only 6% of Germany's workforce is made up of temps, compared with nearly 11% in France.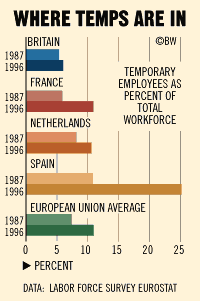 But the temp juggernaut is unlikely to be slowed. As companies restructure and shed more workers, European leaders will find it hard to resist solutions that create new jobs and help growth industries compete. "People will be forced to work less than they like. But it's better than [high] unemployment," says Eric Chaney, senior economist at Morgan Stanley & Co. in Paris. Even Spanish teenagers grapple for temporary jobs in Christmas markets handing out sweets to shoppers. They can net $200 for two weeks' work. Not a fortune, but it beats having no job at all.
Before it's here, it's on the Bloomberg Terminal.
LEARN MORE