Where Literary Lions Cut Their Teeth
Larry Dark
It's a balmy fall evening. Homecoming weekend is just under way at Cornell University in Ithaca, N.Y. The campus is alive with students and alumni. For many, the high point will be Saturday's football game between Cornell's Big Red and Colgate University. But another event also stirs excitement: A 600-plus crowd--meager by football standards, though impressive for a literary reading--is gathered in the David L. Call Alumni Auditorium to hear Don DeLillo read from his best-selling novel, Underworld.
Normally averse to public appearances, DeLillo, a 1985 National Book Award winner, has come partly to promote Underworld, which was published to near unanimous praise from reviewers. But DeLillo also is repaying a debt to Cornell's Epoch magazine, which first published his fiction--three short stories between 1960 and 1965. Then, DeLillo was toiling as an ad copywriter in New York City, his literary future far from certain. Publication in Epoch gave him precious encouragement.
The DeLillo reading is the centerpiece of a three-day celebration of the literary magazine's 50th anniversary organized by Epoch Editor Michael Koch. It concludes Saturday night with a reading by three of the four writers whose short stories, published in Epoch, were chosen for Prize Stories 1997: The O. Henry Awards. I'm here as the current editor of the series, published annually since 1919. I chose the collection's 20 stories from more than 2,500 I read in 210 U.S. and Canadian magazines. Epoch won this year's O. Henry Award for the magazine publishing the best short fiction. With a circulation of just 1,500, Epoch has beaten out such literary giants as The New Yorker and Harper's Magazine. That's like the Big Red of Cornell whipping the Green Bay Packers.
Epoch is one of 600 independent literary reviews that are members of the Council of Literary Magazines & Presses, though there could be as many as 1,000 in the U.S. With scant funding, many fold each year. What's surprising is that an almost equal number spring up to take their place. They play an invaluable role in encouraging young writers. As a Cornell undergrad, for instance, Thomas Pynchon published fiction in Epoch. Philip Roth and Stanley Elkin also placed early work in the magazine.
Although literary magazines have always led a perilous life, these days funding seems even harder to come by, creating an undercurrent of concern. Even Epoch struggles. Overhead is low, with much of the work done by graduate students and volunteers. Still, its three issues a year cost about $15,000 to print and mail. The university underwrites most of the costs. Subscriptions and advertising contribute. So do individual donations and a modest endowment.
FUNDING CUTBACKS. But Epoch lost some $4,000 in funding last year when grants from the National Endowment for the Arts were slashed. So the magazine cut already modest payments to contributors to $5 a page from $10. Arts funding cutbacks weren't just a blow to Epoch. In 1993, 43 nonprofit magazines received NEA grants. This year, only four did. "This section of the literary field is the one that has me most worried," says Cliff Becker, acting director of literature for the NEA.
Many lit magazines, such as Cincinnati-based Story and George Plimpton's The Paris Review, depend entirely on subscriptions, advertising, gifts from individual donors, grants from private foundations, and ever scarcer government funding from federal and state arts endowments. Compared with many small magazines, Epoch's $5-per-page payment is still princely. Most compensate contributors with a few free copies.
This hardly competes with The New Yorker's $1-a-word starting rate. Yet unknown writers are usually happy to get into print at all. Epoch receives some 5,000 manuscripts during its Sept. 15 to Apr. 15 reading period, an average of more than 22 a day. Volunteers, mostly Cornell graduate-writing-program students, pore through the piles. A typical issue runs six or seven short stories, seven or eight poems, plus an essay or two. Koch and faculty editors make the final decisions. "It's hard to like a job where you spend 99.99% of your time making other people unhappy," says Koch. What keeps him going is the hope that the next Don DeLillo will be discovered in the slush pile.
Devoted editors such as Koch are a big reason why Epoch and its like can compete successfully for top-notch fiction against slick, deep-pocketed magazines. Another is the degree of independence in picking what gets into their pages, free of advertiser pressure. Says Koch: "Editing a so-called little magazine gives one the feeling of being an outlaw: You can pretty much do what you want, and now and then you get to shoot up the town and make people nervous."
LASTING IMPRESSION. Commercial magazines usually don't enjoy such latitude. Esquire is an example. Longtime Literary Editor Will Blythe resigned in February, claiming that a David Leavitt novella was pulled from the magazine's April issue out of fear that a major advertiser would be offended by its sexually explicit content. Esquire says the story was killed for other reasons. Still, in September, the American Society of Magazine Editors formally discouraged magazines from allowing advertisers to review editorial content.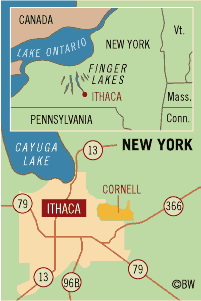 The Saturday night readings that I introduced played to an enthusiastic crowd. Earlier in the day, after the Big Red lost to Colgate 38 to 44, many Cornell alumni went home disappointed. But those who attended the Epoch festival readings were left with something more lasting. A hundred years from now, the outcome of the game will be forgotten. But words from the likes of Pynchon, DeLillo, and other yet-to-be discovered wordsmiths will still be read. And literary magazines will--somehow--find ways to publish them.
For a list of the 210 magazines consulted for the The O. Henry Awards series, edited by Larry Dark, and links to literary magazines with Web sites go to: http://www.bookwire.com/boldtype/ohenry/read.article$2308
Before it's here, it's on the Bloomberg Terminal.
LEARN MORE