What's Making Zale Sparkle
by
Zale (ZLC) is no Tiffany's. But it's the nation's top jewelry chain--with the most stores and the largest sales. "We like catering to middle America--and that's why we dominate the business," says CEO Bob DiNicola, who restructured Zale after it emerged from bankruptcy in July, 1993. Zale is back in the black, with a fixed agenda: growth.
That has attracted the Street's eye. DiNicola's plan to add 200 outlets in two years shows that Zale's stance has changed from "fix it" to "grow it," notes analyst Michael Exstein of Credit Suisse First Boston, who rates the stock a "strong buy."
The company has drawn big investors since DiNicola took the reins: Capital Research & Management has 1.9 million shares, and Snyder Capital 1.8 million.
Exstein is impressed with DiNicola's commitment to growth. In the past year, Zale renovated 82 stores, opened 90 new ones, and closed 46 underperforming outlets--for a net addition of 44. Annual sales per shop average $1 million, according to DiNicola, who hopes to up that to $1.3 million. He notes that each of the 1,200 stores is operating profitably. The plan is to have 1,500 by 2000.
Also gung ho on Zale's turnaround is Robin Murchison of Southcoast Capital, who says no other publicly traded jeweler--except for Tiffany's--can match its growth and earnings. And Tiffany's, she notes, is not a direct rival because it focuses on the top end of the market. Zale's sales of $1.2 billion for fiscal 1997 (ended July 31) top Tiffany's $922.1 million for fiscal 1997 (ended Jan. 31). Zale's market cap of $927 million, however, trails Tiffany's $1.4 billion.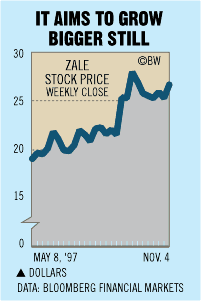 Murchison argues that, at 26, Zale stock is cheap. For a company with earnings growth of 15% to 20% a year, Zale deserves a higher price-earnings ratio than its current 14 (based on her 1998 estimate of $1.80 a share), she says. The analyst admits competition is fierce and that there are too many "marginal players." But Zale's management, she says, is "one of the better, if not the best, in the industry."
Notes Barry Rothberg of Furman Selz: "We believe that Zale can achieve at least a multiple of 20." Based on his earnings estimate of $1.90 a share for calendar year 1998, the stock is worth 38, figures Rothberg. For calendar 1999, he sees Zale making $2.25 a share, compared with $1.59 in 1997.
Before it's here, it's on the Bloomberg Terminal.
LEARN MORE