U.S.: In 1998, The Beat Won't Go On
Either the economy cools down, or the Fed will chill it
By
The stock market's sudden slump in late October drove home a key point in the outlook for 1998. One way or another, growth has to slow down next year after this year's blistering pace. The key questions are: What will trigger the slowdown, and when will it start to show up?
Based on recent data, especially third-quarter gross domestic product, any lasting shift to a cooler pace of growth is more likely to come later rather than sooner. The stock market's ups and downs have only rattled the economy's strong financial underpinnings, not eroded them, and long-term interest rates are lower. This year's other leading support, the labor market, is as firm as ever. And some measures, such as new claims for jobless benefits, suggest that job markets will continue to tighten through yearend.
Given those mainstays, along with an especially bold assumption of no further shocks to the world's financial markets, robust domestic demand will overshadow the expected falloff in Asian purchases of U.S. exports, at least in the near term. The GDP report shows that third-quarter demand was strong enough to curtail the first half's excessive inventory growth, clearing the way for industrial output to continue gaining power in the fourth quarter. Indeed, the nation's purchasing managers saw stronger activity in October (charts).
Such momentum will not go unnoticed at the Federal Reserve, which holds its next policy meeting Nov. 12. No economist expects the Fed to hike short-term interest rates at that meeting, given the still-shaky markets for stocks and currencies around the world, and the tame inflation outlook, enhanced by the likelihood of cheaper Asian imports. Nevertheless, policymakers are clearly aware that growth at this year's clip in a fully utilized economy is unsustainable without a buildup of inflationary pressures.
THE ECONOMY'S PERFORMANCE last quarter was, in many ways, the most impressive in recent years--a showing that was largely overshadowed by the events following the stock market's Oct. 27 plunge.
How impressive? Real GDP grew at a hearty 3.5% annual rate in the third quarter, a bit higher than most analysts' expectations. The breakdown showed that final sales of U.S. output to consumers, businesses, and government, plus net foreign demand, jumped 5%, while sales to domestic purchasers (which includes imports but excludes exports) surged 6%, barely edging out the first quarter of 1992 for the strongest increase since 1984. Consumer spending, up 5.7%, rose at the fastest pace in 5 1/2 years, and business investment in new equipment and construction was up 18.7%, the largest advance in 13 years.
There's more. The news for inflation and profits was also upbeat. The GDP price index rose at an annual rate of 1.4%, the lowest quarterly inflation rate since 1964. Moreover, overall GDP growth suggests that third-quarter productivity rose at an annual rate in the range of 2.5% to 3%, on top of the second quarter's 2.7% advance. That would yield the fastest two-quarter increase in productivity in more than five years. As a result, unit labor costs, inflation's primary fuel, remained tame last quarter, and profit margins held firm. Not bad for a 6 1/2-year-old expansion.
THE FOURTH QUARTER appears set to extend the third quarter's gains--although not as spectacularly. Clearly, consumer spending will slow from its explosive third-quarter pace. But there is little reason to expect a sharp falloff, as happened in the first half. Outlays soared at a 5.3% rate in the first quarter, only to grow a meager 0.9% in the second quarter. But several special factors exaggerated the first-quarter increase, while no one-time sales boosts affected third-quarter buying. Fundamentals will drive fourth-quarter spending, and those supports remain strong.
For example, the downward trend in new claims for jobless benefits continues to suggest that tighter job markets are generating ever-expanding income prospects. Claims fell to 297,000 in the week ended Oct. 25, and the monthly average, which has fallen for two consecutive months, stood at 305.3 in October, the lowest for any month since 1989.
The stock market's plunge may have briefly ruffled consumer confidence, but by Nov. 5 the market had regained all of its losses. Despite the increasing globalization in financial markets, Asia's problems are increasingly being seen as hurdles for Asians, not Americans.
In addition, long-term interest rates have retained much of their recent declines, with the yield on 30-year Treasury bonds close to its low of February, 1996. That means lower mortgage rates, which will not only keep up housing demand, but also give refinancing activity a further boost, putting more money in homeowners' pockets. Fixed mortgage rates have fallen nearly a percentage point since April (chart), pushing refinancings to the highest level since early 1996. And rates are set to fall further.
HOMEBUILDING, A SMALL PLUS for third-quarter GDP, should be a bigger contributor to fourth-quarter growth, because strong demand has pushed inventories down to a near-record low. Sales of new single-family homes dipped to 800,000 in September from 802,000 in August, but sales for the quarter increased at nearly 17%, at an annual rate, from the second-quarter level. The current sales rate is consistent with a pickup in housing starts from the third-quarter level.
On the other hand, capital spending in the fourth quarter seems unlikely to match its eye-popping third-quarter pace. However, key fundamentals such as strong demand and profits should allow for another healthy advance. Last quarter, orders for capital goods, excluding volatile aircraft bookings, rose at an annual rate of 33%, the largest quarterly increase in almost four years. That order bulge presages continued strength in capital-goods output for this quarter.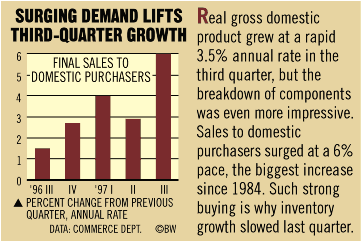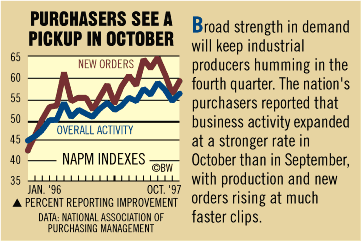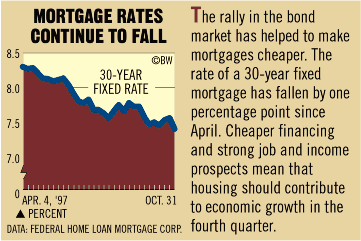 The broad strength in demand should keep industrial output humming this quarter. The National Association of Purchasing Management said that business activity expanded at a faster pace in October, as its business conditions index rose to 56% from 54.2% in September. Both production and new orders grew at a faster clip. A reading above 50% means that manufacturing is expanding.
So how much longer can the economy keep up this heady pace? During the past year, real GDP has grown 4%, and not even the most inveterate growth optimist believes such a pace is sustainable for much longer without creating strains on labor markets or production capacity that will generate price pressures. The bottom line is this: If weaker Asian demand or a shaky stock market doesn't cool off this economy in 1998, then the Federal Reserve will.