Pepsi Vs. Coke: If You Can't Beat `Em, Copy `Em
Pepsi's new strategy apes you-know-who's
Nicole Harris
Thomas L. Hensley won't be joining Pepsi's Generation Next anytime soon. He tried selling Pepsi at the fountains of 12 Dairy Queens that his Louisville-based company operates. But the service from Pepsi bottlers was inconsistent. He switched back to Coca-Cola and found that the company's marketing and promotional support boosted his soft-drink sales. Says Hensley: "It would be awfully tough for Pepsi to muscle its way in now."
This isn't exactly what Pepsi-Cola Beverages Chief Executive Craig E. Weatherup wants to hear--not just as the No.2 cola company sets out to beat Coke at its own game. In fountain sales and international markets particularly, Pepsi is renewing its age-old challenge to Coke. No.2 is changing its network of bottlers to gain more control, shedding sideline businesses, and even promoting its corporate brand as icon, as Coke has done. Weatherup is calling it the "New PepsiCo" strategy, but some analysts say it reminds them of what the folks that crank out the red cans do: "Pepsi is starting to look a lot more like Coke," says Tom Pirko of BevMark LLC.
BLUE ICON. After decades of battling--and seeing Coke take a commanding lead in worldwide markets--Pepsi seems to have decided that the best way to catch up with its opponent is to adopt its way of doing business. First, Pepsi spun off its fast-food chains--Taco Bell, KFC, and Pizza Hut. That was aimed at focusing Pepsi on its core business--just as the late Coca Cola Co. Chairman, Roberto C. Goizueta, had done at Coke. Now, says PaineWebber Inc. beverage analyst Emanuel Goldman, Pepsi "is painting a picture that is smaller but easier to manage." PepsiCo could profit from a sharper focus. While Coke earned $3.9 billion on $18.5 billion in sales last year, PepsiCo's beverage unit reported $582 million in operating earnings on $10.5 billion in sales.
Top on Weatherup's list of Pepsi challenges is creating a corporate icon that's as powerful as Coke's script, red and white colors, and contour bottle. Pepsi is promoting a stylized globe logo on its new cans--in ads, in store displays, and on delivery trucks. The official Pepsi color will now be blue; cans with the new hue were tested in Des Moines and New Orleans last year. During early February, Pepsi bottlers will hold "Globe Day" rallies. The globe logo will even appear in some places without the Pepsi name, like Nike Inc.'s swoosh.
The idea of a Pepsi icon garners rave reviews from marketing experts. Gary M. Stibel, of the New England Consulting Group, a Westport (Conn.)-based marketing firm, who dismissed an earlier Pepsi blue-logo try, says the globe "will attract consumers like a magnet."
While Weatherup launches the battle of the corporate logos against Coke, he's also fighting on other fronts. One of the biggest is fountain sales, which account for 22% of the beverage business. Pepsi improved its odds when it spun off its fast-food operations, which many fountain customers saw as competitors. Now, Weatherup is rewriting Pepsi's bottler contracts to allow Pepsi itself to provide the syrup to national restaurant chains through food distribution companies, similar to the Coke system.
It's still an uphill fight. While Pepsi created a small division devoted to fountain sales last summer, Coke's 113-year-old fountain unit is run by an army of 8,000 employees serving more than 400,000 locations. Today, Coke controls 65% of the fountain business, with huge national accounts such as McDonald's Corp. and Burger King Corp. locked into long-term contracts.
"TAKE-HOME" EDGE. Another front is international. Outside the U.S., Coke outsells Pepsi nearly 3 to 1. Weatherup says the plan is to push hard in developing markets such as India and Indonesia, where Coke is not yet completely entrenched. In places such as Brazil and Japan, Pepsi is lowering its sights. "Pepsi is saying we'll be a profitable No.2 in these large markets," says George E. Thompson of Prudential Securities Inc.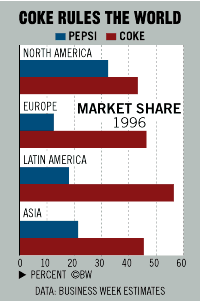 At Coke, Pepsi's new look-alike strategy has not caused much of a stir. Coke far surpasses its rival in every category but one--so-called take-home sales, where they're even; Pepsi beats Coke at convenience stores, gas stations, and mom-and-pops, while Coke edges out Pepsi in supermarkets.
M. Douglas Ivester, who succeeded Goizueta in October, has ordered his executives to stick with his predecessor's formula while looking for ways to keep building market share. On Oct. 30, for instance, Coke sealed a deal that will put its soft drinks into 22 multiplex cinemas throughout Latin America, a region that provides Coke with 18% of its operating profits. "At our company," says Ivester, "we strive to see not just the many places Coke is, but all the places Coke is not." That may not leave much room for Pepsi.
Before it's here, it's on the Bloomberg Terminal.
LEARN MORE