Lessons For Sylvan Learning Systems
The tutoring and testing company's fast rise leads to growing pains
Amy Barrett
It's more than a bit ironic that Douglas L. Becker and R. Christopher Hoehn-Saric have become leaders in the education business. The entrepreneurs built Baltimore-based Sylvan Learning Systems Inc. into a top provider of tutoring and testing services, yet neither graduated from college. Hoehn-Saric dropped out of Johns Hopkins University in his senior year. Becker made it into Harvard University but never got around to enrolling. Instead, they gambled on a launch of their own business.
The bet has paid off nicely. After that initial venture, as well as a few others, Becker, now 31, and Hoehn-Saric, 34, bought Sylvan in 1993 from then-ailing KinderCare Learning Centers Inc. In just five years, acquisitions and partnerships have helped them build one of the most innovative and fastest-growing companies in education. Sylvan controls some 670 learning centers that tutor school-age children around the country. It also has a fast-growing business administering professional and academic tests, including the widely used Graduate Management Admission Test (GMAT). Morgan Stanley, Dean Witter, Discover & Co. analyst David A. Nadel thinks Sylvan will rack up $241 million in sales this year, up from $30 million when the company went public in 1993. Net income should hit $28 million, vs. a loss in 1993.
Now, Sylvan's whiz kids have to prove they can run a big company as successfully as they built one. In the past six months, a few operational glitches in the testing business have left some customers fuming. But most observers are betting that Becker and Hoehn-Saric, who share the title of chief executive officer, can work through such problems. "Growing pains like this should be expected," says Morgan Stanley's Nadel.
But even while the duo hustles to work out the kinks, demand for their product remains high. Education in the U.S. is going through a powerful shift, with more services being delivered by the for-profit sector. "We want to be the source of all types of educational content throughout people's school and professional careers," says Hoehn-Saric.
Becker and Hoehn-Saric were hatching ambitious business schemes when most of their peers were worrying about prom dates. The two met in 1982 while working at a Baltimore ComputerLand store. Becker was still in high school and a budding computer geek; Hoehn-Saric had just started at Johns Hopkins. Their first invention, an identification card that used an embedded computer chip to store a person's medical history, was bought by Blue Cross and Blue Shield of Maryland in 1985 for several million dollars. "We didn't think it would actually work," Becker says with a laugh.
BIG BREAK. They put their riches to work investing in a series of small businesses, from software-training programs to beef processing. In 1990, they bid for Sylvan, owned by then debt-ridden day-care operator KinderCare. KinderCare agreed to a joint venture, giving Becker and Hoehn-Saric a 50% stake. The duo bought the rest in early 1993.
Almost immediately, Becker and Hoehn-Saric saw ways to capitalize on Sylvan's franchised network of tutoring centers. They won a contract with testing giant Educational Testing Service to deliver computerized versions of exams. Today, ETS represents about 10% of Sylvan's revenue. Thanks in part to acquisitions, including its $75 million purchase of main rival Drake Prometric in 1995, testing makes up more than half of sales.
Becker and Hoehn-Saric have also found creative ways to capture some public-school dollars. In 1993, they struck a deal with Baltimore's public-school system to open Sylvan centers in a few of the city's schools to help students improve their reading and math skills. Federal funds earmarked to help disadvantaged students, known as Title I funds, pay for most of the centers. Today, Sylvan has centers in 590 schools and plans to open more. "They are here to supplement, not supplant, the public-school system," says Steven O. Bailey, principal of Philadelphia's FitzSimons Middle School.
SNAFUS. For all their entrepreneurial success, however, the question Sylvan's wunderkinds face is how well they can manage the much bigger company. Customer-service problems have developed in recent months. In October, when Sylvan rolled out its computerized GMAT, it failed to set up enough computer terminals in Manhattan, leaving potential test-takers stranded. The National Association of Securities Dealers has complained that software glitches were delaying and even causing the cancellation of Sylvan-supervised testing and training sessions. Hoehn-Saric acknowledges that the company has had some operational glitches and adds that Sylvan has worked quickly to resolve them.
Sylvan is also grappling with new competition. Washington Post Co.'s Kaplan Educational Centers is expanding its learning centers and plans to have 100, up from the current 35, by the end of 1998. "Sylvan hasn't faced a lot of competition from well-funded competitors," says Kaplan President and CEO Jonathan Grayer. "That will change." Sylvan also faces a crowded market for professional testing and certification. Corporate customers Novell and Lotus Development, which contract with Sylvan to administer tests to people who want to be certified as pros in their software, have started taking some
business to Sylvan's rivals, such as Virtual University Enterprises.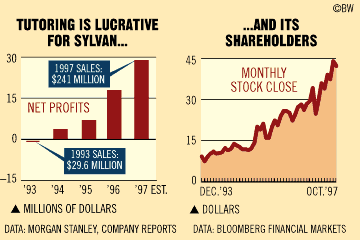 Still, Becker and Hoehn-Saric are hardly slowing down. Hoping to focus on strategic planning, they have added three execs to run day-to-day operations. And while they open some 50 Sylvan Learning Centers a year, they are also hunting for new ways to leverage their network. One promising project: a partnership with National Geographic Society to offer educational and entertainment afterschool programs. They're also hitting global markets, gearing up to roll out ETS's Test of English as a Foreign Language (TOEFL) on its testing network.
Becker expects Sylvan to have a big role when ETS computerizes the Scholastic Aptitude Test (SAT). "This business will get even bigger as more people say, `I'm ready to jump to computerized testing,"' says Becker. He and Hoehn-Saric will be waiting.
Before it's here, it's on the Bloomberg Terminal.
LEARN MORE