Hilton's Ceo Just Won't Check Out
His new ITT bid shows how badly he wants upscale hotels
By
What do you do when you have promised investors an aggressive growth strategy that will make your company tops in its field--and the deal that could make that happen keeps slipping through your fingers? If you're Stephen F. Bollenbach, a master dealmaker whose resume includes bailing out Donald Trump and engineering Walt Disney Co.'s purchase of ABC, you try, try again. And so, after more than nine months of stalking ITT Corp., Bollenbach, chairman and CEO of Hilton Hotels Corp., sweetened his bid on Nov. 3 one more time to $80 a share--$10 more than he said the conglomerate was worth only two weeks before.
Unfortunately for Bollenbach, Starwood Lodging Trust--the upstart whose $82-a-share Oct. 20 bid blew Hilton's $70 offer out of the water--isn't ready to back off either. Starwood is expected to spruce up its bid with more cash. Even so, the final chapter is likely to be written by ITT shareholders on Nov. 12 at a meeting to choose between a slate of directors proposed by ITT CEO Rand Araskog and one nominated by Hilton.
But win or lose, Bollenbach's renewed bid shows just how badly Hilton needs ITT to fulfill its ambitions. Since becoming CEO 18 months ago, Bollenbach set out to buy choice casinos and full-service hotels in major urban markets. In all, the plan was to add 10,000 rooms a year by 2001 and achieve a 20% return on assets. Within four months of joining Hilton, Bollenbach paid $3.1 billion to buy the gaming company Bally Entertainment Corp., which helped boost Hilton's just announced third-quarter earnings by 75%. He also bought back Hilton hotels from urban franchisees, adding 7,000 rooms in his first year alone.
With its stable of 247 hotels, Hilton figures it can increase cash flow by 9% to 10% annually by raising rates. But to get to Bollenbach's stated goal of 20% annual growth in earnings before interest and taxes, the company needs a big score. One way to get it, says Coopers & Lybrand consultant Bjorn Hanson, is to keep buying hotels in major cities--where occupancy rates exceed 80%.
To find those hotels, say industry sources, Bollenbach's investment bankers have been reviewing candidates owned by such major chains as Doubletree, Westin Hotels & Resorts, and Omni. But with ITT, Bollenbach could get 22 high-end hotels, including New York's St. Regis and the Sheraton hotels, in one swoop. Moreover, it would add the somewhat faded but fabled Caesars Palace in Las Vegas, which is in the midst of building 1,142 rooms.
That made ITT the ideal target--at the right price. After an initial bid of $55, Bollenbach raised his offer to $70 in August--but declared that's where he would stick. So, what made him unstick? Hilton executives cite a drop in interest rates and better-than-anticipated earnings at ITT.
But Hilton was also running out of places to go. While it has been chasing ITT, Starwood acquired Westin in September, and Doubletree has embarked on its own acquisition strategy. Industry insiders say Bollenbach contemplated--but rejected as too costly--a bid for the highly profitable MGM Grand Hotel & Casino, along with a half-interest in the hot New York, New York casino that opened there in January. Neither Hilton nor MGM would comment.
UPPER HAND. "I think Hilton woke up one day and said, `Rats, we have this long-term strategy, but we thought it was going to be cheaper,"' says Salomon Brothers analyst W. Bruce Turner, who advised his firm's clients on Nov. 4 to vote their shares for Hilton.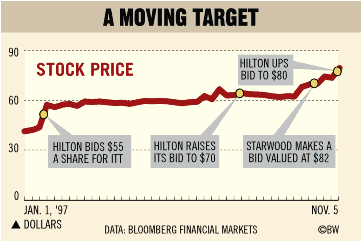 Given the intensity of the bidding war--which pushed ITT stock up from $43.75 in January, when Hilton made its first bid, to $80.25 on Nov. 5--ITT will definitely not come cheap. Fund manager Mario J. Gabelli says he values ITT at $89 a share, based on efficiencies the new owner could achieve and ITT's strong asset base. (Of course, he does own 2.5 million shares.) Since many institutional investors have already sold their stakes to arbitrageurs, many analysts believe that Hilton still has the upper hand because it can offer more cash. Its latest bid adds up to $9.3 billion vs. $9.8 billion from Starwood, but it represents three times as much cash per share.
Where will Hilton turn if Starwood wins the ITT bidding war? The company hopes to build a chain of midpriced Hilton Garden Inns, which it would run for franchisees. But suburban hotel suites aren't the stuff of Bollenbach's dreams.