Germany: Market Turmoil May Delay The Buba's Plans
by
The Bundesbank made a surprise move on Oct. 9 to improve prospects for the German mark, inflation, and a common European currency. But the chaos in the global financial markets may prevent any further rate hikes in 1997.
The rise in the repurchase rate, from 3% to 3.3%, was seen as a way to further reverse the mark's 11% slide against the dollar in the first nine months of 1997. While the mark strengthened in October, its past drop has pushed up import prices, which rose 4.6% in the third quarter from a year ago. More expensive imports are already lifting overall producer prices (chart), and the Buba probably feared even higher inflation in the future.
To the good, the weak mark has bolstered Germany's export boom. Real exports were up 11.8% in the year ended in the second quarter, and a similar gain probably occurred in the third quarter. Real manufacturing orders in September were up 11%, thanks mostly to the 24.2% surge in foreign demand.
The government expects the economy to grow 2.5% this year and 3% in 1998. Both forecasts are slightly higher than the consensus view of Germany's six major economic institutes. But given the problems in the East, growth next year may not be fast enough to cut unemployment. October's jobless rate for all Germany edged up to 11.8%, from September's 11.7%.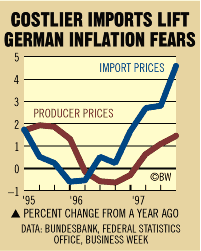 Moreover, the recovery must spread beyond exports. For now, the domestic economy remains weak, except for increased business spending on equipment. Retail sales were down 1.4% in the year ended in August, and construction is dropping. Business confidence is rising, but again, the optimism is skewed toward exporters. Retailers and small businesses remain wary. Consumer confidence has been flat for a year.
In a way, the Bundesbank's position mimics that of the Federal Reserve in 1994. After accommodating a sluggish economy, the central bank wants to move toward a more neutral stance. But the market turmoil will make the Buba's job harder than the Fed's.
Before it's here, it's on the Bloomberg Terminal.
LEARN MORE