For Startups, A Narrower Road Ahead?
With IPOs slowing, investors may balk at funding fledglings
Linda Himelstein
Candescent Technologies Corp. should be sitting pretty. The San Jose (Calif.) privately held maker of flat-panel display monitors for computers and TVs has raised some $230 million from venture funds, including New Enterprise Associates and Sierra Ventures, as well as from corporate angels such as Hewlett-Packard Co. and Compaq Computer Corp. Not a bad showing for a company that opened its doors just six years ago--and that has no revenues. "You might say Candescent has a pretty high valuation," says Chairman and Chief Executive Harry A. Marshall. "But we're creating a multibillion-dollar future opportunity."
That will be the pitch when Marshall tries to raise $200 million in an initial public offering for Candescent, probably within the next six months. But Candescent may have to work a little harder this year to convince the public.
WANING APPETITE. Sure, venture capitalists continue to fund high-tech and health-care companies at a frenzied pace, and private valuations for these companies are up an astonishing 83% in the last year, according to VentureOne Corp., a San Francisco research firm. But when it comes time for the public to buy, investors don't seem to have the voracious appetite they have had in the past. And with stocks--especially technology stocks--careening lately, the outlook for IPOs is unstable.
According to VentureOne, 92 venture-backed companies in the high-tech and health-care industries went public in the first nine months of this year. That compares with 202 IPOs such companies completed in the same period of 1996. The IPO rate is a barometer that venture capitalists and young startups watch extremely carefully. They depend on IPOs or mergers or acquisitions to turn their brainchildren into cash. M&A activity for venture-backed deals is down, too, says VentureOne, by 57%. So if companies can't look forward to cashing out with IPOs or takeovers, investors may lose interest in financing startups. "We've been in a buoyant marketplace that made up for a lot of sins on valuation," says John L. Walecka, a partner at Brentwood Venture Capital in Menlo Park. "But that may change as the public market becomes more discerning."
That raises red flags for venture capitalists. High prices for IPOs and takeovers have netted them record returns--in some cases as high as 60% annually--for three years running. But an avalanche of new money flowing into private finance has been pushing up price tags for the sexiest deals. "The concern is that the venture business is being forced to pay up on the front end of these deals," says David Gleba, VentureOne's founder and chairman. "Unless it gets an IPO market that's over the top, it's not going to get bailed out."
DEPLETED INVENTORY. The best and brightest companies, of course, can still flourish. Chip startup MMC Networks Inc. went public on Oct. 29 at $11 a share and its stock was over $25 a share one week later. Other high-profile IPOs this year, such as Amazon.com and At Home, still have relatively high valuations.
Indeed, some investors attribute the slowdown in the flood of IPOs simply to overload: So many companies went public in the last two years that the inventory is depleted. New Enterprise Associates, for instance, saw about twelve of its startup companies go public in 1996. This year, the venture firm anticipates three IPOs. "I think 1997 is just a thin year," says C. Richard Kramlich, New Enterprise's managing partner.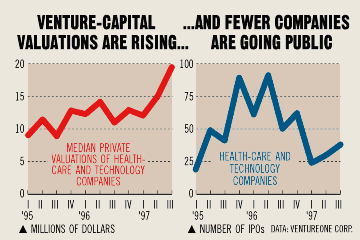 Whatever the cause, the slowdown signal is clear. And the companies that got the most out of the spike in private valuations--communications, software, and health-care startups--could feel the pinch, according to VentureOne. Valuations of communications companies are up 31% just in the last year. In the software sector, which includes many Internet startups, valuations are up 47%, and those for health-care companies have climbed 23%.
"When valuations have increased to the extent that they have, there is clearly a potential for significant downside as well as upside," says Bradford C. Koenig, head of high-tech investment banking at Goldman Sachs & Co. Investors can only hope that gravity won't intrude too soon.
Before it's here, it's on the Bloomberg Terminal.
LEARN MORE