Commentary: Funds: A Hidden Trick Investors Should Know About
Geoffrey Smith
Q: When is a stock market crash not a stock market crash?
A: When mutual-fund execs say it's not.
That, in effect, is what some mutual-fund companies said on Oct. 28, when Hong Kong stocks fell 14%. That day, a handful of fund companies decided that in the name of protecting U.S. fund investors, they would dust off an arcane accounting rule known as "fair-value pricing" and use it to erase the decline from their books. In effect, they predicted that Hong Kong stocks would recover the next day, and they adjusted the value of their holdings to reflect the expected gains.
The results were astonishing. Huge disparities appeared the next day in the performance of Asian funds that have many of the same holdings. And some investors who tried to buy on the Asian market drop lost money in at least one Asia fund when its managers suddenly switched to fair-value pricing without warning. The Securities & Exchange Commission has launched a review, and there's little doubt reform should follow--at least in terms of disclosure.
WIDE LATITUDE. Fair-value pricing, a valuation system sanctioned by the SEC, is an obscure tool that most investors have never heard of. Basically, it gives funds the option of establishing a "fair" price for a security in the event one is not readily available by 4 p.m. EST, when funds set their net asset value (NAV) for the day. Generally, funds use the technique in special circumstances, such as when a fund invests in a private placement. But fund managers have wide latitude in using it--and they don't have to tell investors when they do.
In the case of the Hong Kong crash, some fund companies chose not to set their Oct. 28 NAV using closing prices in Hong Kong. Instead, they set prices based on what they decided their Hong Kong stocks should be worth at 4 p.m. EST. Fidelity Investments, for one, decided its Hong Kong & China Fund was worth 2 cents a share more than on the 27th. Why? Fidelity Vice-President David B. Jones, who oversees pricing, says the recovery of U.S. stocks and a rise in the Nikkei index on the afternoon of the 28th meant that by the close of trading in the U.S., "Hong Kong prices weren't realistic." So prices for all of Fidelity's Hong Kong holdings were set using outside pricing services, futures prices, and other factors, Jones says.
Over at Colonial Group, Chief Financial Officer Timothy J. Jacoby didn't use fair-value pricing. "We didn't want to run the risk of subjectively trying to predict the market," he says. So while Fidelity's fund rose, the NAV of his Colonial Newport Tiger Fund--with many of the same top holdings--fell $1, or 11%, on Oct. 28.
Fidelity bet right: The Hong Kong market did rise. But what matters is whether fund investors were treated fairly--and many weren't. The inconsistent use of different pricing methods leaves investors in the dark.
"CHEATED"? Consider the case of Dr. Bharat Nathwani, a pathology professor at the University of Southern California who was looking to capitalize on the Asian market turbulence. He says he invested thousands in
Fidelity's Hong Kong & China fund at 2 p.m. EST on Oct. 28, expecting to buy at the bottom of the crash. He claims Fidelity said nothing about fair-value pricing, and he was sold shares at a price above Monday's close. "I've been cheated," says Nathwani, adding that he is considering a class action.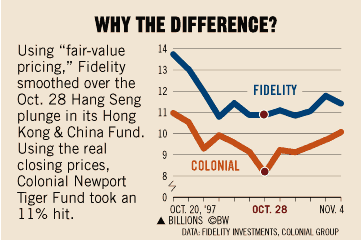 Fidelity declines to respond to Nathwani's charges. But it says phone operators can't alert investors to changes in valuation methods because decisions on pricing are made on short notice. Still, Fidelity says it "can do a better job" of explaining pricing methods. Fidelity's concern Oct. 28 was that investors would try to exploit the low Hong Kong prices by buying on Tuesday and quickly selling as Hong Kong recovered, diluting other investors' gains. Gene A. Gohlke, a top SEC compliance officer, favors Fidelity's approach because it prevents such quick trading. "The idea of treating shareholders fairly is the essence of a mutual fund," he says.
No one disagrees. But fund companies should forewarn investors when a fund's prices do not directly reflect market activity. A fund company's obligation is not just to be fair to existing shareholders but to provide accurate information to other investors as well.
Before it's here, it's on the Bloomberg Terminal.
LEARN MORE