Behind Oxford's Billing Nightmare
How a misconceived system cost the health-care giant millions
Keith H. Hammonds and Susan Jackson
A cloudless June sky greeted Stephen F. Wiggins as his limousine rolled into Brooklyn's gritty Brownsville section. Wiggins, the 41-year-old chairman of Oxford Health Plans Inc., had journeyed from his suburban Connecticut headquarters to greet local pols and new employees at the opening of Oxford's new neighborhood health clinic.
This was the sort of gig only a company at the top of its game could afford. The clinic, set in a poor, medically underserved area, would never return the $1.5 million it had cost. But then, Oxford had doubled in size in 18 months, and profits had soared. With most of his rivals stumbling, Wiggins could view the vicissitudes of his industry from a position of apparent strength. "Managed care is a hard business," he said that morning. "We have very low margins, with hardly any room for error. hmos are having a hard time doing well."
Few, if any, knew then just how aptly Wiggins' critique applied to Oxford itself. In fact, problems with critical information systems were pervasive and debilitating and had been so for months. The insurer was months late getting premium bills to customers, so receivables had doubled. More critical, Oxford was so overdue in paying claims that it was advancing reimbursement to hospitals, promising to resolve differences when the computers caught up.
Oxford and Wiggins, in short, had lost control. Just how bad things were in June became clear on Oct. 27, when Oxford admitted that unprocessed claims had come in much higher than expected. The billing snafu, it added, had led some customers to cancel policies they had enjoyed free for months, rendering uncollectible revenue that already had been booked. A week later, Oxford reported a $78 million loss for the third quarter and reduced its predictions of 1998 profits by 25%.
RED FLAGS. The company's stock sank nearly two-thirds on the news, to under $25, toppling from its lofty peak of 35 times future earnings last summer. Oxford, Wall Street realized, was fallible. Amid extraordinary growth, Wiggins and other top managers had relied on a deeply flawed computer strategy and had failed to act in the face of red flags indicating serious problems. "An awful lot of balls were being balanced, and somebody dropped one," says one Oxford director, who insisted on anonymity.
Certainly, Oxford had company in misery. On Nov. 4, Aetna Inc., dogged by computer problems of its own, announced a $103 million charge for unexpectedly high medical costs. Oxford, for its part, remains widely respected for its shrewd consumer marketing and innovative health-management programs. "Their results will improve tremendously in 1998 and particularly in 1999," says Kenneth S. Abramowitz at Sanford C. Bernstein & Co.
Still, Oxford likely will long be mending damage that was five years in the making. Company insiders say the information-systems problems began around 1992. Executives wanted flexible, more powerful technology that could handle the 50% annual growth and increasing complexity they already were seeing. So Oxford began developing new systems atop databases from Oracle Corp., veering away from an older, increasingly jerry-built system from Computer Sciences Corp.
Back then, "Oxford was on the cutting edge" with its vision of technology, says Jennifer Carr, an analyst at Gartner Group. But the new system, known within Oxford as "Pulse," took far longer to build than anyone had anticipated. Over five years, Oxford employed 100 or more outside systems contractors at any one time, racking up bills that likely totaled more than $20 million a year--excluding the tab for licensed software.
What's more, turnover among Oxford's programmers was unusually high, so the development effort lacked continuity. Much of the resulting work, say those who left, was poorly done. Moreover, they say, efforts to test the new programs were minimal. "We knew trouble was coming," says one former contractor. "The way they were doing it was just textbook wrong."
An initial conversion of medical-management systems in early 1996 went well, the company says. But last September, when Oxford finally switched over the majority of its operations to the new system, the internal doubters were proved right. The technology immediately foundered, failing to generate premium invoices for many customers--which include The McGraw-Hill Companies, BUSINESS WEEK's parent--for three or four months.
A big problem, Wiggins says now, were the database management tools, which "needed more computing resources and created more bottlenecks than anyone understood at the time." But Oxford's own developers and contractors also made errors. Predicting the diverse and changing operations of a health-care organization, he says, "was a task [we] didn't do a very good job on." The logjam was compounded, former insiders say, because Oxford hadn't kept the old billing system running as it brought up the replacement. The company was working without a net.
Claims processing proved an even bigger debacle. Once again, the operation clogged badly. By March, hospitals and specialists say, Oxford's reimbursements--especially for complex, expensive procedures--routinely went unpaid for six months or longer. "We went through a period when we didn't see any checks for quite a while," says John G. Hunter, a Manhattan plastic surgeon. (The good news was, Hunter didn't get billed for his staff's Oxford premiums, either.)
At the behest of irate providers, the New York State Attorney General's office asked Oxford to explain itself. In a Mar. 6 letter to Assistant Attorney General Stephen Mindell, Oxford wrote: "We have addressed the problems...and our service levels are rapidly returning to acceptable industry standards."
In truth, service still was deteriorating. Under pressure from hospitals, Oxford began advancing estimated payments for unresolved claims. By the end of June, it had advanced the equivalent of one month's claims--a highly unusual arrangement, but one that kept providers happy. Even then, New York threatened on July 17 to sue Oxford for fraud, forcing the insurer to guarantee interest payments on any straightforward claims not paid within 30 days.
BAD GUESS. Oxford now says the systems chaos hit the company financially in two ways. Some--mostly smaller--customers canceled their policies rather than pay the bills they received months late, costing Oxford $42 million, after taxes, in unrealized premium revenue. At the same time, the claims snags masked a serious underestimate of medical expenses for Medicare patients.
All health insurers have to guess at medical liabilities from quarter to quarter, since many claims only arrive after a quarter ends. Oxford's tardiness, though, heightened the riskiness of the guess--especially because the billing mess left it in the dark as to exactly who its members were. While its commercial business was fairly easy to predict, the demographics of its rapidly growing Medicare operation weren't as clear. When that happens, "our ability to accurately estimate [expenses] goes down," says a rival insurance executive.
Oxford was advancing providers payments for Medicare patients based on old estimates. In real life, its patients were older and sicker than before. Claims for bypass surgery, among other expensive procedures, were way up. In all, Oxford's medical-loss ratio--the share of premiums paid out in medical expenses--was closer to 85% than the 80% Oxford was reporting. That error cost the insurer another $51.9 million.
In July, Oxford sent teams of employees to collect unpaid premiums and to reconcile provider advances with actual claims. Until recently, it expected higher uncollected receivables would be offset by increased membership. Only late on Friday, Oct. 24--more than a year after the first problems appeared--did the shortfall become clear, Wiggins says. Oxford director Thomas A. Scully says the board didn't know until then how serious the financial troubles were. Although directors had voiced worries at various points about management's lack of financial depth, Scully says, "the company had been successful, and our concerns were being dealt with."
At least 12 law firms that have filed class actions against the company argue that Oxford in fact misled investors. They cite the company's continuing public reassurances that problems were past as misleading and say large stock sales by Wiggins and other officers in August indicate that the bad news was well known internally. "It's impossible to believe this came as a total surprise to the company," says Marian P. Rosner, a partner at Wolf Popper LLP in New York. Oxford says executives sold shares to pay taxes on gains from stock options exercised earlier in the quarter.
STILL GROWING. Oxford's systems problems aren't fixed yet. Advances to hospitals haven't been fully paid down, indicating that claims payments aren't caught up; physicians report they are being paid interest on overdue accounts. More troubling, claims processing still is done on the old csc system, although actual claims data reside on the new.
Oxford still is thriving in many ways. While rivals privately have pounced on what one called "the fair-haired boys of the industry," its membership is growing at an annual rate of 35%. It leads the robust New York market and dominates among high-end customers like law firms and investment banks. If the kinks ever get worked out, analysts believe its information systems will prove very strong.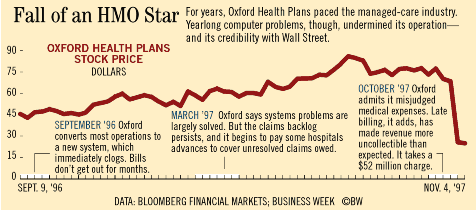 But Wiggins was right that morning in Brooklyn: The managed-care business is getting tougher. As growth slows from the 100% days of old, Oxford has less padding in the form of up-front premiums to cover thin margins. And it won't easily reestablish credibility with investors who feel badly burned--or with physicians who jokingly refer to "Oxfraud." More than that, Oxford's debacle underscores the new reality in managed care. With new members harder to find and the easy medical cost cuts already made, profits are harder to come by. Top-flight information systems or not, Oxford and its rivals are fighting the specter of commoditization. There are no stars anymore.
Before it's here, it's on the Bloomberg Terminal.
LEARN MORE