Lately, regional banks have been consolidating like mad. CoreState Financial, for one, has had a bid from Mellon Bank and overtures from First Union. Who will be the next target?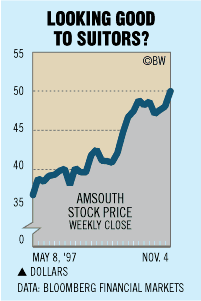 Maybe AmSouth Bancorporation (ASO). Some money managers who have scooped up shares are betting that this holding company, with assets of $18.4 billion, will attract First Union. AmSouth, which runs 275 bank offices and has 600 automatic teller machines in Alabama, Florida, Georgia, and Tennessee, fits the bill for First Union--to round out the acquisitions that have boosted its assets to $140 billion. First Union's latest quarry was Signet Banking, which it agreed to acquire in July. In January, 1996, it gobbled up First Fidelity. First Union has 1,200 full-service offices along the Eastern Seaboard.
Trading in AmSouth's call options has been active, with good premiums being paid for them. Stock volume has been heavy, too. AmSouth's market capitalization is around $4 billion, vs. First Union's $28 billion.
AmSouth shares climbed from 37 in July to a high of 51 on Nov. 5. Recent bank buyouts have fetched four to five times book value. One California investment manager who has been buying shares figures that AmSouth is worth about 68 at four times book--and 85 at five times book. First Union and AmSouth declined comment as a matter of policy.
Before it's here, it's on the Bloomberg Terminal.
LEARN MORE