An Old City Goes For Razzle Dazzle...And Opens Up The Riverside
Andrea Mandel-Campbell
From his studio in the elegant Barrio Norte neighborhood of Buenos Aires, architect Alberto Varas gazes out at a neighboring building from which ornate gargoyles peer back at him through what he calls his "Italian" window. Across the hall, elaborate slate-gray roof tiles are reflected in his "French" window. Such an eclectic mix of architecture has garnered the Argentine capital fame as a European outpost in Latin America. But baroque terraces and neoclassic cupolas were not, notes Varas, the inspiration behind a $1 billion real estate project he designed to revolutionize the city's chaotic transport system and create direly needed green space. Quite the contrary. As a stream of world-class developments begin to take shape, this metropolis of 11 million is trading in its Old World style for New World razzle-dazzle.
"In the last 10 years, Buenos Aires has begun identifying itself more and more as a city of the Americas," says Varas. "And as a New World city, it's a place to experiment and create new things."
RAT-INFESTED. The Retiro project, named after the city's decrepit central train station, is one such innovation. The plan is to turn 185 acres of rusting railway tracks in downtown Buenos Aires into a complex of parks, high-rise apartments, hotels, and shopping centers. With the money collected from the sale of land to private investors, authorities plan to build a subterranean transport hub uniting trains, taxis, subways, and buses.
And while auctioning of public land for Retiro is not expected to start until the second half of 1998, a nearby waterfront development is already bearing fruit. Once occupied by rat-infested, deserted warehouses, the renovated Puerto Madero docks now serve as the chic new center for gourmet restaurants and as loft-style offices for many foreign companies. The picturesque red-brick buildings were the first stop for U.S. President Bill Clinton on his October visit.
And Puerto Madero is gathering speed. Termed the "largest port recuperation project in the world" by its president, Enrique Fazio, the development's second stage will turn 420 acres into an urban centerpiece connecting the city with the muddy waters of the Rio de la Plata estuary. Once the playground of Argentina's oligarchy, the area fell from fashion long ago. But soon, the crumbling promenades and remains of palm-shrouded villas will be home to a new five-star Howard Johnson's hotel, convention centers, and a 14,000-seat stadium.
One of the main investors so far has been IRSA, the development company owned by Hungarian-American entrepreneur George Soros that is refurbishing docks into residential, office, and hotel space. Citibank and others are lining up to take part in land auctions for the $1.9 billion project. Once completed, in 2005, Puerto Madero will support 55,000 jobs, house 10,000 people, and feature man-made lakes and new boulevards. Says Fazio: "Puerto Madero is beginning to be seen as an international showpiece where you have to be."
Private investors aren't the only ones spending big bucks to spruce up the city. Last year, the capital gained its first democratically elected mayor, Fernando De la Rua--previous mayors having been appointed by the President. The new municipal government has launched an ambitious plan to create 40 kilometers of continuous green space along its river coast. The $1.2 billion project will include new subway stations and a facelift of its revered arts district.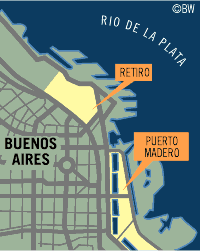 Mayor De la Rua, who belongs to the Radical Civic Union party, the main opposition to the ruling Peronists, boldly ordered the demolition this year of several restaurants along the coast that had dubious concessions awarded by previous administrations. In one extreme case, the former Tourism Secretary for the federal government, Omar Fassi Lavalle, was paying $1,000 a month in rent for a restaurant concession that he was then subletting for $25,000. The restaurants, which form part of a row of exclusive clubs blocking public access to the river, will be turned into parks. "What we are trying to build is a new urban consciousness," says Roberto Converti, subsecretary for city planning. That would make the "Paris of South America" a good deal more like Paris.
Before it's here, it's on the Bloomberg Terminal.
LEARN MORE