Up For Grabs In The Oil Patch?
By
When the market tumbled on Oct. 27, Garry Shemano felt sure that he could load up on favorite stocks at bargain prices. But he didn't get that chance with one stock: Union Texas Petroleum Holdings (UTH). It slipped a mere three-quarters of a point, to 22 a share. Shemano, who heads Shemano Group, a San Francisco investment firm, already owns about 4.5% of the stock. What's keeping the price so buoyant?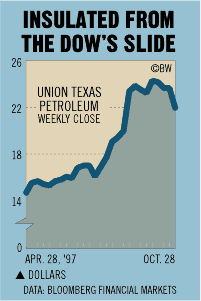 UTH, an independent Houston oil-and-gas producer with operations focused on the North Sea and Indonesia, has another big stakeholder: Kohlberg Kravis Roberts (KKR), which has a 25.7% slice. And the partnership at KKR that actually owns the 25.7% stake is scheduled to "expire" at yearend. That means KKR must either sell its stake to another group--which may involve a buyout--or distribute its holdings among the partners. The betting is that KKR is on the lookout for a sale. KKR has a year or so to act after the partnership's expiration.
In the meantime, UTH has adopted a poison pill. Shemano analyst Mart Bailey says the takeover prospect wasn't the reason behind Shemano's buying UTH shares. The company's North Sea operations, he says, are its most valuable, contributing 48% of cash flow. But, says Garry Shemano, UTH would be a "great fit" for one of the oil biggies. UTH and KKR declined comment as a matter of policy.