From Russia, With Love And Rubles
Patricia Kranz
Waving white batons, Moscow's traffic police often seal off the main streets to clear the way for Kremlin honchos. But on this hot afternoon, impatient motorists on Frunzenskaya Embankment stare in surprise. Instead of the usual black Volgas, 89 bike riders, including me, whiz by, all wearing brightly colored T-shirts. We're ending a 120-mile trip to raise money for Downside Up, a charity that helps Russian children with Down's syndrome. We ride triumphantly into Red Square, cheered by families who receive aid from the charity.
Toddling up to me with a big smile is 2-year-old Gigo Shinkashvili. Wearing overalls and a jaunty bandanna, he raises his chubby arms--his way of asking to perch majestically on my bike seat. As I pick him up, I realize the ride was much more than three days of exercise and camaraderie in the Russian countryside. Were it not for Downside Up, the winsome Gigo might be lying immobile in an institution--or even dead. In Moscow, 95% of Down's syndrome babies live in state orphanages. Half die before their first birthday, many from lack of nurturing.
When Gigo was born, doctors begged his parents to turn him over to the state. For six weeks, they prevented Inga, his mother, from seeing him. "They said it was better [for us] and better for him," she says. Inga refused to give him up, and now, the Shinkashvilis are returning to their native Georgia to establish a Downside Up branch.
Each biker had to raise at least $1,500. Such fund-raising events are common in the U.S. but are a new phenomenon here. Still, one-third of the bikers are Russian. Says Kiril Grimov, 26, a trader at Moscow's Brunswick Brokerage: "People understand the importance of this cause, so it was not difficult to raise money." Like me, Grimov raised most of it from individual sponsors. (Much of mine came from BUSINESS WEEK people, thanks to the ease of communicating by E-mail.) But businesses also chipped in. Downside Up raised $220,000 from the ride, more than twice its 1997 budget.
"MORE REFINED." The authorities' willingness to stop traffic for Downside Up is a sign of Russia's growing acceptance of private giving. Charities were outlawed after the 1917 Revolution. But a decade ago, in the wake of glasnost, they sprang up again. In 1995, Russia established guidelines for charities and granted them tax benefits. Now there are 50,000. "There is a strong charitable sector in Russia, and it's becoming more refined and sophisticated," says Mary P. Yntema, a board member of United Way Moscow.
Groups ranging from soup kitchens to addiction-treatment centers have been formed. No to Alcohol & Drugs, for instance, runs shelters for addicts and their family members in 42 regions. In Vishnyovogorsk, in the Ural Mountains, Nazim K. Gainutginov runs a credit union that gives low-interest loans to pensioners. He also operates a network of volunteer babushky, or grandmothers, who deliver pensions to the homebound.
Charitable work is often underfunded. Russians give money to needy relatives or neighbors but distrust big organizations. Volunteerism is suspect, too. During Soviet times, people were forced to "volunteer" to bring in the harvest or clean up neighborhoods. So "volunteer" means "unprofessional." And many, especially in rural areas, are still steeped in the Soviet mentality that discouraged individual initiative. Sophisticated Russians can be too caught up in making money to help the needy. And the tax code allows a minuscule 3%-to-5% deduction for cash gifts. President Boris N. Yeltsin used the death of Diana, Princess of Wales, to scold Russia's new rich for their lack of interest in charity.
HUSH-HUSH. Some Russian businesses, such as the commercial banks that have opened in the past decade, are getting the message. Inkombank donated more than $4 million in 1996 to support culture, science, and services for veterans of the war with Chechnya. Mezhkombank gave $1 million to an ecology group to save the White Siberian crane and the Siberian tiger. Avtobank spent $100,000 renovating a wing of Morozov Children's Hospital in Moscow. Aeroflot donated $40,000 worth of tickets to bring 34 foreign doctors and anesthesiologists to Russia for Operation Smile. They performed operations on children with cleft lips or palates.
Russian companies often make donations in secret. They don't want to flag their profits, which might bring more taxes. Companies that donate goods or services to charity are subject to a 20% tax on their value, so many give on the sly. And wealthy New Russians don't want to alert the mafia that they have excess cash. Says Vasily Rudomino, a lawyer and board member of Operation Smile: "The support is not public or well-known. That's why there is the perception that New Russians think only about money. In general, it's not true."
Last year, some $350 million in foreign money flowed into Russian nonprofits--human rights and women's issues are favorites--but Russians often question the motives of outsiders. Since 1987, American financier and philanthropist George Soros has given millions to Russian cultural and scientific projects. But in 1995, newspapers alleged that Soros' foundation was a branch of the CIA, and the nationalist parliament launched an investigation into whether it was stealing state secrets--turning up nothing. This summer, after a consortium including Soros won a hotly contested bid for the Russian communications company Svyazinvest, he was denounced once more. Still, in mid-October, Soros pledged an additional $500 million for Russian causes.
Russians want their gifts to benefit the three Cs: church, culture, and children. Groups serving the disabled get little institutional support, so Downside Up is critical. Says Irina Khakamada, a member of parliament: "Russian attitudes are those of an undeveloped society, where anyone who differs from the rest tends to be rejected."
Downside Up was founded in 1992 by Moscow investment banker Veronique Garret, mother of a Down's child, and her brother. It helps 50 Moscow families care for their Down's syndrome children. Specialists visit the families every two weeks, providing medical advice and physical therapy. Once a week, the children get together in a play group. Downside Up also helped organize a kindergarten where children with Down's syndrome attend class with those without disabilities. Says Vakhtang Shinkashvili, Gigo's father: "Downside Up doesn't just provide concrete help. It gives us a way to understand Gigo's potential."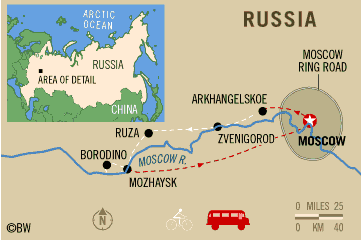 The best hope for Downside Up and other charities may be Russian yuppies, who are taking a cue from the West. About 30 of them are participating in the Downside Up ride, bouncing along on Russia's poor roads on mountain bikes. Starting at Arkhangelskoe, an elegant pre-revolutionary estate on the banks of the Moscow River, we pass dozens of Orthodox churches, their gold-plated domes gleaming in the sun. We skirt the village of Nikolina Gora, where the descendants of high-ranking scientists and communist officials still summer in rambling wooden dachas like the one in Dr. Zhivago. At Borodino, we ride past fields where Napoleon and his troops crossed swords with the Russians in 1812.
After two nights on the road, we ride the final mile into Red Square, hot and tired but exhilarated. Grigory Pronyakov, 21, pulls up beside me. "This ride has been one of the most vivid experiences of my life," he says. "So many people moving all together, united in spirit." It's that new spirit that gives hope to Russia's needy.