A Rogue State Pines For Its `Homeland'...But It's Playing A Risky Game
Vijai Maheshwari
What looks like a state and acts like a state but isn't a state--and doesn't really want to be a state? Try Transdniester, the Majorca-sized breakaway republic. With Russia's help, Transdniester has done surprisingly well since it split from the ex-Soviet republic of Moldova after a short, bloody war over nationalist issues in 1992. But not one country, including Russia, has recognized it, and Transdniester's fondest dream is to be reabsorbed into its giant patron. "Russia is our homeland, our motherland, our nation," declared President Igor Smirnov in a speech on Sept. 2.
A stroll down the elm-lined main boulevard of Tiraspol, the capital, belies Transdniester's fragile situation. An Opel dealership gleams at one end of the central square, and Western-style supermarkets and cafes give this pastoral town of 300,000 on the Dniester River a prosperous feel.
Indeed, under the stewardship of Lenin-lookalike Smirnov, who has proven a genius in wringing soft loans from Moscow, the 750,000-strong republic has managed to stabilize its economy. Inflation is down to 3% a month from its postwar high of over 1,000% per year. Many of the region's factories--including the state-owned Moldovan Steel Plant, one of the largest in Europe--are buzzing again. Money from arms and drug smuggling is flowing in, according to the Organization for Security & Cooperation in Europe. Powerful Moscow banks like Tokobank and Gazprombank have advanced strategic loans to local industries. And Czech carmaker Skoda, owned by Volkswagen, has expressed interest in the Bindera Auto Works, which assembles Gazelle minibuses for Russian carmaker GAZ. "We're no worse off than Moldova or Ukraine," boasts Anatoly Blashku, vice-president in charge of the economy.
True, that may not be much to brag about, since both economies have shrunk by more than a quarter in the past few years, and Transdniester has only limped back to 60% of its 1990 level. But the feisty nation has printed up its own currency, postage stamps, and passport, and even boasts an air force: four aging Russian jets. Russian troops, part of the 5,000 remaining there since General Aleksandr Lebed's 14th Army brokered a shaky peace in 1992, patrol the border between Transdniester and Moldova. All this has the Transdniestrians, ethnic Slavs who were relocated here when the Soviet Union annexed Moldova after World War II, swelling with pride. "Life is getting better every day," says cab driver Vassily Cherkassov. "We can hold our heads high."
NO, THANKS. But Russia may be tiring of the rogue state. Under pressure from critics, especially the Chechens, who accuse Moscow of hypocrisy in propping up a secessionist republic, President Boris N. Yeltsin is pushing for Transdniester's reintegration with Moldova under a loose federation. The Transdniestrians, however, are resisting. Having adopted a celebrated general of Catherine the Great, Alexander Suvorov, as their national symbol, they dream of the Czarist empire. Rejoining "inferior" Moldova, as President Smirnov calls his neighbor, is simply anathema.
While Transdniester longs for the past, Moldova has been suffering from an identity crisis. The agricultural country is unsure whether to turn to the West, as the Baltics have done, or strengthen ties with Russia, its largest trading partner. Privatization got off to a slow start, only picking up steam in the past year. And while Moldova has received about $500 million from the World Bank and the International Monetary Fund, its economy continues to shrink: Gross domestic product was down 8% in 1996 and is expected to drop this year.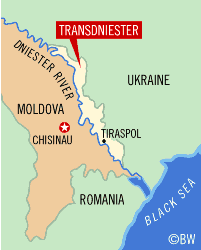 Since Moldova doesn't have the will or the capability to reacquire Transdniester by force, it has deferred to Russia's diplomatic efforts. President Pyotr Lucinski has been lobbying Russia to blacklist the republic and push it back into Moldova's arms. However, with Moldova's economy in decline, it has few carrots to offer. Ultimately, it seems, everything depends on the diktat of Moscow. And Smirnov is playing a risky game. Having snubbed Yeltsin on Oct. 23 by skipping a meeting in Moldova to discuss the region's status, he may have irrevocably damaged ties. So Transdniester's fervid fantasies of union with Russia could now be merely a pipe dream.