U.S.: Excess Goods? Forget It. Shoppers Are Clearing The Shelves
But robust demand may trigger price pressures in 1998
By
Given that the economy is on an "unsustainable track," as Federal Reserve Chairman Alan Greenspan recently said, the key question in the outlook right now is: Will economic growth slow on its own in coming quarters to a pace that is consistent with continued low inflation? Or will the Fed have to tug on the reins?
The Commerce Dept. will supply an important piece of the puzzle on Oct. 31, when it reports on third-quarter gross domestic product, and the results may not be comforting to those forecasters in the slowdown camp. Based on monthly data so far, especially the August widening in the trade gap, the headline number on economic growth may well look as if the economy is cooling off. Real GDP appears to have grown in the 2.5% to 3% range, depending on some Commerce assumptions about unavailable data. Real GDP grew 3.3% in the second quarter and 4.9% in the first.
However, the report will be noted more for the composition of the quarter's growth than for its top-line number. Final demand by consumers, businesses, government, and foreigners appears to have surged in the neighborhood of 4.5%, while inventory growth slowed sharply. The downshift in inventory growth, by itself, appears to have subtracted 1.5 to 2 percentage points from the overall GDP advance.
The bottom line: The report will show that the excessive first-half buildup in inventories has been tamed by booming demand, not production cuts as many analysts had expected (charts). As a result, burdensome stockpiles will not prevent gains in output and employment in the fourth quarter--and into 1998. That means the pace of demand will continue to determine the economy's strength in coming quarters, and the underlying fundamentals--dynamic labor markets and stimulative financial conditions--are now even stronger than they were at the beginning of the year.
THE LATEST MONTHLY DATA tell the story. In particular, they show surprisingly strong industrial production and capacity utilization in September and throughout the third quarter, at the same time that business inventories were slowing down in July and August. What that says is that, despite sizable additions to output, demand was stout enough to absorb that extra production along with some excess inventories.
Industrial production jumped 0.7% in September, and manufacturing output alone, some 86% of the total, rose a sturdy 0.5%. In fact, factory output accelerated last quarter, rising at a 7.9% annual rate, the fastest pace in more than three years and up from the first half's 4.8% growth rate. The pickup in manufacturing output has been broad, including consumer goods, capital equipment, and materials.
Strong production is placing added stress on capacity. The factory operating rate edged up to 83.4% in September, from 83.3% in August, but the rate has climbed a percentage point in the last four months, to its highest level in 2 1/2 years. So far, inflation pressures on producer prices remain tame, but the operating rate is closing in on levels that usually precede the emergence of those pressures. On Oct. 22, Boeing Co. said unexpected demands on its production capacity has led to "raw materials shortages, internal supplier parts shortages, and productivity inefficiencies associated with adding thousands of new employees."
THE NEED TO MEET STRONG DEMAND is also squeezing the labor markets. Claims for unemployment insurance in mid-October were below 310,000 for the fifth week in a row. That has not happened since 1988. The ongoing decline in jobless claims strongly suggests not only that employment growth is not slacking off, but that joblessness will drop below September's 4.9% rate in coming months.
At the same time, business inventories rose only 0.1% in July and 0.2% in August, thanks to a sharp August drop in retail stockpiles. That pace is less than half the 0.4% average monthly increase posted during the second quarter. How that translates into the GDP report will depend on Commerce's assumption for September inventories and its inflation adjustment, but it's a good bet that inventory growth will fall substantially from the $77.8 billion increase in the second quarter, which was the largest increase in 13 years.
What's fueling output? The third-quarter GDP report will show that demand was led by a gusher of consumer spending and another strong advance in business outlays for new equipment and construction. Homebuilding contributed little, if anything, last quarter, while the biggest drag on demand came from a further widening of the trade gap. But even with that offset, the pace of demand was the fastest of the year, and the fourth-quarter growth rate was the swiftest since the early expansion spurt in 1992.
AS FOR THE FOURTH QUARTER, after their third-quarter shopping spree, consumers are unlikely to splurge for two quarters in a row, but the holiday season still looks bright. Why? How about the strongest employment market in two decades, higher real wages, overflowing consumer confidence, rising home prices, attractive credit conditions, and a still-booming stock market. Also, this year's pickup in capital spending has further to run.
Housing also should supply a boost in the fourth quarter. Housing starts bounced up 7.9% in September, to an annual rate of 1.5 million, more than erasing declines in starts in July and August. Given that mortgage rates are down some three-quarters of a percentage point since April, and that mortgage applications to buy a home are at a high for this economic expansion, strong home demand will fuel new building in coming months.
Because of the widening in the August trade deficit for goods and services, to $10.4 billion from $10 billion in July, trade is likely to have subtracted a full percentage point from overall demand growth, since the gap had averaged $8.9 billion a month in the second quarter. Imports accounted for all of last quarter's wider deficit. In the GDP accounting, they appear to have risen at about a 15% annual rate, with exports increasing at only about half that pace.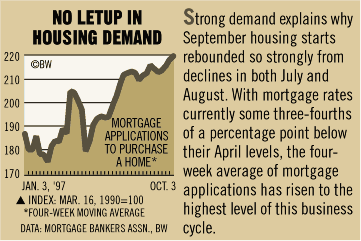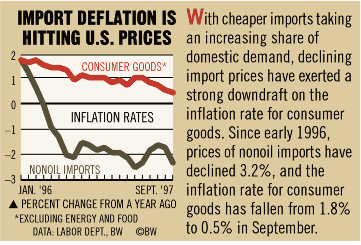 Imports--and their declining prices--have played a key role in this year's ongoing drop in inflation, mainly through their impact on goods prices (chart). The consumer price index rose only 0.2% in September, as did the core CPI, which excludes energy and food. Moreover, the core CPI was up only 2.2% from a year ago, a decline from the 2.6% annual clip at the end of 1996. During the past year and a half, core goods inflation fell from 1.8% to a scant 0.5% in September, while core service inflation has edged lower.
Preserving this year's inflation progress in 1998 will depend critically on the pace of demand, and on the ability of U.S. producers to meet it without placing undue strains on the labor markets or their production facilities. The problem: Strains are already starting to appear, and demand shows few signs of slowing down.