Italy: Same Political Circus, Better Economy
by
Italian politics is still the best show in Europe. On Oct. 9, Prime Minister Romano Prodi resigned when a vital constituent in his center-left coalition, the left-wing Reconstructed Communism Party (RC), refused to back his 1998 budget. But in days, Prodi cut a deal with RC leader Fausto Bertinotti, whose rejection of the tight budget sparked such turmoil that he had to capitulate. By Oct. 16, Prodi was back in power with the budget's 25 trillion lire ($14.4 billion) in deficit cuts unscathed--and a first-round entry into Europe's single currency, the euro, all but cemented.
Apart from the sideshow, however, the real key to Italy's euro hopes is its improving economy. After two quarters of decline, growth spurted 1.6% in the second quarter (a 6% annual rate), and the third also will be strong. But that pace is not sustainable. Growth is narrow, driven by the government's cash incentives to households to scrap 10-year-old cars and buy new ones, a plan that is borrowing from future sales. September car registrations soared 75% from a year ago, and auto output is booming, lifting industrial production.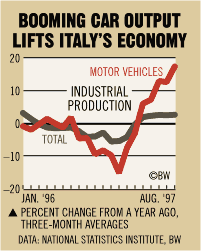 As the auto effect wears off, growth will slow sharply this winter, but the improving trend will remain in place as growth broadens. The recovery will be fueled by a pickup in Europe that is lifting exports as the drag from the stronger lira wanes. Rising confidence and real wages, reflecting inflation's drop to 1.4% in September, will lift consumer demand, and increased capital spending is expected to kick in soon.
Growth will remain moderate, reflecting tight fiscal and monetary policy, but modest growth and low inflation will allow the Bank of Italy to cut interest rates next year to converge with those of other euro nations. Many economists, including those at the European Commission, believe the government's growth targets--1.2% for 1997 and 2% for 1998--are too low. Even with those targets, the 1998 budget will cut the deficit to 2.8% of gross domestic product, from the 3% all but assured for 1997.
Before it's here, it's on the Bloomberg Terminal.
LEARN MORE