Get Busy, Mr. Armstrong
What AT&T's new CEO must do to rouse the torpid titan
By
In the course of his long career, C. Michael Armstrong has seen worse things than the situation he confronts as the incoming chief executive of AT&T. When Armstrong took over at Hughes Electronics Corp. in 1992, more than half of the defense contractor's revenues came from the Pentagon--but defense spending was dropping steadily. Profits had fallen 30% from their 1988 peak. "They knew how to make a budget, but they didn't know how to make money," says Armstrong.
Fresh from heading up IBM's European operations, Armstrong moved fast at Hughes Electronics. He cut expenses, used bonuses to motivate employees, and invested heavily in promising new ventures--notably the DirecTV satellite broadcasting system. Sales began to grow, profits recovered, and Hughes stock more than tripled, from 20 to 65.
AT&T's board is betting that Armstrong, 59, can perform the same feat when he takes over on Nov. 1. Under Chairman and CEO Robert E. Allen, AT&T listed badly. Its share of the long-distance market has tumbled to 54%, while its efforts to get into the $100 billion local phone market have stalled. And it risks being eclipsed as the country's preeminent phone company if GTE or WorldCom manages to bag MCI Communications. "Right now, AT&T is kind of being left behind," says Jonathan Kolle of Wilmington Trust Corp., an AT&T shareholder.
The blunt, Harley-riding Armstrong says he doesn't have a specific game plan, since he hasn't even started on the job yet. But his expectations are clear: "I'm absolutely convinced that this company is going to lead the fastest-changing industry in the world," he says.
Item one is to get AT&T growing again. Revenues for the first nine months rose less than 2%, to $39.6 billion, and net income dropped 23%, to $3.3 billion. To improve the bottom line in the long run, AT&T needs to start building the top line--sales--right away. Based on interviews with shareholders, top industry executives, analysts, and Armstrong himself, here's an outline of where AT&T must look for growth:
Get local fast. "No one service will stand on its own," says Sprint Chairman William T. Esrey, whose company offers nationwide long distance, wireless, and Net access--and some local phone service. AT&T launched local operations in seven markets but is no longer actively marketing in any of them, claiming obstruction by the local phone incumbents.
Now, industry executives say, AT&T should buy its way into the local market. The most attractive target is GTE, because it has a national footprint and is the only big local company allowed into long distance now. If GTE is unavailable because of its MCI deal, AT&T should consider Teleport Communications Group. It has networks in 57 big U.S. cities and solid management.
Expand more aggressively overseas. While MCI hooked up with British Telecommunications PLC, and Sprint joined forces with France Telecom and Deutsche Telekom, AT&T has been left behind. "Of the three [U.S.] supercarriers, they are in last place clearly," says Raul L. Katz, a vice-president at consultant Booz, Allen & Hamilton Inc. AT&T needs to form new partnerships with such powerhouses as Japan's Nippon Telegraph & Telephone Corp. or Britain's Cable & Wireless PLC. In addition, it must build stronger ties with its current partners to be able to offer a comprehensive package of corporate services around the world. "There's no question there's going to be more international traffic, so more cooperation overseas is necessary," says CEO Charles Lee of GTE.
Get serious about data. AT&T has been focused on the voice market for a simple reason: At $180 billion, this business dwarfs the data market, which Dataquest estimates at about $20 billion. But revenue from data service is growing at nearly 20% a year, compared with just 5% for voice. Newer players such as WorldCom are locking up big slices of the data market by buying Internet access providers. AT&T should invest in more flexible networks to capture more of the data market. John D. Zeglis, who was named AT&T's president as Armstrong became CEO, has championed investments in networks that can carry data, video, and voice. That would be money well spent.
Cut overhead. In a business with economies of scale, there's no good reason for the largest player to have the highest costs. But AT&T's sales, administrative, and general expenses are 28% of revenues, compared with 27% at MCI, 22% at Sprint, and 19% at WorldCom. "They need to get leaner and meaner," says Kolle. Armstrong already seems to be sharpening his ax. "Certainly, AT&T has every reason to be the low-cost provider," he says.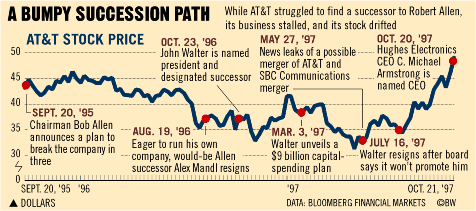 The trick is to maintain morale while cutting jobs. At Hughes, Armstrong cut 12,000 of 63,000 jobs his first year, but still managed to keep the loyalty of most employees. One reason was his willingness to share profits. Once, the company fell a year behind on an aircraft project that carried a $50 million bonus if it was completed on time. The unit's president suggested his 900 engineers get 10% of the money if they made up the lost time. Armstrong offered them 40% and they finished the project on time. That's the kind of managing that could make AT&T a secure No.1 again.