Can Gm Stop Its European Skid?
As snafus multiply and the giant loses ground in Europe, Opel's CEO is being forced out
David Woodruff
David J. Herman, Adam Opel's popular chief executive, is headed for the exit. A 51-year-old lawyer who has run General Motors Corp.'s German subsidiary since 1992, Herman has increasingly clashed with his boss, Louis R. Hughes, president of GM's international operations. At the Tokyo Motor Show on Oct. 21, Hughes called rumors that Herman will leave early next year "speculation." But GM sources confirm privately that Herman is being forced out.
It's unclear whether Herman will land another GM job. But his imminent departure is one of many signs that breakneck expansion has pushed the auto giant's European unit into a dangerous skid. Herman is one of a half-dozen Europe-based executives to leave abruptly this year. GM has lost a full percentage point of European market share since 1995 (chart), while archrival Volkswagen has gained. European operations lost $21 million in the third quarter, vs. a $75 million profit last year.
DEMORALIZED. Behind the trouble is GM's global explosion. Hughes, a 48-year-old engineer with a master's in business from Harvard University, has thrust the company headlong into emerging markets from China to Brazil in the past four years. The company is spending $2.5 billion on five new factories worldwide. Current and former executives say they have been stretched dangerously thin. Hughes and other top managers spend much of their time jetting around the globe. And underlings are overworked and demoralized, sharing little sense of the company's goals. "We had not communicated where we were going with our globalization strategy," Hughes admits.
To complicate matters, Hughes and GM brass in Detroit have dramatically shifted the company's international course. As recently as two years ago, Opel was at the forefront of GM's international strategy. Opel models were mainstays of the global market. Small cars such as the $11,000 Corsa were stripped of electric windows and other luxury goodies and cranked out of factories from Mexico to South Africa.
Under the new regime, strategic decisions are made in Detroit and at GM's international headquarters in Zurich. Opel will play a reduced role, focusing on development of four-cylinder gasoline engines and small cars. Responsibility for large cars, plus six- and eight-cylinder gasoline engines, will rest in Detroit. Isuzu Motor Ltd., the Japanese company 37.5% owned by GM, will handle all diesel-engine work.
Moreover, GM's top brass is leaning on Opel to improve efficiency. The company recently began a review of European operations, from factories to research and development. The aim: trim jobs and save hundreds of millions of dollars annually. "We have to get more costs out of Europe," says GM Chief Executive John F. Smith Jr.
To reach its ideal of leanness, GM, like every big auto maker, seeks an elusive goal: to design "world cars" flexible enough to be adapted to individual markets. In theory, world cars would yield huge economies of scale. In the next few years, CEO Smith wants to slash by half the company's 18 basic car chassis, or platforms. After the turn of the century, for instance, three current GM models that are nearly identical in size but have no parts in common--the Chevrolet Cavalier and Saturn sedan in North America and the Opel Astra elsewhere--are to share the same platform, engines, and other components. Engineers in Detroit will design the platform's basic architecture, then pass it to Opel for completion.
"SHODDY QUALITY." Such radical moves are risky. Compromises to fit requirements in one market can lead to shortcomings in another. GM's new Sintra minivan is a case in point. It is designed jointly by engineers from Detroit and Russelsheim and sold, with minor differences, in both North America and Europe. It easily passed a U.S.-mandated, 35-mile-per-hour crash test. But when the German magazine Auto Motor und Sport did an independent simulation of a different kind of collision, the test dummy's legs were crushed. "Crash test uncovers shoddy quality," said the headline on the magazine's July 11 cover.
GM officials say problems like the Sintra's won't be repeated. The van, they point out, was adapted from a U.S. family sedan, the Chevrolet Lumina. New models designed from scratch will strike compromises that work in both markets, says Peter H. Hanenberger, R&D chief for international operations. For example, a new model that goes into production in 2000 will have extra sheet metal up front to protect occupants better.
Strains from the changes hitting Opel are glaringly apparent. At monthly product-planning meetings in the conference room of Opel's Technical Development Center, Hughes has sometimes treated Herman like a schoolboy, say people who have attended. Hughes has often questioned Herman's judgment in front of as many as 50 colleagues. Hughes counters that he encourages open debate, which he admits can get heated but which, he claims, produces first-rate decisions.
There's evidence, though, that the decision-making process at GM's international operations has flaws. For instance, former executives say that a six-month delay in launching the 1997 Astra was caused by blunders that could easily have been avoided. Engineers argued from the start that the car's engine needed a balance shaft, a counterweight that helps it run smoothly and quietly. Top brass nixed the idea, citing cost. A scant year before the planned September, 1996, production launch, executives took a spin in Astra prototypes. The engines were so rough and noisy that engineers were ordered to add a balance shaft--pushing back the scheduled production start.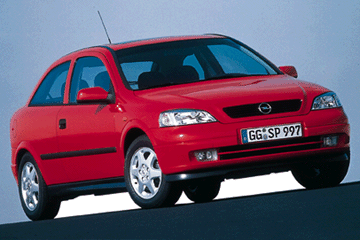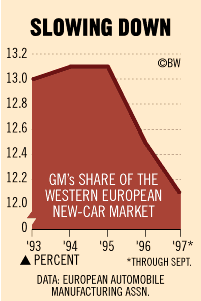 In another snafu, the purchasing department ordered a cost-saving fabric that didn't match the rest of the car. More time lost. "If you delay your launch half a year, that costs billions of marks," says a former executive.
Hughes acknowledges missteps, but he says Europe is back on track. As for the succession at Opel, Gary L. Cowger, now head of GM's Mexican operations, is rumored to be Herman's successor. A factory specialist who ran the advanced manufacturing center at GM's technical center in Warren, Mich., before moving to Mexico two years ago, he would likely arrive with a mandate to do whatever it takes to turn things around. But it may be several years before Opel hits another stretch of smooth highway.
Before it's here, it's on the Bloomberg Terminal.
LEARN MORE