Big Boon For Diabetics?
By
Hedge-fund manager Jerry Ballan is dead sure he has another winner: Technical Chemicals & Products (TCPI). It's a small company that has yet to make money, but between Sept. 5 and Oct. 21 the stock zoomed from 8 to 15. Ballan, who co-manages C-B Partners, says TCPI may double again in a year.
Powering the stock's rise is excitement over TCPI's noninvasive glucose-monitoring system, aimed at diabetics. Some diabetics must prick their fingers four times a day for blood to test their sugar level. With TCPI's monitoring product, they don't have to do that.
The TCPI monitor uses a disposable patch, placed on the skin for five minutes. It draws interstitial fluid from under the skin by a sort of osmosis. A handheld meter reads the color change in the patch and displays the results.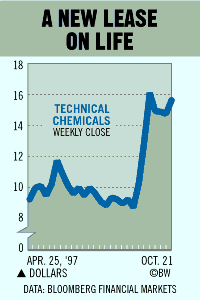 TCPI, which is scheduled to demonstrate its system at a meeting with fund managers and investors in New York on Oct. 28, says it's in talks with SmithKline Beecham to become the worldwide marketer for the product. TCPI expects to file for FDA approval by early 1998. Cathy Reese, an analyst at Avalon Research Group in Boca Raton, Fla., expects an agreement will be signed either with SmithKline or with another major player. She expects TCPI to earn $1.34 a share next year, and $2.99 in 1999. Other big players in glucose monitoring include Johnson & Johnson, Abbott Labs, and Cygnus--and its partner, Becton Dickinson.