A Tiger Cub Grows In The Caribbean...But Crime Lurks In The Underbrush
Emile Valere
It takes Bhoe Tewarie at least 90 minutes to drive to work in Trinidad's capital, Port of Spain. That's half an hour longer than it took three years ago. But as much as Tewarie hates the hassle, he sees the traffic jams as a sign of a bustling economy. Tewarie, executive director of the business school at the University of the West Indies, took the post in 1992, just in time to catch Trinidad and Tobago's upswing. Enrollment has jumped from 90 students to 400. "We really picked up business when the economy started rolling," he says.
Indeed, this island nation of 1.3 million has undergone a startling turnaround. With gross domestic product soaring from a 1.7% drop in 1992 to 3.2% growth in 1996 and a projected 3.7% gain this year, Trinidad and its sister island Tobago are bright spots in a region reeling from slashes in U.S. aid and lackluster investment. The pro-business government of Prime Minister Basdeo Panday likes to paint Trinidad as an emerging Caribbean Tiger. It's also an example of a tiny country diversifying away from dependence on one natural resource.
In Trinidad, that's oil. The economy has hinged on petroleum since the late 1950s. But this year, state revenues from oil are expected to drop a thumping 41%, to $282 million. That's because Amoco, the largest producer, has greatly boosted its exploration budget, thus cutting its taxes. Oil production, currently at 128,000 barrels a day, has also slid 11% over the past seven years because of dwindling reserves. Seven of the world's largest oil companies, including Royal Dutch/Shell, Texaco, and Exxon, are probing for more inland and offshore supplies to add to the current decade's worth of proven reserves.
But foreseeing the drop-off, Trinidad in 1993 came up with a plan to jump-start its economy. The idea was to emphasize its rich natural gas reserves and cheap electricity as a lure for plants making methanol, ammonia, and scrap steel. Trinidad in 1996 also landed a coveted $1 billion liquefied natural gas plant, currently under construction in Point Fortin with Houston-based Bechtel Group Inc. as the main contractor for a consortium led by Amoco. All told, the energy sector has attracted some $5 billion in investments over the past 23 months, mostly from the U.S., says Energy Minister Finbar K. Gangar.
WEAK SPOTS. More investment may be on the way. Three groups, from the U.S., Norway, and the Caribbean, are assessing the potential for aluminum smelters. And the pristine beaches of Tobago have Marriott International, Four Seasons Hotels, and Hilton Hotel International evaluating hotel sites.
Still, this success story has its weak spots. Unemployment jumped to 17.2% for the first quarter, up from 15.9% in the last quarter of 1996. Part of the problem is capital-intensive investments: Building a methanol plant, for example, requires up to 1,000 workers, but only 65 are needed to run it. Unions are increasingly militant as they seek a piece of the growing economic pie. The government has sparked criticism abroad with its efforts to make the media more "responsible." And the U.S. has accused Trinidad of being a major transshipment point for narcotics.
And as the economy grows, so does its dark shadow, crime. Kidnapping and extortion are on the rise. Last year, kidnapped businessman Wayne Pirali was found burned and shot before his ransom was paid.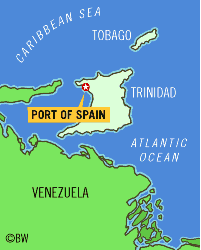 Of course, crime in turn spurs the security industry. "There are more than 150 security organizations here, and that's a lot for such a small country," says Simon Sobrian, director of one of the larger companies, Sentinel Security. "Kidnapping is a real threat. Executives want protection not only for themselves but also for their spouse and children."
Senior Superintendent Cecil Carrington, who combats crime in Port of Spain, says there haven't been any major kidnappings since February and argues that those in the past were drug-related. "Trinidad is safe, and the police system is working," he says, pointing out that Trinidad has had only 80 murders so far this year, while Jamaica--whose population is double Trinidad's and Tobago's--has 800. He also says overall crime is falling. Maybe so--but businesspeople aren't firing their bodyguards yet.