Will A Big Fish Swallow Bindley?
By
Buyouts are all the rage among drug wholesalers: McKesson, No.1 in the industry, recently bought fourth-largest AmeriSource Health, and No.2 Cardinal Health is gobbling up third-biggest Bergen Brunswig. What about No.5 Bindley Western Industries (BDY)?
"It's next in line," claims a buyout pro who says Bindley, a supplier of prescriptions and other products to drug chains, "has been approached by a major pharmaceutical company." Bindley, with expected sales close to $7 billion this year and $7.8 billion in 1998, has also received feelers from one of the big four wholesalers, he adds.
Based on other industry deals, Bindley--with estimated book value of $22 a share--is worth $50 to $60, says one analyst. But any deal must be friendly, since CEO Bill Bindley controls 27% of the stock. Other execs own a further 7%. The stock has been on a rise--from 18 in April to 28 on Oct. 14.
The stock is undervalued, considering the "strength of its core business," says Christopher McFadden, an analyst at Wheat First Butcher Singer. The earnings outlook is bright, he says, and management has been taking steps to enhance shareholder value.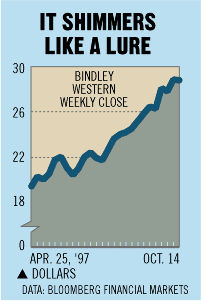 In a late October initial public offering, Bindley will sell 17% of its profitable unit, Priority Healthcare, which supplies hospitals, clinics, and doctors' offices. By next year, Bindley will spin off to shareholders the rest of its Priority Healthcare holdings. The move is a way of extracting the full worth of the robust unit: In the second quarter, its sales grew 65%, and earnings shot up 85%.
Meanwhile, Bindley has been busy shopping: It recently bought Tennessee Wholesale Drug, a $300 million distributor, and Groveway Pharmacy of California, a $6 million distributor of vaccines to doctors' offices. McFadden figures Tennessee Wholesale could add 6 cents to 10 cents a share to fully diluted earnings--not included in his earnings estimate of $1.52 a share in 1997 and $1.67 in 1998. Chief Financial Officer Tom Salentine says Bindley is focusing on boosting earnings and enhancing shareholder value, and he wouldn't comment on buyout rumors.