The New Stars Of Finance
Meet the financiers on a fast track: They're young, they're focused on global markets, and they're not afraid of new technology
Phillip L. Zweig
Just a few years ago, the notion of a partnership between Boris Fyodorov, a 39-year-old communist turned Russian market reformer, and Charlie Ryan, 30, a banker who went East to seek his fortune after graduating from Harvard, would have been about as likely as the wedding of a Brooklyn cabbie and a Park Avenue debutante.
Now, the two entrepreneurs have married American knowhow with Russian street smarts to build Moscow-based United Financial Group, one of Russia's most successful investment banks. Among other ventures, they pioneered instruments, similar to American depositary receipts, that provided foreign investors easy access to Russian stocks when the stock market was undeveloped.
Fyodorov and Ryan belong to a new generation of thirty- and fortysomething financiers whose careers have skyrocketed with the global political, economic, and technological sea changes of the past few years. These include the demise of communism, the decline of socialism, the crumbling of old-fashioned regulatory barriers, and the explosion of both laissez-faire capitalism and new, virtually unfettered global markets. Companies such as United Financial are springing up throughout the world to take advantage of these trends.
Yet these new markets and financial strategies have a distinctly American flavor. In Europe, for example, the belated recognition that tradition-bound companies and economies need to become more open and efficient has given rise to an American-style merger, restructuring, and privatization boom, thrusting young investment bankers such as 41-year-old John Studzinski of Morgan Stanley, Dean Witter, Discover & Co. into the financial limelight.
This new fast-track cadre of financiers, who are almost as likely to reside in Madrid as in Manhattan, is Americanizing global finance with a revolutionary zeal that would have dazzled Adam Smith. Just as the U.S. exported the free-market principles that opened economies such as Russia and Poland in the first place, it is now exporting the financial techniques that are putting those principles into practice almost overnight. "These new financiers are the J.P. Morgans and Walter Wristons of the new era of global finance," says William F. Ford, professor of finance at Middle Tennessee State University. Adds Roy C. Smith, professor of finance at New York University's Stern School of Business: "The foreigners know they can get the best ideas and the best prices from American firms."
Although the adrenaline surge in finance these days has to a large extent shifted overseas, the U.S. remains the incubator for much of the innovation in financial services. Software-savvy marketers such as Charles Schwab & Co.'s Arthur V. Shaw, 37, are on the cutting edge in developing Internet-based programs to deliver financial services to consumers. Goldman, Sachs & Co.'s Eric Schwartz, 34, has reinvented the once tired convertible-securities business, creating a powerful financing mechanism. On Sept. 23, he engineered an overnight transaction that raised $1.15 billion for the Tisch family's Loews Corp. between 4 in the afternoon and 9 the next morning.
PRACTICAL THEORIES. As financial technology helps erode whatever remains of the walls separating commercial and investment banking and spurs consolidation, new financial monoliths--be they big banks or financial conglomerates--are relying on the skills of many young managers such as James Dimon, 41, president of Travelers Group Inc., and Mark C. Oman, president and CEO of Norwest Mortgage Corp. Some of the best theoretical finance work is being accomplished by under-50 academicians, such as Massachusetts Institute of Technology's Andrew Lo, 37, who has done seminal studies on risk that have influenced many companies and investment houses.
These names came up in a survey undertaken by dozens of editors and correspondents in the U.S. and overseas. BUSINESS WEEK asked some of the world's leading financial thinkers and practitioners to pick the under-50 movers and shakers likely to lead the financial world into the new millennium. Starting with more than 100 talented people from around the world, we culled the list to a dynamic, forward-thinking group of nearly two dozen, who are profiled in the following pages, and other promising individuals, who are discussed more briefly. They include investment and commercial bankers, dealmakers, and others who fit the traditional definition of financier as money-raiser. But they also number central bankers, regulators, scholars, and even accountants who are reshaping finance.
The BUSINESS WEEK Finance Stars are emblematic of the kinds of major players who should be assuming even more prominent roles down the road. What they all have in common is the belief that free markets are the only game in the new global-village economy.
Many of the most promising Finance Stars are overseas--local financiers who have extended Wall Street into downtown Shanghai, Bombay, and Sao Paulo by adapting the Street's devices and methods to local market demands, and vice versa. In Hong Kong, the widening of cracks in the door to China has given up-and-comers such as Peregrine Investments Holdings' Francis P.T. Leung, a 42-year-old group managing director, a historic opportunity to privatize inefficient state-owned Chinese enterprises. Blending unrivaled contacts in Chinese government and industry with understanding of Western capital markets, Leung has earned Peregrine the privilege of underwriting such key privatizations as the May, 1996, initial public offering of Shanghai Industrial Holdings Ltd.
In India, Deepak S. Parekh, 51, is transforming his Housing Development Finance Corp., the subcontinent's preeminent mortgage lender, into a U.S.-style financial conglomerate. His empire currently includes a bank, consumer-finance providers, and insurance companies. But asset management and real estate development are in the works, too.
Ana Patricia Botin, head of investment banking for Banco Santander, Spain's largest bank, is masterminding an ambitious thrust into Latin America. In September, Santander Investment won a bid against top rivals to manage the $1.5 billion acquisition by Spanish electric utility Endesa of a controlling stake in Chile's Enersis--Santander's first major mergers-and-acquisitions deal in Latin America. Santander is now the largest broker of Latin American equity to U.S. institutional investors. Botin, who spent seven years at J.P. Morgan & Co., built her Santander team by luring top-flight talent from such rivals as Morgan Stanley, Salomon Brothers, and Merrill Lynch.
"WAITING POSITION." Even accountants are nudging the developing world closer to Western-style finance. In January, Stig Enevoldsen, 47, a senior partner at the Copenhagen office of Big Six firm Deloitte & Touche, will become chairman of the International Accounting Standards Committee, a global panel that's trying to create an international set of accounting rules. Known as a consensus-seeker, Enevoldsen will replace the somewhat more confrontational Michael Sharpe, who has collided with the Financial Accounting Standards Board, the U.S. rulemaking body, over proposed changes. Currently, foreign companies can't raise capital in U.S. public markets without reconciling their books to U.S. rules. Adoption of international standards, which Enevoldsen says might happen as early as next year, could unleash a torrent of financings. "Many European companies are in a waiting position," he says.
Then, too, accountants such as Johnny Chen, a 38-year-old Price Waterhouse partner in Beijing, are implementing Western accounting standards by helping to privatize state-owned companies in China and other emerging markets. That, says Chen, who was born in Taiwan and educated in the U.S., demands that they bite the bullet and open their books. "It's a painful process," he concedes.
A new breed of regulator, promoting rather than blocking change, is coming to the fore as well. Andrei Kozlov, 32, first deputy chairman of the Central Bank of Russia, almost single-handedly created the Russian Treasury-bill market. Joseph Yam, 49, head of the Hong Kong Monetary Authority, the ex-colony's central bank, has managed to fend off potential Chinese interference and maintain a stable currency at a time of Asian currency turmoil. Mexican Finance Under Secretary Martin Warner, 34 and a Yale grad, was widely credited with bringing Mexico back into the global financial markets just seven months after the December, 1994, devaluation.
STANDARDIZATION. Back in the U.S., the Finance Stars are leading the charge in financial-services consolidation, which is proceeding at a breakneck pace. Clearly, the future will belong only to those who can make these marriages work. Most of the attention is on commercial and investment banks, which have emerged as the major agents of change and innovation in the financial-services industry. Industry watchers are currently keeping close tabs on how much heartburn Travelers, Bankers Trust, and NationsBank suffer in digesting their newly acquired securities firms--Salomon Brothers, Alex. Brown & Sons, and Montgomery Securities, respectively. Travelers' point man is James Dimon, who is highly skilled at that arduous art. Says Dimon: "The hardest part is getting the people and systems right."
Some say combining two big banks is easier than integrating banks and securities firms. But such combos are no cakewalk, either, as Wells Fargo & Co. learned with its recent snafu-plagued effort to swallow First Interstate. One institution that gets high marks for relatively smooth integration is U.S. Bancorp, the marriage of Portland (Ore.)-based U.S. Bancorp and Minneapolis-based First Bank Systems. Since joining First Bank in 1987, U.S. Bancorp Vice-Chairman Philip G. Heasley, 48, has been in the thick of integration efforts. One key to successful conversions: "We standardized everything. We have one data center and one network structure," says Heasley.
One of the banking industry's biggest worries is how to generate new revenue. That's where the new Information Age marketers come in. Their goal: to find new customers and wring more out of existing ones by using sophisticated analyses of customer preferences and profitability. A leader in showing financial institutions how to do this is James M. McCormick, 49, head of First Manhattan Consulting Group. Lacking reliable information about customers and product profitability, he says, banks fritter away millions on ineffective marketing programs. "Seventy-five percent of new business is unprofitable," says McCormick.
At Wells Fargo, Vice-Chairman Terri Dial, 47, and Executive Vice-President for Consumer Banking Lucy Reid, 48, have made a great success of a national small-business lending program. It uses computerized credit-scoring techniques--which analyze and rate borrower creditworthiness--to market and underwrite small-business loans. With 350,000 customers, $6 billion in loans outstanding, and a return on equity of 34%, it's one of the bank's most profitable and widely copied activities.
Banks and brokerages are also looking for revenues from online, Internet-based financial services. In the banking industry, Wells Fargo's Dudley M. Nigg, 50, and Citicorp's Edward D. Horowitz, 49, are in the forefront of this effort. A self-described "internal entrepreneur," Nigg good-naturedly admits that the bank's first attempt in 1989 at online banking was a dud. But six years later, Wells claims to have become the first major U.S. bank to give customers access to their accounts via the Web rather than a cumbersome phone link. Now, 350,000 Wells customers can order travelers' checks, monitor account balances, and transfer money in cyberspace. Coming soon: bill-paying and discount-brokerage services. Plans are also afoot to give customers access via WebTV and to link "smart cards" with Internet banking.
As the institution that essentially introduced technology to banking, Citibank looms large in Web banking. Horowitz, a former senior vice-president for technology at Viacom Inc., joined Citi in January as head of global technology. Internet banking, he says, is part of Citi's strategy of being within "one click, one call, or one mile of every customer."
Long-elusive one-stop financial shopping is also the goal in investment-banking plans. Bankers yearn to supply every slice of a deal's capital, from equity to junk to bank loans. Few institutions have come further faster than Chase Manhattan Corp., thanks largely to its powerful head of investment banking, James B. Lee, 44, who dominates the huge syndicated-loan business. "The banking industry was supposed to be dying," says Middle Tennessee's Ford. But thanks in part to syndication, "it's achieving record profits."
CATBIRD SEAT. Although it lags behind Chase and Wall Street firms in corporate finance, NationsBank, which will become the third-largest U.S. bank early next year when it completes its merger with Barnett Banks, is also coming on strong. In the past month alone, it has underwritten a $4.2 billion asset-backed issue collateralized with investment-grade and near-investment-grade NationsBank loans--which it claims is the first ever for a U.S. commercial bank. On Oct. 1, it completed its acquisition of San Francisco-based Montgomery Securities. Back in May, it opened an office in Brazil and helped finance the privatization of a big government-controlled mining company, taking a stake in the deal. The man behind this flurry of activity is global corporate-finance chief Edward J. Brown III, 49. One of his chores is responding to skeptics who pooh-pooh the merger of Montgomery and NationsBank, based in Charlotte, N.C. Brown says that since the acquisition was announced on June 30, the two institutions have been referring 20 to 40 deals a week to each other. "We're going to prove it can work," he insists.
NationsBank's collateralized-loan-obligation deal shows how far the securitization business has come since it was invented in the mid-1980s, when most transactions involved creating securities of similar, relatively simple assets, such as credit-card and auto loans. Recently, David Pullman, 35, a managing director of Fahnestock & Co., has carved a niche as a securitizer of exotic assets, notably for entertainment and literary figures. Best known for a recent securitization of the future royalties of rock star David Bowie, he says he has had discussions with agents for novelists such as Tom Clancy for similar deals. Some detractors have cited these transactions as evidence of the growing frothiness of the business. Counters Pullman: "All of our deals are performing quite well--at expectations or better. Other firms said it couldn't be done, and now, they've all joined the bandwagon. Another fast mover is Jack Levy, 44, global head of M&A at Merrill Lynch. Levy has produced so much business that Wall Streeters say he is largely responsible for pulling the largest brokerage from an also-ran in M&A to one of the top three dealmakers.
The Finance Stars surely include a fair number of swashbuckling risk-takers. But risk managers, a newly minted job category, are in the catbird seat as well. Few institutions have done more thinking about managing risk than J.P. Morgan, which developed RiskMetrics and CreditMetrics, software-based programs that help financial institutions analyze and manage market and credit risk, respectively.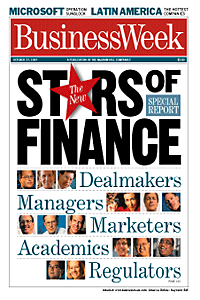 The high priest of this effort is Stephen G. Thieke, 50, head of corporate risk management. But leading disciples include M. Ethan Berman, 35, head of risk-management services, Blythe Masters, 28, who runs global credit derivatives, and Peter D. Hancock, 39, head of global fixed income and derivatives, who's often mentioned as a possible future Morgan chief. In the R&D pipeline, says Berman, are programs to help nonfinancial corporations manage financial risks and to enable wealthy individuals to keep tabs on their portfolio risk.
Risk has always permeated finance, but only in recent years has it been so thoroughly dissected and its lessons so widely applied--not only in the U.S. but more recently abroad. That's a key element of the Americanization of global finance. When it comes to understanding the risks of open markets and economies, today's Financial Stars may prove to be the savviest generation yet.