Hungary: After Painful Austerity, A Solid Recovery
Karen Lowry Miller
Hungary is no longer the sick man of Central Europe. Two years ago, after the Mexican peso crisis of late 1994, its twin current-account and budget deficits gave global investors the jitters. But thanks to a painful austerity program and currency devaluation, launched in 1995 by then-Finance Minister Lajos Bokros and his former Army buddy, central banker Gyorgy Suranyi, a recovery is kicking in. Real gross domestic product should grow 3% this year, up from only 1% in 1996.
Having taken its medicine early on, Hungary has been relatively unscathed by the currency turmoil that rocked the Czech Republic last spring, or by the current-account woes that now threaten the Polish zloty. Equity investors have applauded the reforms, sending issues on the Budapest stock exchange up 130% last year, and 87% so far this year.
Now Hungary's fundamentals are among the region's healthiest. After falling for two years, real wages are rising, helping to broaden the export-led recovery. Private consumption is also down for two years, but HSBC James Capel analysts see a rise of 3% this year. Investment spending is speeding up, too, fueled by lower interest rates. Three-month rates dropped nine percentage points last year. Inflation, while still high, continues to decline from 28.5% in 1995 to under 18% for this year.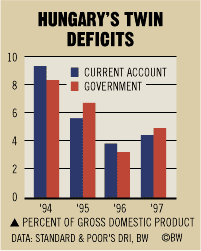 And those twin deficits? Hungary's current-account gap is down to a manageable 4.5% of GDP this year, after reaching 9.4% in 1994, higher than the 8% that sparked this year's run on the Czech koruna (chart). Plus, the gap is more than offset by foreign direct investment, and external debt is down from 69% of GDP in 1995, to a projected 59% in 1997.
The budget deficit is more problematic. Though down from 1994's 8.4% of GDP, it is stuck at about 5%, and parliamentary elections loom in May, 1998. Pension reform, a key part of government spending, is finally under way, but Hungary will have to keep a close watch on spending as it prepares to join the European Union.