Hm Os Get Hit Where It Hurts
Why their profits are shrinking fast
Keith H. Hammonds
What ails managed health care? You'd think the industry would be raking in profits. Nearly 80 million Americans are enrolled in a health maintenance organization (HMO) or another managed-care plan, double the number five years ago.
Yet, for two years, health insurers have been turning in anemic earnings. And the prognosis is growing grimmer. Managed-care companies are just completing talks with corporate customers to set 1998 prices and, instead of winning hikes of 7% to 10%, as many experts predicted, they're settling for boosts of just 3% to 5%. At the same time, unexpectedly high medical costs have forced Aetna Inc. and CIGNA Corp. to warn analysts that third-quarter profits may not hit previous estimates. Prudential Insurance Co.'s troubled Prudential Healthcare Group, which began laying off managers in early October, has notified employees that it could be sold.
The problem: Managed care is turning into a commodity business. The easy money--made when insurers first converted employees from fee-for-service plans--is gone. Now, insurers are stuck competing on price. In many markets, rival insurers offer nearly identical plans, with broadly overlapping networks of hospitals and physicians. And health-care providers are taking back many of the more profitable functions, leaving insurers to make a profit from back-office work. "In many respects, a large number of plans have accepted that fate," says Stephen F. Wiggins, chairman of HMO Oxford Health Plans Inc.
The gutting of managed care began as a battle for market share. For three years, insurers have low-balled bids to snap up big accounts as quickly as possible, savaging margins in many markets. Now, HMOs are running out of new bodies to sign up at big corporations. Still, price battering persists--today, as insurers compete for smaller accounts. A survey of 1,751 midsize employers by J&H Marsh & McLennan found that health-benefit costs dropped by 1.6% last year, compared with an average 3.6% increase at larger companies.
Meanwhile, companies of all sizes are finding new ways to cut their premiums. One way is to self-insure. Some 51% of employers, says consultant Foster Higgins Inc., now take on insurance risk themselves with rapidly growing point-of-service plans, which let patients seek care outside a rigid network of HMO doctors. When companies self-insure, the managed-care company is left with only low-margin marketing and administrative work. As the trend grows, "health-plan margins should go down," says David G. Knott, a consultant at Booz, Allen & Hamilton Inc.
More companies, too, appear prepared to negotiate rates directly with doctors and hospitals, cutting HMOs out of the loop entirely. Texas Instruments Inc. says it has cut growth in health costs to 1.5% a year from 20% a decade ago by signing contracts directly with 10,200 U.S. physicians and 606 hospitals, among other providers. And on Oct. 7, a group of 140 Cleveland-area companies announced a plan to contract for certain expensive procedures with five area hospitals. Other employers appear ready to band together to get a deeper discount when purchasing insurance. GTE Corp. Senior Vice-President J. Randall McDonald says he expects to participate in multi-employer buying consortiums within a year or two.
TOUGH CUSTOMERS. At the same time, doctors and hospitals are putting their own squeeze on insurers. Sanford C. Bernstein & Co. analysts estimate that multihospital chains will account for 63% of all hospital beds by 2001, from 31% in 1991. As they band together and acquire physician practices and other services, hospitals have more leverage to negotiate so-called global-capitation rates. Under these schemes, the hospital collects a flat fee to handle all of a patient's medical care, including doctors' office visits, lab tests, and surgery--essentially taking on the insurer's risk.
Hospital administrators are keen to prove that they can manage costs even better than managed-care insurers can--and reap the savings that otherwise would flow to insurers. "To the extent we generate savings...we're the beneficiaries of the hard work we do," says Spencer Foreman, president of Montefiore Medical Center in the Bronx, N.Y.
HMOs essentially are ceding an opportunity to reap profits--but they also are reducing their exposure to uncontrollable medical costs. Indeed, after underestimating claims wildly in 1996, insurers have missed the mark again this year. Part of the problem has been rising drug costs and problems predicting expenses for the increasingly popular point-of-service plans.
Some experts, though, think there's a broader issue: HMOs and other managed-care operations may have run out of ways to cut expenses. These companies produced impressive cost reductions--and earnings--by switching patients out of old indemnity plans and slashing doctors' pay. Such profits are what prompted Aetna to pay $8.2 billion last year for U.S. Healthcare Inc. Now, plans are finding new savings hard to come by. "Five years ago, anyone with half a brain and a telephone could reduce medical utilization by 10%," says Booz Allen partner J. Philip Lathrop. "Those days are gone."
Some insurers figure they can contain costs by using their massive patient databases to demonstrate to providers which treatments are cheapest and most effective. They also can engage in "disease management," targeting vulnerable patient populations for preventive care before disease strikes. But no one has an edge in the technology. "We're expecting everybody to offer" such data, says Richard J. Sinni, a health-practice leader at benefits consultant Watson Wyatt Worldwide.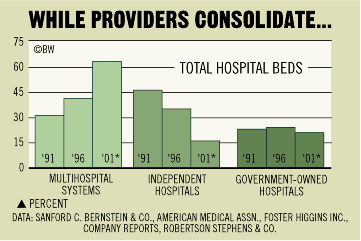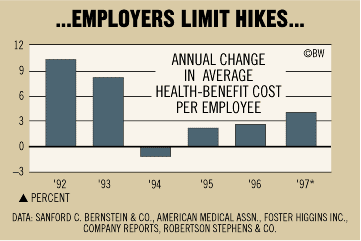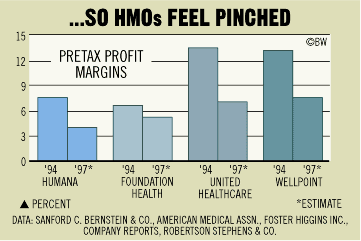 So how can managed-care insurers escape the commoditization trap? Many won't. Smaller regional players that compete on price are destined to be acquired, analysts say. Bigger insurers are trying new ways to differentiate themselves. Oxford is starting to pay specialist teams a flat rate for full treatment of a given disease. It expects to provide data on the quality of rival teams, so patients can choose among different care "packages." Eventually, such strategies may lead to exclusive relationships between insurers and providers, providing a critical point of competitive distinction.
But any such arrangements are years away. In the meantime, managed-care prices will stagnate. Doctors and hospitals will gain power. And employers, surveying the carnage, will keep their health costs nicely under control.
Before it's here, it's on the Bloomberg Terminal.
LEARN MORE