Banker To The Silicon Swells
By
No doubt about it, says money manager William Astrop, the bull market in technology stocks "will be long-running." But he isn't loading up on tech issues. An "offbeat way to play the tech upswing," he says, is through SJNB Financial (SJNB), a community bank in San Jose, Calif. Astrop thinks that "as technology goes, so will SJNB." A booming Silicon Valley will enhance SJNB's allure as a takeover target, argues Astrop, who runs Astrop Advisory in Atlanta.
From its single headquarters location, the bank serves prosperous San Jose and nearby Santa Clara. San Jose, now California's third-largest city, has seen its land prices more than double in the past year.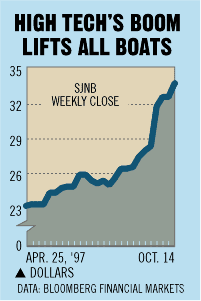 "In a takeover deal, SJNB would fetch a price in the mid-40s," says Astrop. Some banks have sold at three times their book value. He estimates SJNB's book at $13. SJNB competes with three independent banks: Silicon Valley Bank, Heritage Bank of Commerce, and Cupertino National Bank. Any of them, or one of the big banks, figures Astrop, could be a potential buyer.
Even without a deal, Astrop thinks "the stock will double in two to three years." The total assets of SJNB--$321 million--should grow at 20% for a number of years, he says. Also, the bank has a minuscule share of nonperforming assets (0.2% vs. the typical 2.5% to 3%), adds Astrop.
Also upbeat on SJNB is Van Kasper, a San Francisco investment firm. The bank's lean structure, its management experience, and a strong lending environment should boost earnings growth, says a Van Kasper analyst.