That Vroom! You Hear May Not Be A Harley
Upstart U.S. cycle makers come cruising into Hog territory
Karen Stevens
In late August, Sheldon Coleman, president of Big Dog Motorcycles, roared out of Sun Valley, Idaho, with 11 buddies, headed for the open roads. One of Coleman's pals, AOL Networks CEO Robert Pittman, was a die-hard Harley-Davidson man. But by the end of the four-day trip, Pittman was ready to trade his Hog for a Dog. Big Dog is "everything I wanted a Harley to be without spending time and money to customize it myself," says Pittman.
That kind of talk is sweet music to Coleman's ears. Big Dog is one of a handful of new U.S. motorcycle manufacturers trying to catch a ride on the craze for Harley cruisers. Another, snowmobile maker Polaris Industries Inc., just converted an assembly line at its Spirit Lake (Iowa) facility to produce 2,000 motorcycles in 1998 and double that in 1999, according to estimates by analysts at John G. Kinnard & Co. (Polaris has not released figures.) Upstart Excelsior-Henderson Motorcycle Mfg. Co. is finishing construction on a new factory in Minnesota and plans to begin production of cruisers in late 1998. And all over the country, small shops are sprouting up to build bikes that look like Harleys. "I'd call it a renaissance of American manufacturing of motorcycles," says Coleman.
For years, Harley has been the quintessential American motorcycle, synonymous with the image of a leather-jacketed wild man and miles of wide-open asphalt. And since Harley's turnaround in the early 1980s, the Hog has set the standard for loud, low-riding, heavyweight V-twin cruisers. Milwaukee-based Harley-Davidson Inc. now commands 47% of the domestic market for heavyweights. That includes chrome-laden cruisers, aerodynamic rocket bikes mostly produced by the Japanese, and oversize touring motorcycles designed for long hours in the saddle.
All three categories are growing fast. The average age and income of motorcycle enthusiasts is increasing as baby boomers, deep into midlife crises, rediscover the joys of blasting down a highway. Industry analyst Don Brown of DJB Associates estimates that U.S. retail sales of street bikes will exceed 231,000 this year, up 44% since 1991. Worldwide, heavyweight motorcycle manufacturing represents a $4.8 billion market.
With demand so high, Harley hasn't been standing still. Overall production is increasing, up from 118,000 in 1996 to 131,000 this year with a new plant on the way. But the enormous popularity of its cruisers has made for high dealer markups and waits as long as two years for some models. It has also opened the door for other bike makers.
The high end among America's new motorcycle manufacturers is Big Dog. When financier Ronald O. Perelman bought out the camping and sporting- goods manufacturer started by Coleman's grandfather, Coleman, 44, found himself with time to tinker with the Harleys in his Wichita garage. Soon, he opened a small customizing shop.
In 1993, Coleman built his first bike, a classic mid-1960s-style cruiser. A year later, he began manufacturing. "When you buy a Harley, the factory bike is an anemic motorcycle," says Coleman. "You have to put several thousand dollars into it to get it up to real-world standards." Big Dog aims to do the work for you. That's why its bikes go for upwards of $22,000, vs. about $16,000 for a Harley, says Coleman, whose 55 employees will be turning out 300 bikes this year.
Of far more concern to Harley is $1.2 billion Polaris. Besides being the world's second-largest snowmobile maker, Polaris is one of the largest U.S. makers of all-terrain vehicles and personal watercraft. In early summer, Polaris introduced the Victory, a retro V-twin cruiser scheduled to begin rolling off the line next spring. Estimated to cost about $12,500, the Victory will be aimed at Polaris' existing customers, 30% of whom are motorcycle enthusiasts. Initially, Polaris is selecting about 200 of their 2,000-plus dealers to sell the Victory. "We're going to be a major player in the business," says Matt Parks, general manager of Polaris' Victory Motorcycle Div. "We're not a Harley clone, and our price will be significantly lower."
PROUD NAME. If experience is any criterion, Parks may be on to something: Polaris has successfully competed in the ATV and personal watercraft markets with the same Japanese companies that manufacture motorcycles--Honda, Kawasaki, Suzuki, and Yamaha.
An upstart with potentially a stronger name but a weaker financial and manufacturing base is Excelsior-Henderson. Excelsior Supply, which bought Henderson Co. in 1917, was one of the "big three" U.S. motorcycle manufacturers, along with Harley and Indian, until Excelsior went out of business in 1931. In 1993, hoping to revive the once proud name, brothers Daniel L. and David P. Hanlon launched Excelsior-Henderson. The Hanlons declined to comment for this article.
Excelsior's first motorcycle, the Super X, is due out in October, 1998, and is expected to cost $16,000 to $20,000. In the next few months, Excelsior-Henderson will move into a new factory, with a production capacity of up to 20,000 motorcycles per year, in the Hanlons' hometown of Belle Plaine, Minn.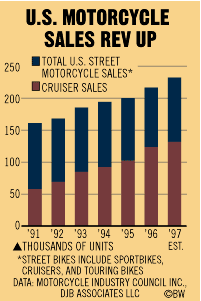 To move forward, Excelsior raised $30 million through an initial public offering in late July. Some $6 million in financing has been pledged by Minnesota through bonds to be issued this quarter. Excelsior's stock, which hit a high of 8 on July 24, was trading at 6 3/4 on Oct. 6. As of Mar. 31, the company was $5.1 million in the red.
At least one entrepreneur has already proved that it is possible to launch a new U.S. motorcycle. In the late 1980s, ex-Harley engineer Erik Buell began building high-performance sport bikes using a modified Harley engine. In 1993, Harley took a 49% stake in Buell Motorcycle Co. in East Troy, Wis., and is selling Buells through its dealer network.
Certainly, it's too soon to tell if the other new players will win over American hearts and wallets. But as Harley has proved, being "made in America" doesn't slow you down.