Homebase Sits On A Firm Foundation
By
No, HomeBase (HBI) has nothing to do with baseball. Known as Waban before it spun off its BJ's Wholesale Club to shareholders on July 28, HomeBase generates sales of $1.5 billion from 84 home-improvement superstores it runs, mainly in California. To Joseph Cornell, equity research director at Chicago's High Yield Analytics, HomeBase is "one of the most undervalued--and ignored--stocks in the industry."
Although the shares have climbed from 6 to 9 so far this year, they trade below their book value of $10, notes Cornell. He thinks HomeBase deserves to trade at a premium to its book value, because cash flow and earnings have been growing strongly. Cornell notes that industry rivals have much higher p-e ratios. Home Depot, for instance, has a p-e of around 30, vs. HomeBase's 12, based on a 1998 earnings estimate of 75 cents a share.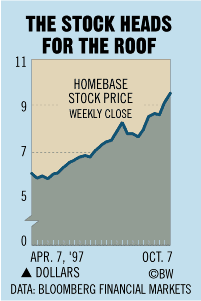 Cornell figures the stock is worth 13, based on a p-e of 18. "HomeBase is a sleeper in the industry," says Cornell, one that's just starting to get attention. The spin-off of BJ's, he adds, gave HomeBase a new management that focuses on the core business. "Its rising revenues, profitability, and depressed p-e make HomeBase a natural takeover target," says Cornell. "I wouldn't be surprised if it gets swallowed up in the next year."
Analyst Allan Roness of JW Charles Financial Services, says HomeBase is the largest or second-largest building-supply store in nearly all the markets it serves. It usually competes directly with Home Depot, notes Roness. HomeBase, he assures, "can definitely hold its own against Home Depot." The strengthening economy and fast-growing population in California, he adds, will help HomeBase immensely.