Chrysler Learns From Its Mistakes
Bill Vlasic
It's tough to stand out in the crowd of passenger cars these days, and no auto
maker knows this better than Chrysler. While its minivans, pickups, and sport-utilities are major players in the light-truck market, Chrysler's cars poke along behind those of General Motors, Ford, Honda, and Toyota.
But the new 1998 Dodge Intrepid and Chrysler Concorde models--due out in mid-November and December, respectively--should get Chrysler back in the game. When the first versions of these full-size sedans rolled out in 1993, their dramatic styling wowed consumers. Early quality problems, however, including water leaks and faulty headlights, took the steam out of sales. Chrysler vowed not to make the same mistakes twice and poured $2.1 billion into a new lineup that includes an LHS luxury version and a sporty 300M model to be introduced next year.
SLEEKNESS COUNTS. Judging from test-drives of the Concorde and Intrepid, the money was well spent. Once again, both of the models look stunning. The Intrepid's cross-hair grill, flared headlights, and wedge-shaped design make rivals such as Ford Taurus and Chevrolet Lumina seem timid by comparison. The sleeker Concorde combines a Ferrari-like front with an elegantly tapered roof line. "Design is our mark of distinction," says Thomas Gale, Chrysler's executive vice-president for product development.
But the real test of the new sedans will be in the more functional aspects of the car's performance. That said, their two new aluminum engines may be the best power trains Chrysler has ever built. The base 2.7-liter V-6 engine accelerates smoothly, idles quietly, and delivers a satisfying 200 horsepower. The upper-level Intrepid ES and Concorde LXi are equipped with a heftier 3.2-liter V-6 engine that's rated at 225 horsepower. The four-speed automatic transmission shifts forcefully without annoying lags. The Intrepid ES gets an AutoStick, which lets the driver choose between conventional automatic shifting or a clutchless manual system. Gas mileage is good: 21 miles per gallon in the city and 30 on the highway for the 2.7-liter; 19 in the city and 28 on the highway for the 3.2-liter.
Although these are large cars, they handle as nimbly as smaller vehicles in sharp turns. An all-independent suspension provides a pleasing, but not overly cushy, ride. Braking is excellent, as was proved during a test drive in the winding, hilly roads outside Austin, Tex. I was barreling out of a blind curve at 40 mph in a Concorde LXi, when a big black dog decided to play tag with my front bumper. I slammed on the brakes, came to a dead stop, and avoided the mutt. Antilock brakes, however, are standard only on the LXi and Intrepid ES. They're optional on the base models.
To cut down on squeaks and rattles, Chrysler stiffened the cars' bodies and filled their internal cavities with sound-absorbing foam. The result is a much quieter ride than in the previous generation of Concordes and Intrepids. The interior is spacious, thanks to "cab-forward" design that pushes the wheels out to the edge of the chassis to provide maximum room inside. Front-seat dual air bags are one-third less powerful to reduce the risk of injury to children and small adults. Both cars can haul plenty, with 18 cubic feet of trunk space.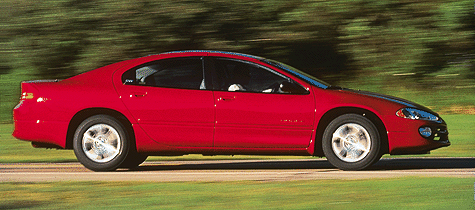 GORGEOUS. I did have a few quibbles. The instrument panels seem rather undistinguished--for cars that are so gorgeous on the outside. The cloth seats, while comfortable, have a washed-out look. (Leather seats are standard on the Concorde LXi, and optional on the Intrepid ES.) The imitation wood-grain finish on the Concorde LXi appears chintzy. But these are minor drawbacks in a package that is far roomier than competitors in its price class. The Intrepid is expected to sell for $21,000 to $25,000, and the Concorde for $22,000 to $26,000.
Chrysler expects Intrepid buyers to be between 40 and 50 years old, half of them female, with annual incomes above $50,000. Concorde should attract a slightly older, more affluent group. If the quality matches their design and performance, Concorde and Intrepid should get car buyers back into Chrysler showrooms.