Brazil: No Bombshells On The Radar
By
Currency chaos in Southeast Asia is focusing international attention on the Brazilian real. But despite jitters about a forced devaluation amid a ballooning trade deficit, the real looks safe.
A firm real is the linchpin of President Fernando Henrique Cardoso's economic stabilization plan, which has tamed inflation, giving both Cardoso and his program broad popular support. Inflation was 4.6% through September, and it should end 1997 below 5%. With presidential elections due in 1998, Cardoso seems a shoo-in if the economy holds together, especially given the lack of unity among opposition parties.
The fly in the ointment is the trade gap, which has worsened due to the strong real. The deficit will widen further for seasonal reasons, but adjusted for them, exports have picked up and imports are slowing (chart). The unadjusted September gap widened sharply to $1.28 billion, as soybean exports posted a seasonal drop. Imports surged 23% from a year ago, but with the economy set to slow down, imports should cool off.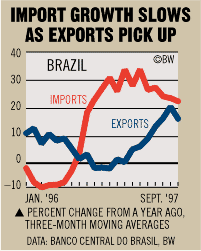 Growth will slow because of high interest rates, a key prop under the real. The central bank is committed to tighten as needed, while fiscal reform crawls along. Tight money also will offset any fiscal excesses that may emerge prior to the elections. The economy grew 5% in the second quarter, but the second-half pace is slowing. Retail sales in Sao Paulo have weakened amid a slowdown in jobs and incomes. Growth in 1997 is expected at about 3.5%.
The broader current account deficit, which includes investment income, is large but manageable. It runs at 4.3% of GDP in the year ended Aug. 31, and it is headed toward 5% in 1998, a level that often raises fears of a devaluation. However, foreign direct investment through August totaled $10.2 billion, already greater than 1996's $9.9 billion. Privatization receipts will add to foreign-capital flows, and foreign-exchange reserves in August totaled a record $62.3 billion. But in the long run, only continued fiscal reform can assure the real's health.