Best Buy Is A Better Buy Now
by
In the summer of 1996, the short-sellers were all over the shares of Best Buy (BBY), a major retailer of personal computers and other consumer electronic products. They had sniffed out that earnings would be under tremendous pressure because of weakened demand for such appliances. New York money manager Bill Harnisch was among those who made a bundle by shorting the shares--as they tumbled from 26 in mid- June last year to 8 1/2 by mid-February this year. But guess who has turned bullish lately? Harnisch himself, who, as the president of Fortsmann-Leff Associates, manages a portfolio of $4.5 billion.
The dive was so steep, he says, that he felt Best Buy had to be cheap at 8 to 10. And when he saw how well the management responded to misfortune--slashing inventories and installing cost controls--Harnisch went on a buying binge: He has accumulated about 10% of the stock.
He's convinced that the company, which generated sales of $7.7 billion in fiscal 1997 ending Feb. 28, is on the way toward a strong recovery. "Management got rid of nonmoving products, cleaned up the balance sheet, and improved the income statement," says Harnisch. He points out that, while management was tightening inventories, the store's sales have steadied and improved.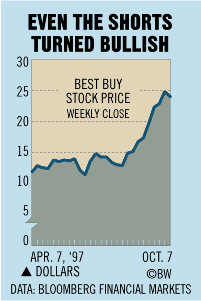 The stock has also rebounded lately, scooting up to 24 by Oct. 7. Harnisch thinks it could hit 40 by the middle of next year. The stock has also been helped by a change of heart among several analysts, including Goldman Sachs' David Bolotsky and EVEREN Securities' Beth Richard. They argue that the company's new stress on profitability, as demonstrated by a slowdown in expansion moves and better inventory management have substantially improved the profit outlook.
Analysts figure that Best Buy, which posted earnings of 4 cents a share in fiscal 1997 (vs. $1.10 in 1996), will make 72 cents in 1998 and 99 cents in 1999. But Harnisch is more optimistic: He is counting on $1.28 and $1.59, respectively.
Before it's here, it's on the Bloomberg Terminal.
LEARN MORE