As Turks Climb On The Success Train...Acceptance Still Doesn't Come Easy
Katharine A. Schmidt
Ihsan Oener surveys the cityscape of highways, tramlines, and cranes separating his second-floor office from the hulking central train station in Frankfurt. Inside, where the decor includes a picture of the Blue Mosque in Istanbul, he and two other Turkish-born partners run a construction company employing 60 people, including two German secretaries and a German engineer. The partners opened shop in 1992 with $28,250 in loans from friends, says the impeccably tailored Oener, and within three years built their business up to $17 million in annual sales. "I've got it all under control," he concludes, waving his hand from his padded black leather desk chair.
Oener, 40, who came to Germany at 17 and studied to be a construction engineer, has carved out an existence between two cultures. The head of a group of Turkish owners of small and midsize businesses in Germany and nearby countries, he represents a rapidly growing number of entrepreneurs among his 2 million countrymen in Germany. In 1970, there were only 3,000 business owners among Germany's Turkish population, most of whom had come here as low-skilled "guest workers." By last year, there were 42,000 Turkish entrepreneurs in Germany, with total annual sales of $20.3 billion. Consulting firm KPMG predicts there will be 106,000 by 2010.
To be sure, many Turkish-owned businesses are mom-and-pop stores selling sour yogurt drinks and dried beans to immigrants, or Turkish snacks like doener kebap, a cousin of the Greek gyros-and-pita sandwich. But younger entrepreneurs have put their German university studies and apprenticeships to use as software developers, textile importers, and owners of travel agencies.
Take Hueseyin Kuru, 44, who was born in a Turkish town of fewer than 1,000 inhabitants. He got his business start there at age 11, running his family's small food market while his dad went to work in Germany. Then young Kuru followed his father, apprenticed at an electronics company, and went to night school for a degree in engineering. Now he's running a food import-export company with annual sales topping $56.5 million.
CLOSE LINKS. Kuru is also helping raise the profile of Turkish businesses in the Frankfurt area with a one-year-old pilot program designed to get them to hire more apprentices. The federal Education Ministry, in turn, says Turks and other foreign business owners can help it fill the nationwide shortage of traineeships. At KPMG, analysts predict that Turkish business owners may come to play roles similar to those filled by overseas Chinese and Indians. That means the expatriate Turks would maintain links with their homeland and be natural partners for investors in Turkey and culturally similar Central Asian nations. Kuru, who is on the board of a business group that maintains close links with the Turkish government, is eager to play the role of intermediary: "We could be a real plus for this country, with the aggressiveness and flexibility we brought with us, and the punctuality and order we learned here."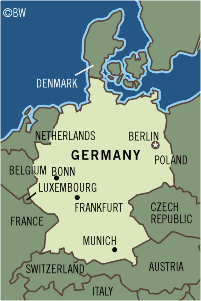 There are bumps along the road to success in Germany. Like many smaller German companies, Turkish entrepreneurs have trouble getting financing from banks. Others get tangled in the web of regulations and the tax code. Discrimination against Turks has let up slightly since the early 1990s, but Oener still finds occasional cause for outrage. He shakes the front page of a newspaper showing Bavarian football fans taunting Turkish fans with plastic bags from a discount grocery chain they associate with immigrants. "This is pure racism," sputters Oener.
Oener blames Bonn for not doing enough to fight discrimination and says Turks will not be fully integrated until it gets easier for them to become citizens and vote. That will take a while. German-born children of Turks can't become citizens until they're 16. Like other foreigners, Turks who come as adults have to live in Germany for 10 years before they can apply for citizenship. So if Germans really want to encourage Turkish entrepreneurs--and the jobs they generate--they may have to go further than just picking up lunch at a doener kebap stand.
Before it's here, it's on the Bloomberg Terminal.
LEARN MORE