Uh Oh, They're Going Like Hotcakes
Low PC prices lure new buyers. But profits may suffer
By
For years, personal-computer makers have labored to win the hearts of PC neophytes such as Clarence L. Jefferson. Evidently, they were overthinking the problem. After two years of looking, the X-ray technician from Hayward, Calif., bought his first computer on Sept. 25. The draw wasn't a whizzy chip or boatloads of software--it was a brand-name PC priced under $1,000. Jefferson snapped up Compaq Computer Corp.'s $999 Presario 4505--just days after spotting it advertised--so his daughter, Nicole, could have a PC as she begins high school. "I don't need to be right up-to-date with the latest and greatest technology," says Jefferson, who also bought a monitor and printer for a total of $1,600. "At these prices, I can't go wrong."
He's not the only one who feels that way. PCs that cost less than $1,000 have exploded in popularity this year and now account for 20% to 30% of the machines sold through retail stores, up from just 7% in January. What's more, BUSINESS WEEK interviews with buyers, retailers, and manufacturers show that more than 35% of these bargain-basement sales are to homes that had resisted the PC's siren song until now. If the trend holds, the penetration of computers into U.S. homes could finally push past the near-40% plateau it has been at for the past couple of years. Dataquest Inc. now says PC penetration could hit 47.5% in 1998.
But before anyone buys pizza and beer for a quick celebration, consider this: While low-cost PCs are luring first-time buyers, they're also cannibalizing sales of more expensive machines that carry fatter profits. Of those buying $1,000 PCs, nearly one-third would have bought a higher-priced machine if the inexpensive model had not been available, according to BUSINESS WEEK interviews with customers and experts. The bottom line: Growth in the number of home PCs sold, expected to surge from 12.8% in 1996 to 22% this year, will be offset by falling PC prices, resulting in stagnant revenues this year. "This low-end consumer stuff is a real two-edged sword--and it may prove to be a one-edged sword facing the wrong way if the market doesn't prove to be huge," says analyst James D. Poyner of Oppenheimer & Co.
Should the blade fall, it will cut even further into the profits of PC makers. Some already are finding the consumer market to be dicey. IBM is considering scaling back its home-PC unit after heavy losses this year. Sony Corp., Acer America Corp., and others market home PCs only so they can sell profitable add-ons, such as monitors. "Our goal is to not lose money [in home PCs]," says Michael D. Culver, general manager of Acer America's consumer-PC operation.
"PRETTY PEDESTRIAN." Even if PC makers can't crank up profits, there may be no going back. The newest budget models not only mark a major shift in personal-computer sales, they also signal a new attitude by shoppers. In the past, PC companies, together with chipmaker Intel Corp. and software king Microsoft Corp., could convince buyers that they needed ever more powerful machines. That was sage advice for the most part, since whizzy new technologies rendered many a new PC obsolete in a matter of months.
But now, there are no new, must-have applications on the horizon. Shoppers often don't feel they need state-of-the-art features such as Intel's Pentium II chip or a digital videodisk drive. Even Microsoft's Windows 98 operating system, expected next spring, won't require consumers to buy more powerful computers. While sub-$1,000 machines in the past were hopelessly outdated clunkers, this year's crop has 166-Mhz and even 200-Mhz microprocessors and multi-gigabyte hard drives--just fine for most computing and Web surfing. "Do we need the biggest, baddest puppy out there? No," says Christopher P. Geehern, a businessman from Westfield, Mass., while shopping for a cheap PC for himself and his daughters. "Our needs are pretty pedestrian."
That sentiment may be more pervasive than PC makers would like. Since Packard-Bell NEC Inc. started the price war with a $999 model at the beginning of the year, the more profitable $1,500-plus PCs fell to 29% of total sales in July from 59% in January, according to Computer Intelligence. Says Pam Kramer, a rehabilitation counselor in Boston and new owner of a budget $499 PowerSpec PC from retailer Micro Center in Columbus, Ohio: "It's either buy a cheap computer or no computer."
Of course, the next "killer app"--say, digital photography--could explode on the market any day. But many shoppers hint that given today's prices, they're not likely to jump back on the technology treadmill. Take Chicago attorney Todd Flaming. A savvy computer user who writes a technology column for the Illinois Bar Journal, Flaming recently purchased Compaq's $999 Presario 2200, even though it's not expandable and includes a processor from Cyrix Corp. instead of one from industry leader Intel. "I can buy an extremely expensive machine that wouldn't do any better job than this will do," he says. "In the future, I think planned obsolescence will become a regular part of purchasing decisions. Computers will become in a lot of ways like clothing."
And maybe not much more expensive than a decent suit either. As brand-name players cut their prices to duke it out for market share, lower-tier players are already pushing prices down even further. Micro Center is marketing its $499 PC with respectable features: a 166-Mhz Cyrix processor, one-gigabyte hard drive, and a 33.6-kilobits-per-second modem. Such a price would have been unthinkable a year ago, yet the 12-store chain has been overrun with orders. "It's clearly not for everyone, but it's exceeding our wildest expectations," says Tom Fritz, vice-president for merchandising.
How can Micro Center and its larger rivals hope to turn a profit at such prices? By leaving out all but the most essential features and using cheaper materials. Many of the sub-$1,000 models use processors from Cyrix in Richardson, Tex., and Advanced Micro Devices Inc. in Sunnyvale, Calif. The savings are marked: the Cyrix' MediaGX chip costs $80 and replaces a similar Intel chip and other hardware that cost $160. Through such price differences, PC makers insist they can maintain their gross margins at 12% to 14%--slightly below the 15% they make on more expensive Intel-based PCS. "We enable them to hit new price points--and make a profit doing it," boasts Steve Tobak, Cyrix' vice-president for corporate marketing. Just how much profit, though, is at issue. Even if gross margins do stay the same, there are fewer dollars of profit because of lower selling prices.
As sub-$1,000 machines become a bigger chunk of the market, that will force PC manufacturers to make fundamental changes in how they do business. No one knows this better than Compaq, a market leader thanks to the three budget models it has unveiled since March. Compaq is the only company that consistently makes much money selling home PCs through retail stores, analysts say. So its get-tough tactics are likely to become standard industry practice.
"FRESH FISH." Key to Compaq's success is not trying to satisfy all the potential demand for these products. Instead, the giant PC maker limits production runs and focuses on rushing out a new version every four months rather than the more typical six months. The idea: Since excess inventory of these low-margin products is virtually worthless, "you've got to constantly keep fresh fish on the shelf," says Rod S. Schrock, vice-president for Compaq's Presario PC division.
Compaq also is playing hardball with retailers. It pushes store owners to estimate sales precisely so that low-end PCs can be made in one batch. If retailers underestimate, they probably won't get more product. And Compaq won't take back PCs that have been sitting on store shelves unless they are faulty. "It's turning into a classic consumer product now," says Compaq's Schrock.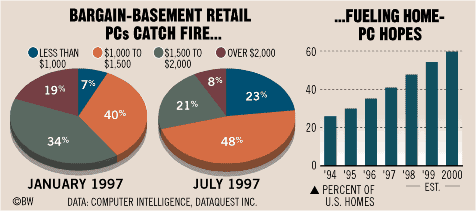 Still, analysts say much more is needed to make home PCs as ubiquitous--and profitable--as other consumer gear such as TVs and VCRs. This will include not only further price cuts, but also new products that appeal to consumers. One possibility: modular designs so customers can assemble their dream computer over time rather than having to start from scratch every few years. Says Webb McKinney, head of Hewlett-Packard Co.'s Pavilion home-PC business: "I never thought that price alone would get us into 80% to 90% of U.S. homes. The fact is, we have to make PCs much easier to use and much more relevant to people's lives." But for now, at least, bargains abound.