I'm Not Gonna Pay A Lot For This Aptiva
Consumers are forcing a shift in strategy at IBM
Ira Sager
How tough is the high-tech consumer business? Take a look at IBM. Last year, it was winning kudos for the innovative design of its sleek Aptiva home computers and gaining back market share after years of slipping. Big Blue was even making a comeback in PC software--dumping poor-selling titles such as an anthology of Playboy articles to buy education software maker Edmark Corp., developer of the critically acclaimed Thinkin' Things programs.
But that was last year. Since then, the IBM Consumer Div. has badly misjudged demand, leaving the company with pricey, feature-rich machines just when consumers are clamoring for stripped-down models costing no more than $1,000. The result: After narrowly carving out a profit last year, analysts estimate IBM's $2.5 billion consumer business has been in the red for the first half of this year, to the tune of some $200 million--a figure that could double by yearend.
TIME TO REBOOT. IBM Chairman Louis V. Gerstner Jr. has had enough. Gerstner & Co. are now rethinking Big Blue's consumer business. He has ordered a top-to-bottom review of the division and an overhaul of operations. Up for consideration: refocusing the Aptiva brand on the small-business market. Managers also are studying how to cut costs by outsourcing more production and eliminating separate sales and development teams for both corporate and consumer operations. In software, IBM may also back out of the consumer arena by deciding to sell its CD-ROM programs only to schools. "It's premature at this point in time to say what IBM will do," says Senior Vice-President Samuel J. Palmisano, who recently took over the consumer business. "We have not made any decision."
First, IBM has to fix its home personal-computer business. So far, the company has missed the trend toward bargain-basement prices. Until recently, an Aptiva home PC started at $2,000--too high, considering 7 out of 10 PC buyers now walk out of retailers having spent less than $1,500, according to market researcher Computer Intelligence. "Missing the price point is deadly," says Aaron C. Goldberg, executive vice-president of Computer Intelligence.
Now, IBM's consumer chief has to run twice as fast just to catch up. "This whole business is about speed," says James A. Firestone, general manager of IBM's consumer business. On Sept. 15, IBM started selling a brand-new line called the Aptiva E Series, with prices beginning at $1,199. To lower costs, the machines are built to IBM specs by Taiwanese electronics giant Acer Inc. Still, IBM has not been able to match Compaq Computer Corp., which offers the Presario 2200 for $799 without a monitor. "IBM has not been as aggressive as Compaq in the consumer market," says Nathan Morton, CEO of Computer City.
"JAWS" IS COMING. Nor does it look as though Big Blue will get much bolder before the crucial Christmas selling season. In mid-November, it will experiment with a $999 model, code-named "Jaws," but only one retailer will carry the PC. If it sells well, IBM will roll it out to other retailers early next year--well past the prime selling season.
Moreover, IBM can't expect software to make up for lackluster home-PC sales. Edmark will have some innovative titles this fall--including the first reading program, called Let's Go Read! An Island Adventure, that uses speech-recognition technology--but it has lost retail market share in recent years, falling from among the top 10 sellers of education software to No. 16, according to PC Data Inc. And joint ventures with Crayola and World Book Inc. are just getting off the ground.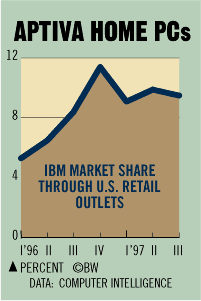 Gerstner is going to be taking a hard look at the Consumer Div.'s numbers this holiday season. Regardless of how sales stack up, IBM execs insist the company will stay in the consumer market in one form or another. "It is an area of the market that will shape people's perception of IBM," says Firestone.
For now, IBM isn't making a good impression. Says one Aptiva retailer: "Cool machine. It just costs too much." He says IBM is not in the same league as Compaq or Hewlett-Packard when it comes to knowing consumers. "They're just not listening. We're at the point of deciding whether we want to carry the line at all," he says. If that happens, perception may shape reality.