Heady Days For Israeli High Tech
Turmoil hasn't stopped investment from flowing in
Neal Sandler
Political instability and terrorism have hurt the Israeli economy. But venture capital continues to flood in from abroad, fueling a high-tech boom that seems to transcend politics.
Just ask former Apple Computer CEO John Sculley, who says he came to Israel "for what I saw in Silicon Valley 15 years ago." His New York-based Sculley Brothers LLC invested in three Israeli outfits recently: OLiVR, a multimedia software developer in Jerusalem; Ephyx, an interactive video producer in Herzliya; and Zapa Digital Arts, an electronic-advertising firm in Tel Aviv.
Indeed, the venture-capital business is exploding. Six years ago, Israel had but one venture-capital fund, with $30 million in assets. Today, there are more than 50, with close to $2 billion, says David Rubin of Israel's economic mission in New York. These funds--many from the U.S.--are expected to plow $600 million into the country's 2,000 high-tech companies this year and next. On Sept. 22, Finance Minister Yaakov Neeman announced exemptions for foreign institutional investors from Israeli capital-gains taxes.
The list of investors in Israeli high tech includes some of America's best-known Establishment names: AT&T's pension fund, Massachusetts Institute of Technology's endowment fund, Boston's Hancock Ventures, and Chase Capital. "Investors are coming here because of potential annual returns of at least 30%," says Zeev Holtzman, president of Giza Ltd., a Tel Aviv investment bank, and a representative of BT Alex. Brown.
The success of recent initial public offerings shows that Israel's high-tech companies are affected more by trends on Wall Street and in Silicon Valley than by the state of relations between Prime Minister Benjamin Netanyahu and Palestinian leader Yasser Arafat. Among the most recent IPOs are ESC Medical Ltd., a maker of laser systems for cosmetic surgery, and Galileo Technology Ltd., a maker of advanced digital chips. Herzliya's Nitzanim Fund, whose major investors include Israel's Kardan Technology and Japan's Kyocera Corp., saw its $1 million stake in ESC and $1.5 million investment in Galileo swell to $53 million and $90 million, respectively.
DARK CLOUDS. Some foreign investors are less interested in quick Wall Street profits than in acquiring technology no one else has. In 1995, Germany's Siemens bought Ornet, a developer of data communications solutions, for $30 million. And California's Applied Materials Inc., a leader in semiconductor-production equipment, paid $285 million for Orbot Instruments and Opal, developers of measurement gear for the semiconductor industry.
Because Israeli technology companies export most of their output, they are largely insulated from the rising unemployment and inflation that plague the domestic economy. Last year, high-tech exports came to $7 billion--one-third of total Israeli exports. This year, high-tech exports could reach $9 billion.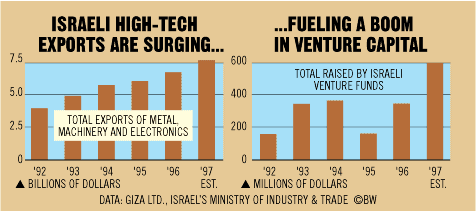 There are several clouds on the horizon. The big increase in the ranks of engineers and scientists in the early 1990s--a result of the mass migration of Jews from the former Soviet Union--has all but leveled off. "This has already led to a sharp increase in salaries, to near U.S. levels," says Shlomo Kalish, chairman and CEO of Jerusalem Global Ltd., a technology consulting firm. Rising costs could soon erode Israel's price advantage--one of its major strengths.
Despite these concerns, many venture capitalists think Israel's high-tech future remains bright. "We'll have to wait a few more years before we can make any meaningful comparisons with Silicon Valley on our success rate," says former Nitzanim Fund President Matty Karp, who now heads up a new fund, Kardan Technology Ventures. The Mideast peace process may be an off-and-on affair, but the venture capital keeps on flowing nonetheless.