A Stadium Worthy Of The World Cup...Could Be Lonely Once It's Over
William Echikson
The grass got first-class treatment. A committee of scientific experts chose the seeds. Professional gardeners planted the budding sprouts and babied them for more than a year. In September, a specially designed machine cut mature square-meter sections and loaded them onto trucks. Their destination? The sparkling new 80,000-seat Stade de France--site of the upcoming World Cup's opening and final matches.
When workers finally laid down the shining grass carpet, French newspapers saluted the operation as a national victory demonstrating that France is finally getting into gear to host the world's single largest sporting event. The World Cup's opening kickoff is scheduled for June 10, 1998. Organizers expect more than 37 billion people to watch broadcasts of the month-long event, twice the number that tuned in to the Atlanta Olympics.
TOUGH JOB. France may be plagued by high unemployment and doubts about its self-proclaimed grandeur. But when it comes to putting on a party, few countries prepare with so much panache. The $445 million Stade de France is being finished ahead of schedule. Tickets for the opening round are already sold out, six months before expected. And corporate sponsorship has reached $144 million, $40 million more than planned and 2 1/2 times more than the 1994 World Cup in America. "Everything looks like it finally is rolling," says Joel Simon, an editor at Paris-based World Media Live, which is preparing a World Cup Internet site. "It certainly has been a difficult job."
That's an understatement. When France was named host back in 1992, it agreed to build a large stadium to replace Paris' aging Parc des Princes, which holds a paltry 49,000 spectators. A leafy site far south of the city was originally chosen, but when a new government took over in 1993, it wanted one closer to the capital. It chose St. Denis, an impoverished, immigrant-dominated suburb just north of the city. Next, a fierce battle over design erupted, complete with a lawsuit.
Even after contracts were signed, the builders found chemicals contaminating the stadium site. Construction was delayed for more months. "Many said we could never finish in time," recalls Stephanie Husson, the Stade's spokeswoman. But the immense, 17-hectare project will be opened in November, only 30 months after the first stone was laid--and its soaring silhouette, designed by Michel Macary, is fast winning admirers.
The Cup's marketing effort also ran into difficulties. France's national football team didn't even qualify for the 1994 World Cup in the U.S. "When we started searching for money, the recession had just begun and everyone was so depressed about our national team," recalls Nathalie Hachet of the French Organizing Committee for the World Cup. Into the void stepped Michel Platini, the former star French midfielder. As the committee's co-president, he visited many potential sponsors. "When CEOs heard that Platini wanted to meet with them, they opened their doors," says Hachet. Corporate donations started to flow--and France's World Cup ball was rolling.
Platini will need all his vaunted playmaking skills to overcome some simmering disputes. Anheuser-Busch Cos., an official sponsor, wants its Budweiser logo splashed over the World Cup stadiums. French law forbids ads for suds at sports stadiums or on TV broadcasts of events. Anheuser hoped for an exemption from business-friendly conservative lawmakers, but the Sports Minister in France's new left-wing government is a Communist. "Anheuser won't be on TV," confirms Hachet.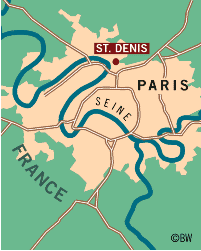 An even greater challenge will be finding a use for the Stade de France after the World Cup. Some 35 sports events and 1.7 million spectators a year are needed to make the stadium economically viable. So far, only five rock concerts, five rugby matches, and the French national team's football matches are scheduled. The French capital's leading football team, Paris St. Germain, is refusing to move into the new facility, saying it's too big.
One possible solution is to find another team willing to move in. Another is to bid for the 2008 Olympics. But that would leave a decade ahead with a near-empty stadium. So the World Cup party could leave the hosts with a hangover.