A New Chapter For Barnes & Noble?
Gene G. Marcial
As the top U.S. bookseller, with 454 "superstores," Barnes & Noble (BKS) is ahead of the pack. It plans to keep adding outlets and foresees sales of $3 billion for the fiscal year ending Jan. 31, 1998. So why is CEO Leonard Riggio looking over his shoulder to check on competitors? "He is worried sick," says the manager of a New York hedge fund, that another bookseller--namely Borders Group--may be eyeing the company for a takeover.
Never mind that Borders, B&N's closest rival, is far smaller--171 superstores and $1.9 billion in 1997 sales. "The brass at Barnes & Noble are truly concerned that Borders, whose market cap is $2.1 billion, may spring a surprise bid in order to become No.1," says the hedge-fund manager, who has been accumulating B&N shares. He and another hedge-fund manager own a combined 20% of the stock. Barnes's market cap swelled from $1.8 billion on Sept. 30 to $2 billion on Oct. 1--the day Merrill Lynch rated it as its "Focus One" stock, pushing the shares from 27 to 30.
An analyst at one of the hedge funds says Borders would "greatly benefit" from acquiring B&N, which controls 11.5% of the superstore market--compared with Borders' slim 3.2%. She notes that while Borders has just started to gain access to the Internet book market, B&N already has an online operation expected to generate $50 million this year. One strong Internet bookseller--Amazon.com--turned in sales of $15 million last year and is projected to generate $56 million this year. Amazon.com has yet to make money, but its stock, at 52, is hot, with a market cap of $1.2 billion.
Based on such a lofty valuation, says the analyst, B&N's Internet service would be worth $550 million, or $8 a share--even "using very conservative assumptions." That means, she adds, the "company's bookstores are selling cheap."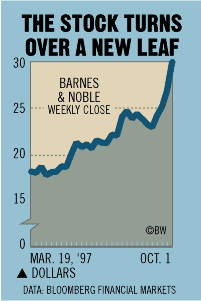 "Barnes & Noble is on a tear," says the analyst. The size of its fiscal-1998 sales increase alone--an estimated gain of $400 million--exceeds total Internet book sales of $250 million, she points out. Its superstores--76% of revenues last year--are in 48 states. B&N plans to open 70 more in 1998. Barnes should earn, says the analyst, $1 a share in 1988 and $1.25 in 1999--excluding Internet results. If Borders decides to go after B&N, would the latter be tempted to do a Pac-Man and buy Borders? B&N's Riggio, who owns more than 20% of the stock, declined to comment on Borders or its intentions. But he says B&N is only interested in building more stores rather than acquiring any other company. Borders CEO Robert DiRomauldo would only say that B&N "is a good and tough competitor and makes us tougher."