When's The Next Flight Out Of Vietnam?
Fed up with Vietnam's quickly changing rules, foreigners are scaling back--or leaving
Andy Soloman
Gazing across Hanoi's beautiful West Lake from his office at the soon-to-open Hanoi Club, Anthony Cottan wonders what went wrong. As general manager of Vietnam's first exclusive private sports club, he spent 16 months overseeing the joint venture between Singapore's Econ Vietnam Investments and a state-owned company. But after doing everything from supervising construction and training staff to picking out crockery for the restaurants, he is being forced to pack his bags and leave.
That's because just weeks before the club was scheduled to open in early October, Vietnam's investment-licensing body unexpectedly rejected a 10-year management contract negotiated between Cottan's company, Club Corp. of America, and the club's two owners. The Dallas-based company had been working pending official approval because it had been assured it would be a mere formality. "I'm devastated by it personally," moans Cottan. "You can't see the fruits of your hard work."
Such are the shifting rules and mazes of regulations in Vietnam that have caused the best-laid plans of company after company to go awry--and investor sentiment to plummet. Once hailed as a surefire Asian Tiger, Vietnam has largely squandered the burst of international enthusiasm that greeted the 1994 lifting of the U.S. economic embargo. Approved foreign investment, at $2.8 billion for the first eight months of this year, is down 20% from the same period last year and 35% from 1995. Hundreds of projects have collapsed.
Investors who hoped things would get better with the new political lineup chosen at Vietnam's National Assembly in late September are likely to be sorely disappointed. Hanoi may be acutely aware that its inconsistent policies, together with an arcane and corrupt bureaucracy, are keeping investors away. The new Premier, Phan Van Khai, and new President, Tran Duc Luong, may be committed to broad reforms of the bureaucracy and financial system. But like their predecessors, they are part of a slow-moving system whose priority is to maintain Communist Party dominance.
The underlying problem is a chaotic government structure. Foreign-investment laws are flawed and incomplete. Decisions made by the central government are undermined by power-hungry local bureaucrats. Decrees and ordinances are churned out by ministries, commissions, and departments alike--often with little regard for whether or not they overlap. And while foreign investors are officially welcomed, ideologues and party hacks swipe at them through the state-controlled media, blaming foreigners for inhumane working conditions and other social evils as well as accusing them of being spies bent on overthrowing the government.
As a result, investors are reevaluating Vietnam. Chrysler, Occidental Chemical, and others already have pulled out of big projects. Many that stay are scaling back. "There's an inability to execute business plans," says Thomas Manning, the Hong Kong-based managing director of Ernst & Young's Asia consulting group. "The attitude of the government is unpredictable and fraught with more difficulties than other countries."
ERRATIC POLICIES. Chrysler Corp. is a case in point. In 1992, it proposed building a $192 million plant to assemble models such as Dodge Dakotas and Jeep Cherokees in southern Vietnam after Hanoi promised there would be only three competitors. But by the time the State Committee for Cooperation & Investment granted Chrysler an operating license in 1995, there already were eight competing projects. Two years later, the field had grown to 14 plants with a planned capacity of 180,000 cars--despite a maximum domestic market for new cars of 8,000 annually. Realizing that it would never make money, Chrysler pulled out in May, writing off the $4 million it had invested. Good thing: New car sales in Vietnam dropped by 20% in the first half of the year, to a mere 2,545.
Currency policies have been just as erratic. In June, the State Bank, alarmed at the huge trade deficit and dwindling foreign reserves, limited foreign companies' ability to convert dong into U.S. dollars. That makes it hard for investors such as Heineken and Unilever who manufacture for the Vietnamese market to use their local revenues to pay foreign employees, repatriate profits, and repay foreign-currency loans. Making matters worse, the dong has fallen by 10%, to 11,700 to the dollar, so far this year. "It's a continual battle, and we have to continually hammer away at getting foreign exchange," says Niall FitzGerald, the London-based chairman of Unilever, which expects to sell $70 million worth of detergents, soaps, toothpaste, and ice cream in Vietnam this year.
Foreign accountants are exasperated, too. In February, the government said all foreign investors must immediately implement a Vietnamese accounting system that is at odds with international norms--or face fines. And 100% foreign-owned companies face startup cost increases of up to 25% because they can no longer carry forward losses into the following tax year. Then there are Vietnam's constantly changing rules concerning work permits for foreigners. Last October, Hanoi announced expats must produce notarized resumes and original school certificates. Yet enforcement dates keep shifting.
EMULATING CHINA? Vietnamese officials defend such policies by saying that investors have to be patient with a poor, developing country. In experiments with decentralization, they are giving a few provinces the authority to approve investments of less than $10 million. But such reforms affect only a small percentage of foreign companies that hope to invest in Vietnam. Senior leaders often call for more reform but go largely unheeded by bureaucrats. Vo Viet Thanh, chairman of the Ho Chi Minh City People's Committee, told a recent foreign-investment seminar: "I myself am in a machinery that has caused difficulties which I cannot accept. So I know about stumbling blocks faced by foreign investors."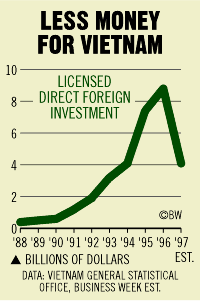 What makes Hanoi's job especially tough is that it is trying to emulate China's success in allowing limited capitalism into a communist state. And adding to the ideological tension, economic growth is slowing in line with the rest of Asia, from an average of 8.5% over the past six years to under 7% this year.
But while foreigners are willing to endure maddening obstacles in China--a potential market of 1.2 billion people--they are less patient in Vietnam, which has 70 million. "Some investors have decided to go slow and see which way the wind is blowing," says Nigel Russell, a lawyer in Ho Chi Minh City with Australian firm Phillips Fox. Until Hanoi gets its act together with clear guidelines, a rule of law, and the opportunity to make a profit, investors figure they can afford to give Vietnam a pass.