What's Foiling The Aluminum Can
The new fizz is in glass and plastic, and makers like Alcoa are getting flattened
By
When AriZona Beverages, the iced-tea company based in Lake Success on New York's Long Island, decided to spice up its offerings, it didn't tamper with its formula of water, sugar, tea, and flavorings. Instead, the company, owned by Ferolito, Vultaggio & Sons, put its best minds to work dreaming up a snazzier container. AriZona's elaborate, squeezable new sports bottle, with a nozzle just like the ones athletes use to guzzle on the run, is about to hit store shelves. Of the $1.50 consumers will pay, a full 28 cents is for the bottle--substantially more than the cost of the drink inside and quadruple the cost of a plain aluminum can. It may be the most expensive soft-drink container on the market. But it probably won't be the priciest for long.
Gone are the days when almost every soda and beer product on store shelves came in identical aluminum cans. Sure, Coke was red and Pepsi was blue, but underneath the paint was the same sturdy, flip-top container. Today, beverage makers, looking to trump rivals, are demanding new shapes and features. Just as technical advances allowed the aluminum industry to seize the can business from steel in the 1960s, innovations from plastic, glass, and even good old steel, are undermining aluminum's hegemony.
That's a problem for Aluminum Co. of America and its competitors in the aluminum industry. Over the past 20 years, they have come to dominate the $11 billion beverage-container market. Cans account for one-fifth of the aluminum sold in North America, which makes it the industry's biggest business--bigger than airplane parts or siding for houses. The $7 billion worth of paper-thin can sheet produced a year, one-third of it by Alcoa, would suffice to wrap the entire island of Manhattan in aluminum, Christo style.
Moreover, the can business has been the key to growth for aluminum companies, which scurried to build mills in the '80s. Now they find themselves swamped with capacity. The likely upshot is consolidation, with smaller players, including Reynolds Metals Co., exiting the business and giants such as Alcoa gobbling them up. But even if Alcoa picks up a few mills, the flat domestic can business will provide little of the growth Chairman Paul H. O'Neill needs to push the $13 billion company to his lofty goal of $20 billion by the turn of the century. Instead, the company will have to race ahead with international acquisitions, push its metal into the auto business, and hook the Third World on aluminum cans.
STILL FLAT. At home, Alcoa, No.2 Alcan Aluminum Ltd., and the others find little comfort. Although the industry produces a staggering 100 billion cans a year, that number has been flat for three years. Increasingly, the humble can is being relegated to the commodity corners. That means it doesn't show up often in ads and margins are lower.
Aluminum has long been marketed on performance and price. But these days, the growth lies in the glitzy new designs that other materials do better. Glass, bounced from the soda market by plastic and aluminum over the past two decades, is staging a comeback among beermakers. There, spurred by microbrews, the emphasis is on a premium look. From 1985 to 1996, glass increased its share of beer packaging from 31% to 37%, while aluminum's portion shrank from 56% to 51%. Meanwhile, in soda, innovations such as Coke's plastic contour bottle are muscling aluminum aside. Plastic bottles are even finding their way into vending machines, where aluminum was once invincible. Now plastic-industry researchers are working to come up with a nonporous compound that could be used to hold beer.
This materials war has forced aluminum companies to rethink the plain aluminum can and spend more on eye-catching shapes and textures. "It's [plastic] trying to grab our market that keeps us working as hard as we do," says George Bergeron, president of Alcoa's Rigid Packaging Div. At the same time, the intense competition prevents them from ratcheting up prices too much. Indeed, when they attempted to pass on higher aluminum costs to the beverage companies two years ago, the beer and soda pop giants noisily began exploring alternative materials. Quickly, aluminum makers brought prices down.
For further growth, Alcoa and rival aluminum makers must look to Asia and South America. In those markets, long shelf lives and iffy refrigeration and transport all favor aluminum over plastic. "Brazil's growing faster than anywhere in the world," says Brian W. Sturgell, executive vice-president at Alcan, which is spending $350 million there to expand can capacity.
How did aluminum lose its grip on the beverage can in the U.S.? After all, glass breaks, and plastic is oxygen-porous, which means sodas go flat in a couple of months. Further, plastic bottles, taller and more wobbly than cans, are slow to fill, and they often tip over--as aluminum makers love to point out--if the conveyor belt moves too fast.
"PROFITABILITY GAP." Conversely, aluminum is pure efficiency. Over the years, aluminum makers have relentlessly shaved costs, whittling down the thickness of the sheet microns at a time. Meanwhile, they and their customers have developed technology to punch out cans at machine-gun speed and to fill them at an astonishing rate of 2,000 per minute. With their technology and marketing, aluminum makers created a giant market for themselves; can production in North America has quintupled in the past 20 years. And the product is everything a Wal-Mart manager could desire. Cans are cheap, they ship and stack well, and the fizz lasts forever.
Trouble is, the growth isn't in the Wal-Mart side of the beverage business. This point became painfully clear to aluminum executives when they attended an industry conference in Atlanta last spring. There they heard Coca-Cola Co.'s technical operations manager, George Gourlay, extol the giant soda maker's newest package--and listened to him turn the cherished values of the aluminum industry inside out. Gourlay explained that Coke had come up with a great new bottle that was more expensive than the can, slower to fill, and far quicker to lose its fizz. And the company just loved it.
Gourlay was describing Coke's 20-ounce "contour" bottle. In 1995, Coke overcame great technical hurdles to produce a plastic bottle with its trademark swirls. Creating the bottle was just the first step. Coke also had to tinker with the machinery to keep the bottles from tipping over or foaming up too quickly.
Do consumers appreciate such efforts? You bet. When Coke's contour bottle hit the coolers in the convenience stores, consumers reached for it. The first year, growth topped 50% in many markets and has averaged 20% since. "Today, the consumer makes a decision based on how a product looks and feels," Gourlay says. PepsiCo Inc. estimates that its own 20-ounce "Big Slam" bottles earned it an extra $400 million in high-margin sales its first year and a half on the market. "They sell 20 ounces for a buck, while you can buy a 12-pack of cans for $2.39," says Alcan's Sturgell. "It's an amazing profitability gap."
Naturally, soft-drink makers are piling into this single-serve gold mine. The industry now produces almost 5 billion 20-ounce plastic bottles a year, many in attention-grabbing shapes. Cadbury Schweppes plc has come out with a so-called splash bottle made of plastic, while its Dr Pepper unit sells a plastic bottle with a cone-shaped head. And next year, says one bottling company official, Pepsi will launch an entire "family" of plastic packages. In time, he predicts, "everyone will have brand-specific bottles."
Paradoxically, brand-specific bottles are exactly what existed a generation ago, when soda pop was still sold in glass. In the '60s, though, aluminum, with its great economic efficiencies, bulled into the market. But with premium brands packaged just like generics, beverage makers became mired in endless price wars. "It woke us up, and we saw we had to create a difference," says PepsiCo's Robert C. Meyer, vice-president for packaging innovation. When beverage companies looked for those innovations, plastic makers were only too ready to oblige.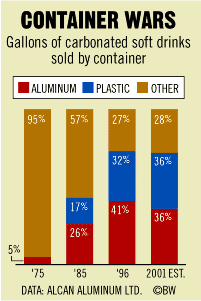 Aluminum isn't giving up share without a fight, though. In addition to new shapes and sizes, the industry is experimenting with reclosable lids and pitching aluminum's superior graphics. Crown Cork & Seal Co., for example, created a Heineken can that is shaped and colored like a brimming beer glass. Budweiser is working on an embossed can that will have a silky feel. "It will offer us a tactile sensation that separates Bud from the competition," says John J. Marota, vice-president for retail creative services at Anheuser-Busch Cos. Of course, all these innovations depend on consumers' willingness to pay extra for the same old beer and cola in new bottles. If that changes, it will be back to the old reliable flip-top for everyone.