This Drugmaker May Be On The Mend
By
Investment manager Todd Krieg shook his head sadly as he looked at a stock chart showing the performance of Teva Pharmaceutical Industries (TEVIY). Teva is one of Israel's largest drugmakers and a worldwide producer of generic drugs. The stock, now at 57, is down from its June high of 67.
But Krieg isn't giving up. "We see in Teva what long-term investors want," says Krieg of First Star Capital in Milwaukee. He says Teva's world distribution network has helped earnings grow at a compounded 30% rate for the past 10 years.
Recently, Teva produced a proprietary drug called Copaxone that has not met expectations. But Krieg says the patented drug, a treatment for multiple sclerosis, will be a big winner in the long run. Over-optimistic projections for Copaxone, exacerbated by huge development costs, led to the disappointing results.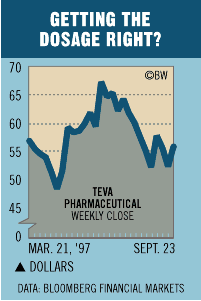 But with Copaxone's startup costs behind it, and with revenues coming on stream from eight generic products, Teva's stock is poised to rocket, say some pros. Teva trades on both the NASDAQ and Israeli stock exchanges. But the company sells 70% of its products overseas, mainly in the U.S. It makes antibiotics as well as anti-inflammatory and respiratory agents.
"We are bullish on Teva because it's in a better position to grow in a $265 billion generic market," says David Saks of Gruntal. He notes that Copaxone is on a "fast track, with 4,000 patients using it after just one quarter on the market." Saks has raised his 1997 earnings estimate to $2.42 a share (up from last year's $1.44), partly because of Copaxone's approval in Canada. The estimate excludes any payments from its marketing partner, Hoechst Marion Roussel, for approval in Europe.
Before it's here, it's on the Bloomberg Terminal.
LEARN MORE