Talbots Drops The `Funkier Stuff'
But can it woo back the conservative shoppers it relies on?
William C. Symonds
Constance Hubbell is the kind of customer who made Talbots Inc. one of America's hottest retailers in the early 1990s. The 35-year-old president of Hubbell Group Inc., a Boston-area public-relations firm, says she used to "drool over everything in the Talbots catalog" before rushing out to buy most of her wardrobe at one of its stores--everything from headbands to pumps.
But lately, Hubbell has become disenchanted. "They've started to move away from the classics and gotten into funkier stuff," she complains. "I would never wear anything lime-green." Spurning the polyesters and fluorescent colors that have recently found their way onto the Talbots floor, she now does half her shopping at department store rival Lord & Taylor.
Hubbell has lots of company. Once the lead purveyor of classic suits, tailored pants, and preppy colors to a fiercely loyal cohort of conservatively dressed career women, Talbots has lost its touch. Although both sales and earnings roared ahead at a double-digit clip in the first half of the decade, the company has stalled of late. The problems culminated in the quarter ended Aug. 2, when a too-trendy spring-summer line left traditional Talbots customers aghast. The result: an $11.5 million loss.
FICKLE CUSTOMERS. Now, management is launching an aggressive recovery campaign, marked by a return to Talbots traditional styling and the biggest ad campaign in its history. "Improvement is around the corner," promises Talbots Chairman Takuya Okada, who is also the CEO of Japanese retailing giant Jusco Co., which owns 63% of the stock.
But has Talbots changed its look in time? Fashion is a fickle business, and Talbots' disappointed customers are heading to other shops. "It's hard to think of any retailer who has easily rebuilt a tarnished reputation," warns retail consultant Peter Glen, whose clients include Nike and Warner Bros.
To be sure, few specialty chains can match the recent track record of Talbots, based in Hingham, Mass., where its first store opened in 1947. Since 1988, when Jusco bought Talbots from General Mills Inc. and when Arnold B. Zetcher, a seasoned retail executive, became CEO, its empire has exploded. Under him, Talbots has expanded its core women's clothing business into accessories and shoes, as well as kids' and babies' clothing. Talbots now has nearly 600 stores, up from 137 in 1988. For the fiscal year ended Feb. 1, sales hit a record $1.02 billion, up from $392 million in 1988. Along the way, Talbots built a fanatical following, including one woman who had a replica of Talbots' trademark red door installed on her closet at home.
But in the past 18 months, there have been mounting signs that the Talbots growth machine is getting awfully tired. Even as it stepped up its expansion campaign--opening a record 75 stores last year, up from 46 in 1992--Talbots has hit a wall. Revenues grew just 3.9% last year--a fraction of the 23% gain posted in 1992. Earnings, at $63.6 million, rose just 2% last year, pretty pitiful compared with the 55% gain posted just two years earlier. And worst of all, sales at stores open at least one year--a critical measure of any retailer's health--are in a slide. After dropping 3.1% last year, they fell a further 2.6% in this year's first half.
The problem: Even as it plowed ahead with the rapid expansion, Talbots neglected its core business in women's classic fashion. Evidence of trouble was clear in 1995, when same-store sales rose just 1.2%. It was a sure sign that the Talbots look was growing stale. But with its attentions focused elsewhere, Talbots avoided "the real issue, which is satisfying their current customers," argues Wendy Liebmann, president of consulting firm WSL Strategic Retail.
NEON-BRIGHT COLORS. And when attention did turn to fixing the fashions at Talbots, Zetcher and chief merchandiser Clark J. Hinkley only made the problem worse. In an attempt to broaden their customer base and attract younger, more fashion-oriented shoppers, they decided to update Talbots' styles. But Zetcher now concedes that "we moved too far." This summer's catalog, for example, was loaded with youthful models wearing short skirts, tight-fitting slacks, and neon-bright colors such as tangerine and aqua. The line bombed so badly that Talbots was forced to take steep markdowns, producing the big second-quarter loss. In the wake of the debacle, Hinkley has given up the merchandising job, and the post remains open.
Meanwhile, the department stores have stepped in to try to woo the disaffected Talbots shoppers. Charter Club, a store brand that is offered in some 400 Federated department stores including Macy's and Burdines, is "enjoying tremendous growth," boasts Tracy Traver, vice-president of Charter Club for Federated Merchandising Group. Nordstrom Inc. and Lord & Taylor are making similar inroads.
Talbots' $13 million ad campaign is designed to reestablish it as the premier purveyor of classic clothes. The casual look that dominated last spring has been replaced by far more suits, skirts, and other dressy sportswear. Still, shoppers will be hard to lure back. While Talbots recently sent Hubbell a preferred-customer credit card, she says the store won't "have the share of my wallet they used to have" until they alter the fashion mix.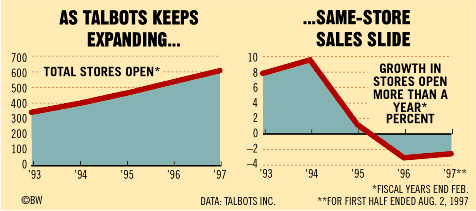 Despite the troubles at Talbots, however, Zetcher is not backing off his expansion plan. He vows that Talbots will have more than 800 stores within three years, up from 605 at the end of 1997. Yet until the company can repair its tarnished image with its once loyal customers, some industry watchers say it should cut back the moves into new territory. "They should get their house in order before expanding [further]," argues consultant Kurt Barnard, president of Barnard's Retail Marketing Group. If customers are still not happy come Christmas--and if results have not improved--even Zetcher admits the expansion may have to be slowed.
For now, many on Wall Street remain leery of Talbots' shares. Although the stock, now around 30, has recovered somewhat from a sharp tumble it took after the second-quarter loss was announced, it remains far off its mid-1995 peak of 43. And while Zetcher says he and other managers have "learned our lesson," the question is whether Talbots still has the touch needed to lure back once loyal fans.
Before it's here, it's on the Bloomberg Terminal.
LEARN MORE