Reynolds: Peeling Off The Wrapping?
By
Shares of U.S. aluminum makers have shone in recent weeks, thanks in part to a drop in inventories and a jump in metal prices. For Edgar Wachenheim, top choice in the sector is Reynolds Metals (RLM), the No.2 producer. Another reason Wachenheim, of Greenhaven Associates in Purchase, N.Y., is buying now: He thinks Reynolds will spin off its consumer-products and packaging division.
The unit produces Reynolds Wrap aluminum foil, Cut-Rite wax paper, and Reynolds plastic wrap and sandwich bags. Wachenheim estimates that the consumer businesses should earn $100 million aftertax in 1997 and that they are worth 15 to 20 times earnings, or $1.5 billion to $2 billion. That's approximately $20 to $30 per Reynolds share, he says.
So an investor buying Reynolds shares, now at 72, is actually paying only 42 to 52, figures Wachenheim. Reynolds (minus the consumer-products part) should earn about $12.90 a share, he figures. On that basis, stock in the streamlined Reynolds should be selling for at least 100 in two to three years, double its current value.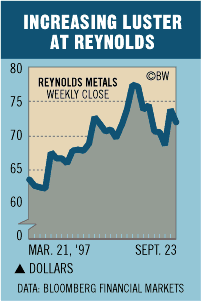 Wachenheim pays as much heed to risk as to upside potential. "Because of the quality and undervalued assets of Reynolds, we view it as low-risk," he says. Low-risk stocks that may double in a couple of years are scarce in today's robust market, he says, particularly among large-cap stocks.
Spinning off the consumer operations will be part of the restructuring that CEO Jerry Sheehan has launched, says Wachenheim. Sheehan announced in July he would be selling assets valued at $900 million as part of his plan to boost Reynolds' performance and stock price.
Right now, ingot aluminum fetches 75 cents a pound. There's a chance, Wachenheim says, that prices will move toward their 1988 level of $1.17. He notes that demand for aluminum is expected to increase at a 4% rate, and capacity at only 2%.