Japan's Bikers: The Tame Ones
By
Seventy drivers rev up Harley-Davidson V-twin engines along a highway. Sitting in an Ultra Sidecar, I listen to the trademark throbbing staccato. But my driver is not some American skull-ringed, tattooed hot-rodder. He's a conservative Japanese, 56, the president of a construction company, dressed up like a cross between Japanese and American policemen. Like the Japanese police, he wears a pressed blue shirt. His helmet bears a stylish but fake California state-police seal.
All told, Toshiaki Iijima has shelled out some $54,000 on equipment to tour with his buddies along the winding roads of a small hot-spring spot called Kinugawa, at Japan's annual Harley-Davidson festival. Until two years ago, Iijima saved his yen to put his daughter through college. Now, he indulges in accessorizing a precious customized Harley bike. Thousands of dollars worth of blue sirens and gilded eagles dominate the front of his 1,340cc red Ultra Classic Electric Glide motorcycle. Iijima paid $28,000 for a side car, not to take along his wife but to help him keep his balance. "My legs are too short," confides Iijima, who is shorter than my 5 feet, 3 inches. "If I did not have the side car, it would be difficult to handle this bike."
The crowning touch is the gold medallion below his speedometer that bears Iijima's newfound mantra: "Live to Ride. Ride to Live."
Iijima is one of a swelling class of Japanese chromeheads. Although the country's economy is down, the Japanese still crave high-priced status symbols. And in the case of decadently decorated Harley-Davidson motorcycles, this craze is soaring to record highs. Some 2,500 Japanese bikers from as far north as Hokkaido and as far south as Kagoshima huddle over each other's Harleys at this three-day gathering. Japan's Harley Owners' Groups, or HOGs, can be spotted holding more informal caucuses across the country at least once a month.
Harley-Davidson Japan K.K., a subsidiary of Harley-Davidson Inc., estimates that 51,000 of its bikes now roam Japan's roads, and that number is increasing rapidly. A year ago, the government removed a restriction that required drivers to pass a stringent National Police Agency examination before driving bikes over 401cc. Now, drivers must pass only a local driving- school course. Go-go consumer finance companies aggressively tap into the easy-rider craze by offering easy credit. Harley-Davidson expects that 50,000 new licenses for big motorbikes will be granted this year, almost twice as many as in 1996.
Harley bikes have long been considered symbols of prestige in Japan. Before World War II, they were built under a licensing arrangement by a small company called Rikuo, for the select few who could afford them. Back then, Japan's police force rode Harleys while escorting the Imperial family. These days, with the demand for the big bikes soaring, thieves seem to ride Harleys more often than cops. Stories of Harley thefts, even in safe Japan, are common.
The motorcycles are among America's fastest-growing exports to Japan. As Detroit's Big Three carp over sluggish sales in Japan, Harley is racking up records. Japanese bikers bought 4,387 Harleys from January through August, up 27% from the same period in 1996.
STARCH, NOT SKULLS. To rev up sales, Harley's Japanese subsidiary is obsessing over details. It has customized its marketing approach to Japanese consumers' tastes, offering them shinier and more complete tool kits than those sold in the U.S., for instance. "We are one of America's more successful exports," boasts Toshifumi "Tomi" Okui, president of Harley-Davidson Japan. Befitting his corporate clientele, Okui wears a starched shirt and tie to the Harley festival.
The main attraction, of course, remains the Harley mystique. Indeed, owning a Harley in Japan is less about vrooming down highways than about vogueing. The main event at the Harley festival is a "dress-up contest" in which bikers vote on the best-looking wheels. The Harley has been revolutionary in consensus-driven Japan because it offers drivers an expensive ticket to be special. "Japanese people buy a Harley to stand out," says Hiroaki Sato, 36, who is dressed as a California highway patrolman. "It is a way for them to express themselves."
Like their U.S. counterparts, some Japanese enthusiasts, mostly young men, see themselves as rebels on wheels. Showing off tattered jeans, dreadlocks, and occasional tattoos, the younger generation of wild ones embraces the Harley as the quintessential symbol of power and freedom. Even some of Japan's stylish office ladies are switching from Gucci bags to these fashion statements with a little more kick. "I just really wanted a big bike," says telephone receptionist Kiyomi Kawamitsu, 26, wearing hot pink lipstick, a fake tattoo, and a vest identifying her as a member of the Red Star Riders Club of Saitama prefecture on the outskirts of Tokyo.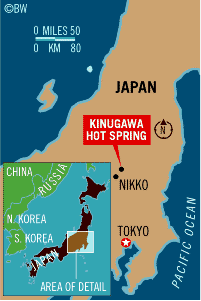 Harley festival organizers, however, promote the bikes as symbols of "traffic safety" and "gentlemen." So they hold a mouth-to-mouth-resuscitation class in the middle of the festival. (Drivers practice on dummies.) The roughest activity, in fact, is an arm-wrestling match. Such an approach may be wise, given that the next step in promoting the Harley in Japan will be to persuade the police to permit two to ride on a bike on highways. That is presently illegal.
But easing the way for Harley owners could increase some cops' chronic complaints about their salaries. Mutters an authentic policeman as he roams the festival parking lot: "You can tell these are not police motorcycles because the police cannot afford to own Harley-Davidson motorbikes."
Before it's here, it's on the Bloomberg Terminal.
LEARN MORE