Britain: A Pause In Rate Hikes? Not Yet
By
After growing at a red-hot 4% pace in recent quarters, is the British economy cooling enough to vent inflationary pressures and prevent further interest-rate hikes? Don't bet on it just yet.
After the Bank of England lifted base rates in August for the fourth time in as many months, to 7%, it also announced a "pause" in its tightening policy to assess the economy. But now, a raft of surprisingly strong reports on third-quarter activity, including retail sales, unemployment, underlying earnings, and money growth, have created a sea change in financial-market sentiment about chances for higher rates.
Consumer spending and service-sector output continue to power the economy. Retail data show household-goods spending rose a record 17.4% in the three months ended in August, suggesting the cash windfalls to consumers from conversions of building societies to banks is still fueling outlays. Real income growth is speeding up amid pickups in job growth and real wages. Consumer confidence is at late-1980s levels, as August unemployment fell to a 17-year low of 5.3%.
Manufacturing remains weak, the result of the export downdraft from sterling's sharp rise over the 12 months ended in July. But now, sterling is falling, which should cushion exports in 1998, along with stronger demand on the Continent. Also, the typical capital-spending cycle has not yet kicked in, but it should, amid strong demand and profits and rising capacity utilization.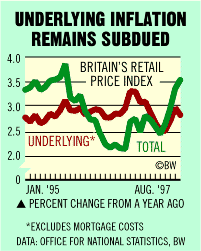 For now, retail inflation seems contained with the underlying rate excluding mortgages at 2.8%, just above the BOE target of 2.5%. But recent signs are worrisome: Service inflation, excluding rents and utilities, has risen to 4.5% from 1.9% 18 months ago. Lifted by construction pay, yearly growth in underlying wages rose to 4.5% in July, the BOE's maximum tolerable pace. And the broad M4 money supply grew 11.6% in August, far above the BOE's 3%-to-9% monitoring range. If September's data look anything like August's, the newly independent BOE will be back in action.