A Dull Glow On `The Other Itt'
by
More investors are paying attention to ITT Industries (IIN). It's the core of the old ITT Corp., renamed ITT Industries when the conglomerate split into three. ITT Industries is involved mainly in auto components, defense, electronics, and fluid technology.
The outfit that kept the ITT Corp. name and the ITT symbol runs the flashy businesses--hotels, gambling, and entertainment. "The other ITT," however, is being rediscovered by savvy investors, who regard it as an attractive growth and value play. The stock has climbed steadily this year--from 22 in early April to 32 on Sept. 23. Some money pros put the intrinsic--or breakup--value of ITT Industries at 45 to 50 a share.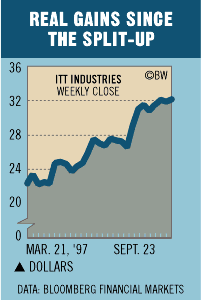 Mario Gabelli has accumulated 2.3 million shares, about $73 million worth, for the Gabelli funds. He thinks ITT Industries is getting ready for "a major acquisition." He says the company buys in fields where it has proven expertise. ITT Industries is No.1 or No.2 in 75% of the markets it serves. It's a leader, for instance, in auto safety gear, secured digital communications, and mobile phones. In April, ITT Industries purchased Goulds Pumps for $815 million, creating the top pump-and-valve company.
Analysts, initially skeptical of how ITT Industries would fare, have turned bullish. "It's making real progress for the first time since [the split-up]," says James Samuels of Smith Barney. Despite the stock's recent surge, he adds, "these improvements are not fully reflected in the stock price." Earnings have been on the rise. The company earned $1.85 a share last year. It should earn $2.10 in 1997 and 2.39 in 1998, according to Zacks Investment Research.
Before it's here, it's on the Bloomberg Terminal.
LEARN MORE