Whiteout At 17,000 Feet
Robert J. Dowling
I had never really wanted to climb Denali. Too many tales. "We dragged sleds for weeks, never summited, and came home so depressed it nearly broke our marriage," a husband-and-wife team told me a few years ago. "You go for the extreme weather," cautioned Ruth Anne Kocour, a friend who survived a horrific storm in 1992 that took 11 lives.
I like the Andes, where peaks are just as high but the climbs shorter and where there are porters to help and colorful Indian villages along the way. Yet when a climbing partner pushed a Denali trip earlier this year, I relented.
Now, after three months of training with 60-pound packs and a major new investment in arctic gear, we're high up. For most of the afternoon, we've been watching huge lenticular clouds streaming in from the Gulf of Alaska--their wide, blunt fronts and flat bottoms resembling intergalactic battle cruisers. These are the clouds that bring prolonged storms. It's time to worry.
We've been on Denali, the natives' name for Alaska's Mt. McKinley, for 14 days, although we dug in at this 17,200-foot-high camp only two nights ago. Ideally, we would have bagged the peak and would be readying for a descent tomorrow. But high winds kept us from making a summit try yesterday, and our guides turned us back this morning, with just 1,500 feet to go, after a snow squall caught us on the exposed summit ridge. Now, we can see our route bathed in the late-afternoon arctic sun again. There's already second-guessing within the ranks about whether we should have stuck it out today, before the "big one" catches us.
We're spoiled. Since flying out of the hamlet of Talkeetna to our Kahiltna Glacier base camp two weeks ago, we've traveled under mostly blue, windless skies. Scores of mountaineers who got here a week or two ahead of us seized this chance to reach the top. Each day, bronzed teams of Japanese, Koreans, New Zealanders, Brits, Australians, Germans, Russians, and Swedes rolled past us with that gangling gait climbers use to speed descents. We, lugging our packs and 50-pound sleds uphill, can only ask, How much longer can this last?
LIMBO. The answer comes at night, when one of the big ocean-borne clouds finally "caps" the peak and unleashes its cargo of driving snow and wind. By morning, we're in a whiteout, restricted to our walled-in tent compound. We'll end up stormed in for eight more days, and our differences over whether to force a summit, stay put, or descend will widen.
A few years ago, when high-altitude mountaineering was an esoteric niche sport, what happened on the mountain usually stayed on the mountain. To get trapped by bad weather was an experience shared mainly with other climbers.
But mountaineering now has a public profile, thanks to Into Thin Air, climber Jon Krakauer's best-seller about his 1994 Mt. Everest climb that took five lives. It shows how badly things can go wrong--no matter that there's an exponential difference between an expedition on 29,028-foot Everest, the world's highest mountain, and 20,300-foot McKinley, North America's highest.
I'm well aware of this as I borrow our one nearly dead cell phone to get a message out that we're well but have no idea when we'll be back. The call does little to settle my anxiety, since I suspect it will get a worst-case reception at home. I've also been aware for several days of a family medical situation that I need to deal with and now can't.
QUIETLY MIFFED. We're a typical amateur team of eight climbers, ranging in age from mid-20s to early 50s, and three guides. Before this season ends, 1,110 like us will try this mountain, 569 will summit, 3 will die. Except for one of our party who suffered altitude sickness early on and was walked out, everybody has done well. Paul Maier, our leader, is a Denali veteran, and Rainier Mountaineering has run teams here for two decades. Rainier's conservative approach emphasizes the experience, rather than the summit, as the goal, and its guides don't hesitate to abort climbs. In effect, you pay Rainier $3,300 to be told what you can't do as much as what you can. "We're not going to act like those people on Everest," says Paul. It's an ethic I subscribe to.
But half of this sport is about mental concentration and measuring risk, and here, we're all different. I'm secretly annoyed that we didn't speed up our ascent by several days to beat the weather. Our two youngest members, Dennis Goll and Trevor Tredennick, both students, would like to stay here for as long as it takes to summit. We could live off food caches left by other teams.
I and tentmate Sheldon Webster, both in our 50s, want out. We sense a long siege ahead. Four others, in their 30s and 40s--Peter Berkowitz, a sports- marketing director, Gia DeAngelis, a radiologist, Mike Lyons, an electronics engineer, and Moses Thompson, a World Bank consultant--vote to linger a week in the hopes of reaching the top. Nobody tells us that even with a weather break, we would probably not climb for several days because of avalanche risk.
As the week unfolds, we each find a routine. On Wednesday, there's talk of ascending by afternoon if the weather breaks. It doesn't. Groggy from lying inside, we emerge to spend the afternoon sawing blocks for snow walls. Our camp now looks like a Celtic ruin. But the exercise makes us feel better. It's a quirk of high altitude that a low resting heart rate--healthy at sea level--works against you because your heart needs to pump oxygen faster. Marathoners often struggle in these climes. Our dinner of creamed vegetables over stuffing tastes wonderful, but through the night, my mind is racing with thoughts of problems at home that I can't deal with and people I can't call about them.
Thursday. The weather breaks briefly around 4 a.m., revealing the Alaska Range in an ethereal whiteness of massive glaciers, hanging ice, and sculpted snow that's truly intoxicating. Guides talk about needing a Denali fix each year. But by 6, we're in another whiteout. The good news, we learn from a radio call to stranded park rangers 3,000 feet below us, is that a high pressure system may come through to clear out the storm.
"Can't believe it, we're psyched for another summit try," I write that night. But by morning, back to whiteout. Sheldon has developed a gurgling cough, a possible sign of pulmonary edema, in which the lungs fill with fluid. It can be cured only by getting lower. I decide to tell Paul that I'm taking responsibility for us and that we'll walk down together in the morning. It's hallucinatory. Even if we made the two-day descent, no bush pilot could get in. But I'm unwilling to believe we're really stranded.
Surely in a crisis, they would send in a military helicopter to pick us off high camp. "Suppose I were Senator Bob Dowling with an acute appendicitis, what then?" I challenge Paul.
"You'd die," he says.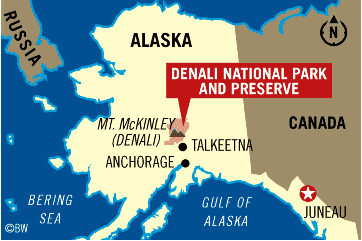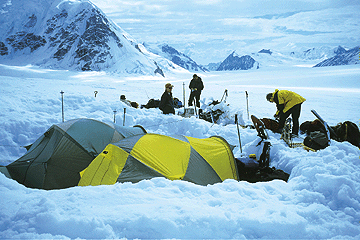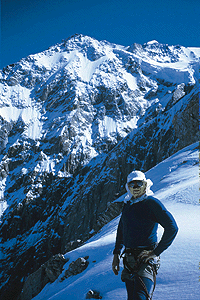 But the next day, Paul tells our No.2 guide, Tap Richards, to lead the two of us to the 14,000-foot midcamp. We inch along in a driving storm, taking twice the normal time to traverse the treacherous West Ridge. We arrive at midcamp by late afternoon. Sheldon's condition improves rapidly. The next day, Paul brings down the others. Summit aborted. By the time the weather breaks on the lower glacier, we've had 22 days on Denali. More than we wanted, but not that unusual either.
Six weeks later, I check for second impressions. Moses Thompson, who wanted to stay, is elated. "We so owned that mountain that not to summit is like an asterisk," he says. Dennis Goll will go back. Mike Lyons says: "Unfinished business." Missing the summit by two days is eating at me, too. I'd have taken more risks to beat the weather. It's never just about "an experience."
Before it's here, it's on the Bloomberg Terminal.
LEARN MORE